You'd think sour cream would be downright bitter by now. Yogurt has been taking its place in our refrigerators and our recipes for decades, popularized by one diet craze after another, be it low-fat or high-protein.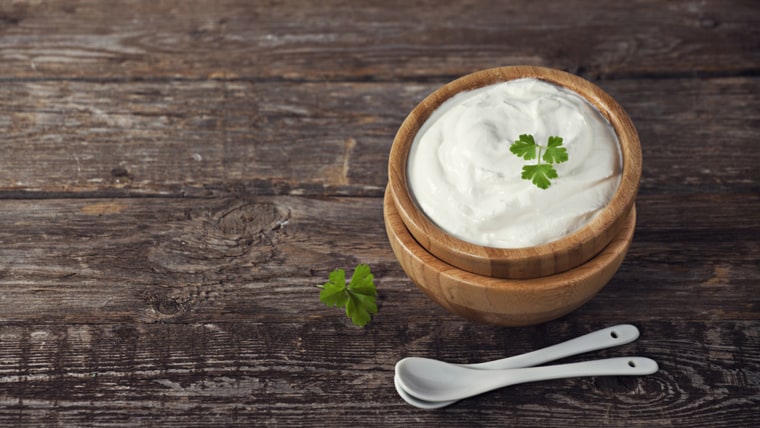 Lately, though, Americans are adopting a more balanced approach to nutrition—one that reflects our growing interest in whole foods and in global culinary traditions. We're even eating real, whole-milk yogurt. Might it finally be time, then, to reconcile with sour cream?
After all, even the richest yogurt can't quite match the, well, creaminess that is sour cream's heritage. So while they're interchangeable in some dishes, many others—from nachos to pierogi to pickled herring—just wouldn't be the same made with yogurt. Take it from Nicolaus Balla, chef at San Francisco's acclaimed Bar Tartine: "I'm Hungarian, so my blood is half sour cream," he laughs, adding, "You cannot replicate the authentic experience of paprikash with yogurt."
Recipe: Black Raspberry Sour Cream Pie
Of course, Balla and co-chef Cortney Burns make their own sour cream; you can follow the instructions they provide in "Bar Tartine: Techniques & Recipes." Otherwise, look for additive-free products that contain nothing other than cream, milk, cultures and/or enzymes, including "European-style" brands, which are more buttery in both flavor and texture than conventional American sour cream. The same goes for the smetana you'll encounter in Eastern European groceries; as for the crema fresca found in Latin markets, it's slightly thinner and sweeter, according to celebrity restaurateur and Mexican-food expert Richard Sandoval: "I actually prefer sour cream to crema in very strong, spicy dishes, like mole poblano. Because it's a little more acidic, it helps cleanse the palate after each bite."
Refreshing yet decadent: that's the essence of sour cream as a topping for everything from baked potatoes to ripe berries, a key ingredient in dishes like beef stroganoff and green-chile enchiladas, or a tenderizing agent in pastry dough. But beyond its classic uses, here are a few ideas for sour cream you may not have considered:
A dollop or two lends tangy complexity to blended drinks, as you'll discover if you throw some in with the ingredients you usually use for fruit smoothies or milkshakes. Cocktails require more care, but we were inspired by superstar Boston bartender Jackson Cannon—who makes a "borscht martini" with beet vodka and crème fraîche—to whip up a batch of banana daquiris, then adds sour cream to the mixture a couple of spoonfuls at a time until the desired hint of tartness comes through (watch for lumps as you blend).
Fold it gently into well-drained ceviche for an indulgent twist on the cool seafood appetizer.
Stir into just-cooked brown rice: the effect is appealingly risotto-like.
Balla recommends "mixing a scoop into a dish of chopped tomatoes and cucumbers, along with a little buttermilk, cider or red-wine vinegar, garlic and chopped dill or chives. It's like a chilled soup and salad in one."
Build a better, moister burger by adding some to your patty mix.
Whisk a little into your eggs before scrambling them or making a frittata.
Use a blender, food processor or stand mixer as a "churn" to turn homemade sour cream into cultured butter, which has a more complex, umami-tinged flavor than does standard sweet-cream butter. Simply mix until the solids separate from the buttermilk, then squeeze the solids to drain out the remaining liquid. Season your butter with sea salt if you choose.
For extra richness and zip, substitute sour cream for: some of the mayo in tuna, potato or egg salad; buttermilk in your fried-chicken or onion-ring batter; other dairy products in your plain or vanilla ice-cream base.
Ruth Tobias is a freelance food-and-beverage writer based in Denver, Colorado. Visit her at and follow her on Twitter.