Dining al fresco with your toes in the sand or on the grass is part of the pleasure of having a picnic, but that doesn't mean that the food should be an afterthought. Here, top picnic tips from the TODAY Food team, plus three delicious picnic recipes from Chris Santos, chef/partner of Pinknic in New York City.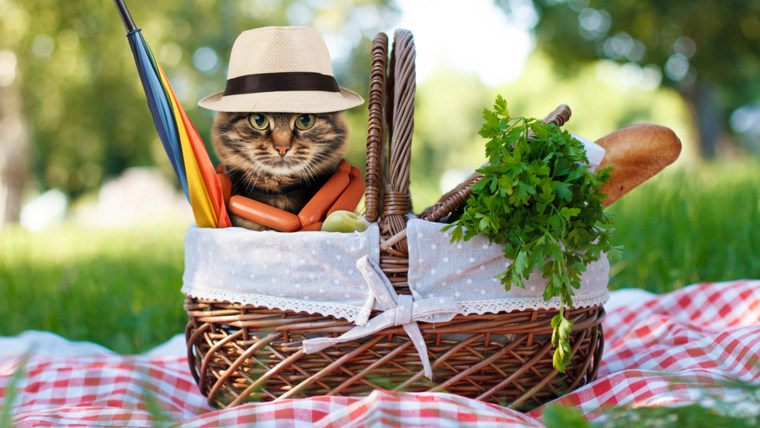 1. Pack things separately.
"It will help keep everything iced and cool, plus then you can fit everything into your basket," Santos told TODAY Food. If your basket has an ice pack on top, place non-perishable foods at the bottom. If you're using a cooler, add large cubes of ice (they take longer to melt and can do double duty to cool down cocktails), then place the perishable foods inside first. Zip-top bags take up less room than harder plastic ware and are great for crushable foods. When planning your picnic menu, make sure you have a range of flavors and textures: crispy, creamy, tangy, smoky and sweet.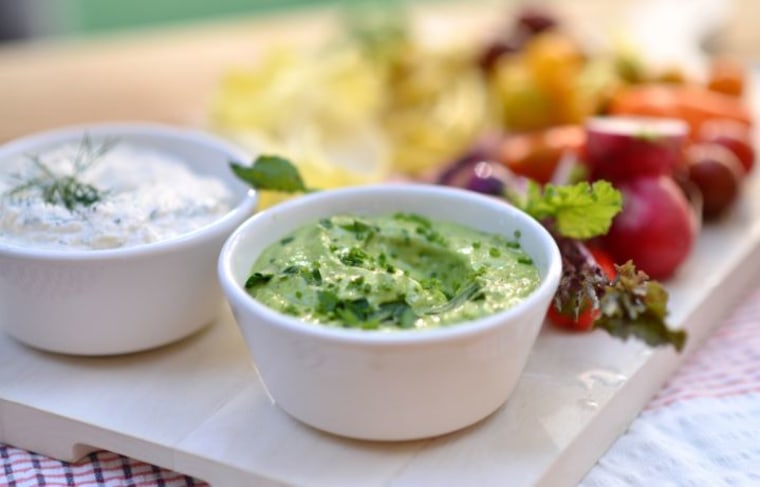 2. Give everyone something to snack on while you set up.
Something crunchy and creamy along with that first glass of wine or cocktail is absolutely necessary to kick off a picnic. Store-bought or homemade hummus is always a crowd pleaser and you can't go wrong with store-bought chips. If you're pressed for time, add one packet of onion soup mix to a large tub of Greek yogurt, stir to combine and cover with the container's top. Serve with packaged pre-cut crudite and chips. If cheese is a must, forgo hard cheeses like cheddar that get sweaty and instead choose soft cheeses like brie or camembert that get better as they warm up and ooze out that creamy center. Pack a small paring knife and you're all set.
3. Wait to stuff sandwiches.
"If you make a sandwich the night or morning before your picnic and you're sipping on rosé all afternoon, it's going to be kind of meh," Santos told TODAY Food. "Nobody wants a sweaty sandwich."
Contrary to popular belief, mayo-based salads like chicken salad and shrimp salad are just fine to bring along—as long as you keep them cool and out of the sun. If you're really concerned, go for vinegar-based salads. Whatever you choose, assemble the mixture with lots of herbs and crunchy ingredients so you won't need to pack lettuce too. Fill up the sandwich bread right before serving and skip the soggy roll.
4. Only serve foods that can be eaten with hands or a fork — no knife.
If you've ever tried to cut something with a plastic knife only to have it snap, you know what's up here. A picnic is no place for formalities or making everyone practice the European method for cutting up a slab of côte de boeuf. Skewer cheese, olives, salami (whatever!) on a stick. Bake or buy a soft-centered quiche. Pour a refreshing chilled soup like gazpacho from a thermos. Basically anything that means you can still hold your beverage in one hand while you eat with the other is great here.
5. Keep sides simple
Slaws are always a hit and add a nice crunch. Make the most of summer produce like corn in a light and delicious salad with crumbled feta an tangy tomatillos. Or go with pasta salad: fusilli with store-bought pesto is always a crowd pleaser or to be a little more fancy, use store-bought cheese tortellini which has built in flavor so you don't have to add more cheese. Scratch that. Add more cheese.
6. Start pouring those drinks
Now, about that drink. For me, nothing says it's picnic time like a bottle of rosé that's a great complement to dishes that have acid like Santos's shrimp salad sandwiches and grilled corn salad. Just be sure to pack a bottle opener if the bottle doesn't have a screw cap. If you don't want to be loaded down with a bottle, opt for pre-filled single-serve containers of wine like the ones made by Stack.
Prefer cocktails? TODAY Food Senior Editor Vidya Rao has a super smart to-go method: "I pre-make batches of concentrated cocktails without ice and place them in large bell jars that hold 3½ to 4 cups. When you arrive, you can pour some of the liquid into your cup and add a lot of ice. The beauty is that your cocktail will never get too watered down. I like to blend watermelon with sparkling water and a little vodka. It's refreshing and you don't feel too guilty about it because there are no added sugars."
Balancing cups at a picnic can be a little tricky, but there's one smart hack that always works: use a muffin tin to hold drinks. Bonus: it can also double as a condiment holder.
7. Never forget dessert. Ever.
Your friends and family may never forgive you. Just kidding. But as much as everyone loves watermelon, if you only bring fruit as a dessert, they may not say it, but they will be disappointed. Pack up some portable treats like brownies, cookies or bars. Or consider mini individual puddings.
8. Clean up with ease.
As for plates, VerTerra makes sturdy elegant plates from fallen leaves that are biodegradable and compostable. You can also go with themed plates like the chic ones offered by Cheeky. Bring along a garbage bag and cleanup is a cinch.
This post was originally published on July 8, 2016.