The kitchen is a magical place, but it can also be a scary one for novice cooks. Following some kitchen safety basics will help keep your fingers intact, your hair unsinged and your belly happy.
The No. 1 rule? Respect the knife!
"Cuts in the kitchen are usually pretty minor," Sabrina Sexton, program director at the Institute of Culinary Education, tells TODAY Food. "People put the knife down and don't pay attention to where it is. Or they leave it in the sink and cut themselves when they go to wash the dishes."
So… don't do that. And if you're carrying a knife around the house, always hold it by the handle — with the blade down.
With that out of the way, below are some tried and true products that can help make your kitchen a safer place and, when used properly, can make cooking even more enjoyable.
To avoid cuts…
NoCry Cut Resistant Gloves, $11, Amazon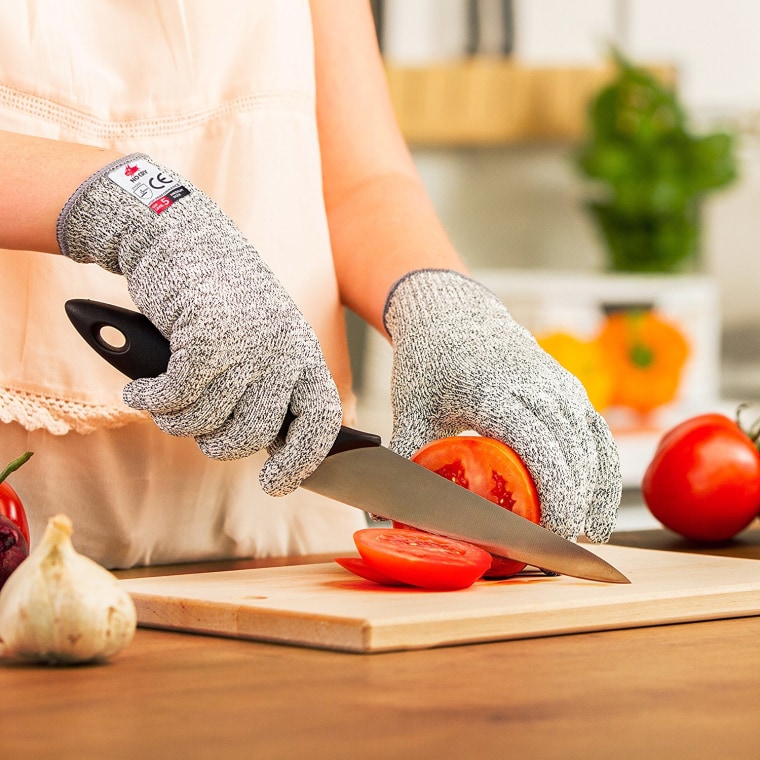 Whether you're peeling veggies, slicing and dicing, or using the dreaded mandolin, these gloves will prevent your fingers from becoming part of the meal. Made with cut-resistant material, they'll ensure you'll never be a victim of avocado hand.
Zwilling Twinsharp Stainless Steel Handheld Knife Sharpener, $26, Food52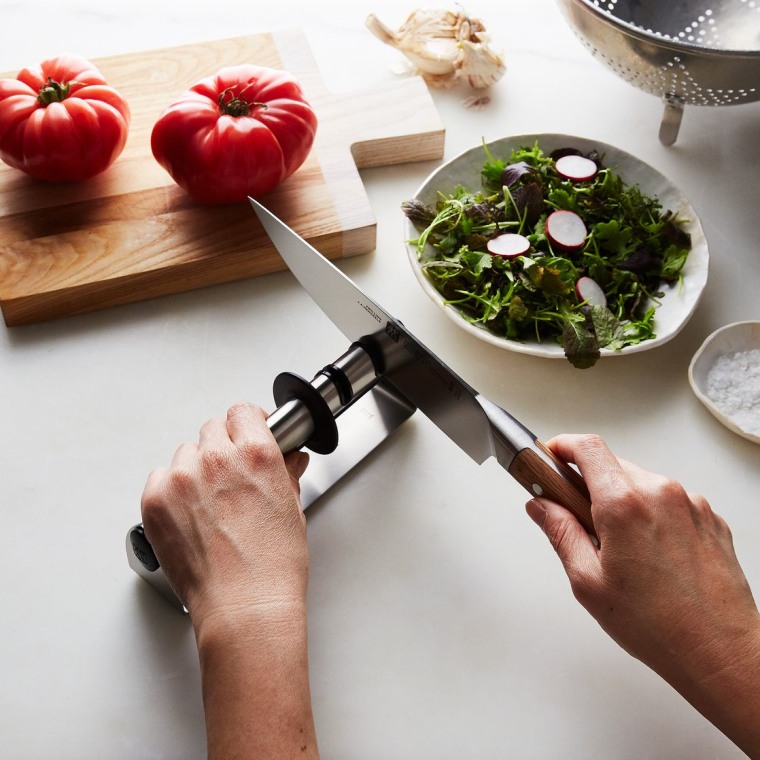 "People feel more secure with a dull knife, but it tends to slip more because they have to struggle with it, and that's when people cut themselves," said Sexton. "A sharper knife is safer, it doesn't get stuck in things or slip." Keep your knives on point with this easy-to-use, handheld knife sharpener. While a completely dull blade won't be brought back to life (you may need a professional for that), this sharpener will help keep sharp knives from getting dull.
To avoid burns…
Frywall, set of 2, $50, Food52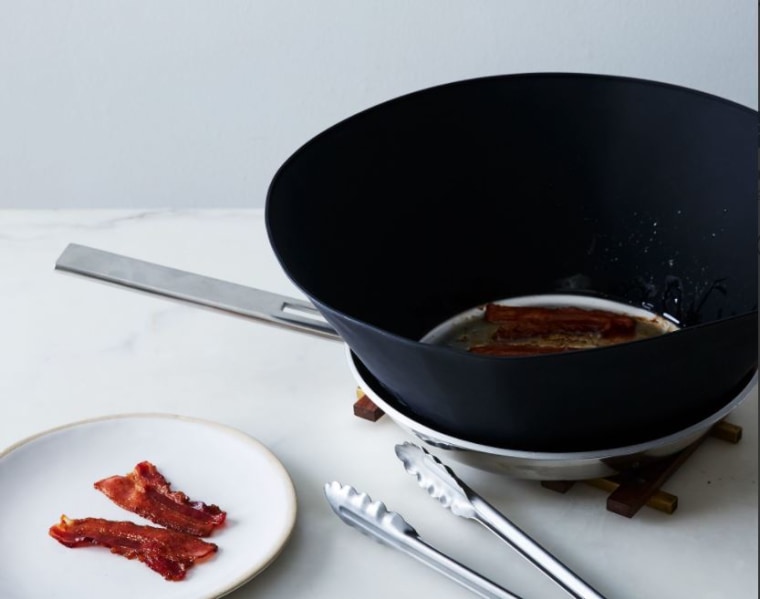 "Oil pops because moisture in the food comes in contact with the hot oil," Sexton explains. "Make sure food is blotted dry, wiped of excess marinade, et cetera, to minimize popping. That being said, some foods naturally have more moisture, so invest in a kitchen screen."
Avoid the sting of popping oil, which is both dangerous and messy, by using the ingenious Frywall. The silicone cone creates a barrier that catches splattering oil while you're frying or sauteeing so you don't get burned. It even works well when you're cooking down sauces that may spatter. No more pomodoro on our walls?! We're in! And the best part is that you can throw it right into the dishwasher when you're finished.
Silicone Quilted Oven Mitt, $10, Bed Bath and Beyond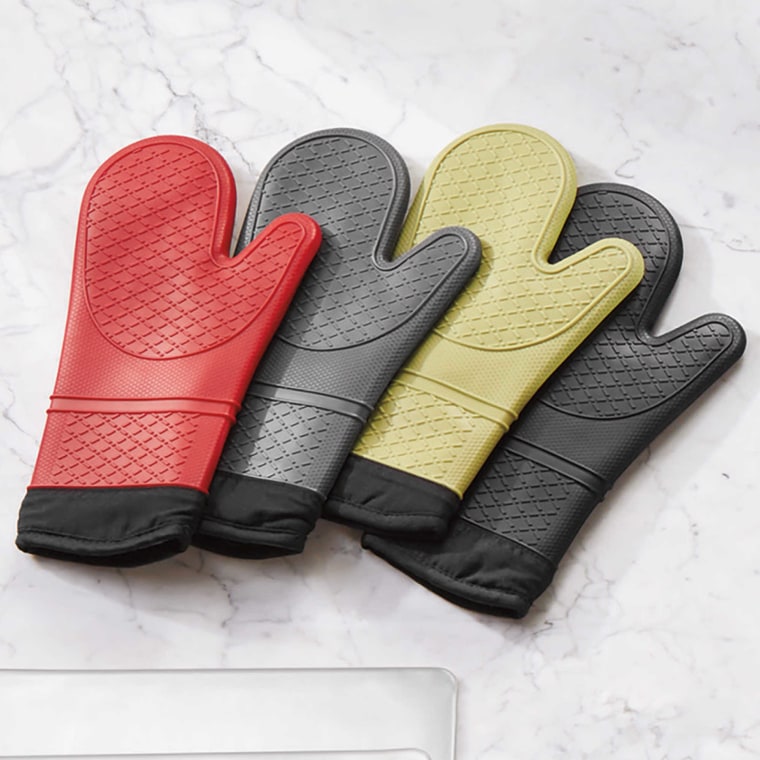 Get rid of old oven mitts that are full of holes or falling apart, and never use wet mitts or towels to handle hot pots and pans — you really don't need the battle scar! These easy-to-clean silicone oven mitts will protect your hands from hot items up to 500 degrees F. And if you're one of those easily distracted cooks, you won't have to worry about setting your kitchen ablaze because you left a cloth oven mitt too close to the burner.
Stovetop Firestop, set of 2, $57, Amazon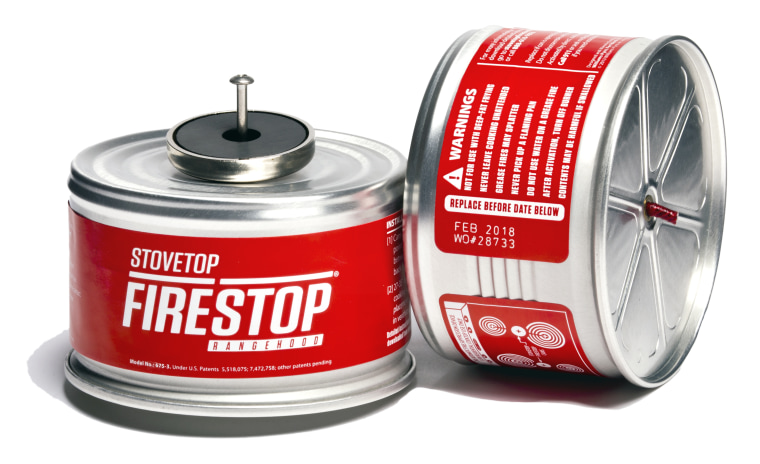 It's easy for things to go awry when you walk away from the kitchen, even for just a minute. These handy canisters, which attach to your rangehood, can extinguish a cooking fire and prevent it from spreading throughout your house. Once the flame makes contact with the wick on the canister, it deploys and puts it out — even nasty grease fires. And just a PSA reminder, never put water on a grease fire! While the fire is small, immediately turn off the heat and cover it with a metal lid.
To avoid getting sick from your food…
Epicurean Kitchen Series Cutting Board, $11 - $38, depending on size, Amazon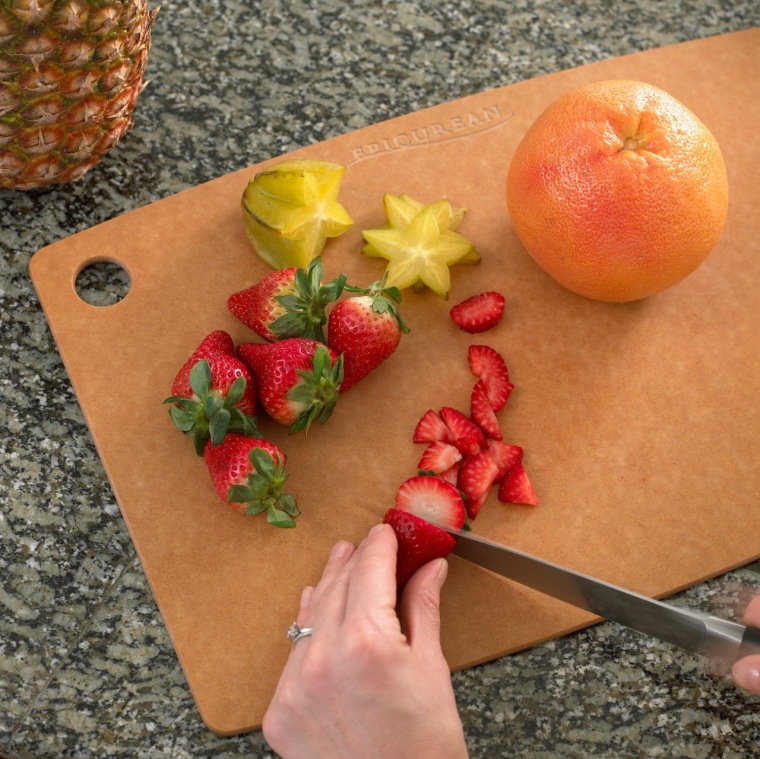 Cutting boards are essential for any cook, and some are better than others. Wood boards are beautiful, but those that are porous allow water to seep in, which means they can harbor bacteria — and you can't fully sanitize them in a dishwasher. Plastic boards can be sanitized in the dishwasher, but the cut marks etched in them over time mean that you may be getting plastic particles in your food.
Epicurean's wood composite boards are the best of both worlds. They're durable, non-porous and dishwasher safe. Pick up a couple and designate them for different items so you avoid cross-contamination (in other words, you won't accidentally get raw chicken juice all over the lettuce that you aren't cooking). "Having color coded boards, one for produce, one for raw meat, is a good way to make it a no-brainer for yourself, that way you don't have to worry when prepping," Sexton advised.
Range Bluetooth iPhone / iPad Cooking Thermometer, $100, Food52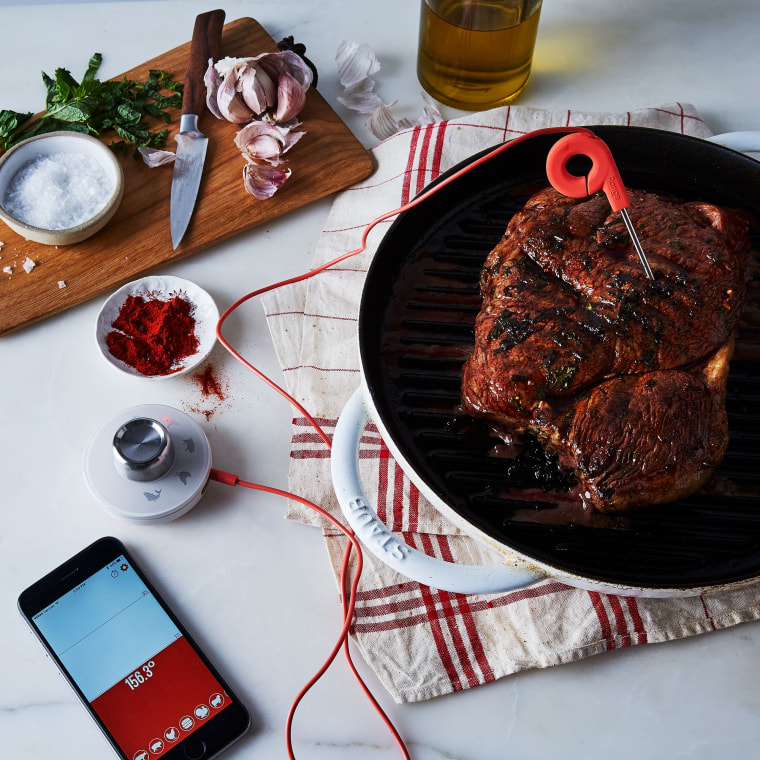 "Most home cooks are aware of things like cooking chicken to a certain temperature, if anything I find people tend to overcook food," Sexton said. Have peace of mind without turning your chicken into a dry disaster by using a cooking thermometer. And while this one's a little pricey, we think it's worth it. It allows you to perfect the cooking temperature without standing over the stove, and you're able to set the temperature via an app. Since it can handle heat up to 700 degrees F, you can perfect your grilling game, but this thermometer is also useful for practically any type of cooking technique.
To avoid slips…
Gorilla Grip Anti-Fatigue Comfort Mat, $35, Amazon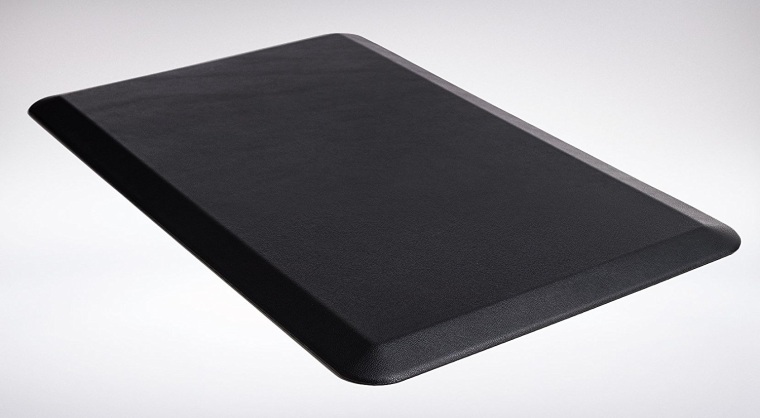 Whether you're a wild dish washer or tend to have spills, this mat will prevent YOU from taking a spill. It's water-resistant, easy to clean and provides ergonomic support for your feet, legs and back. The beveled edges also means that the mat won't turn up, making it safer for the kitchen so you don't trip.
If you do spill something on the floor where you don't have a mat, particularly something greasy, use the old restaurant trick of covering the greasy spot with salt, which will make it slip-proof until you get a chance to thoroughly wipe up the spot
Looking for more great kitchen gadgets? Check out our list of 11 life changing gadgets under $15, the best slow cookers on the market, and the best grills for fall tailgates!