Entertainment and lifestyle expert JJ Keras shares easy last-minute ideas for decorations, food, drinks and more for a festive New Year's Eve party.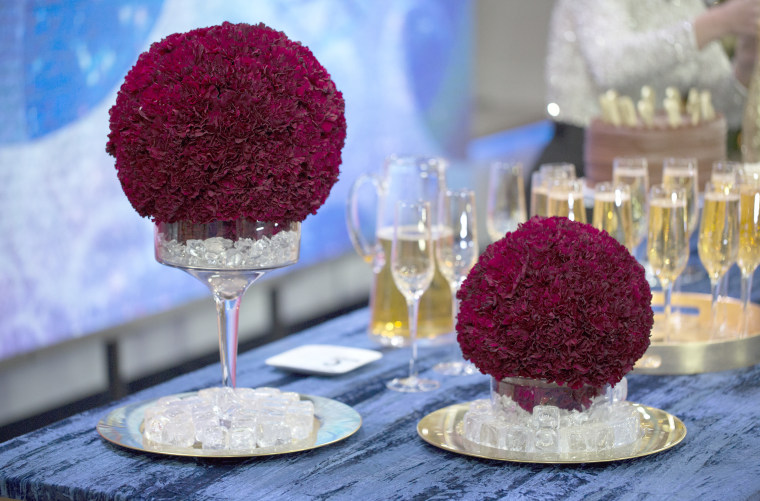 1. Kissing Balls
For an inventive floral arrangement, embellish foam balls with fresh flowers and set them on candle sticks.
2. Clock-tails
These beautiful golden 3-ingredient cocktails couldn't be any easier!
Ingredients
1 1/2 ounces St. George Spiced Pear Liqueur
4 ounces sparkling wine like Champagne, Prosecco or Cava
1 dash 24K edible gold leaf flakes
Orange twist (optional)
Directions: Pour the liqueur into a Champagne glass followed by sparkling wine. Dash with a pinch of edible gold leaf flakes. Optional garnish: orange twist.
3. Clock Cake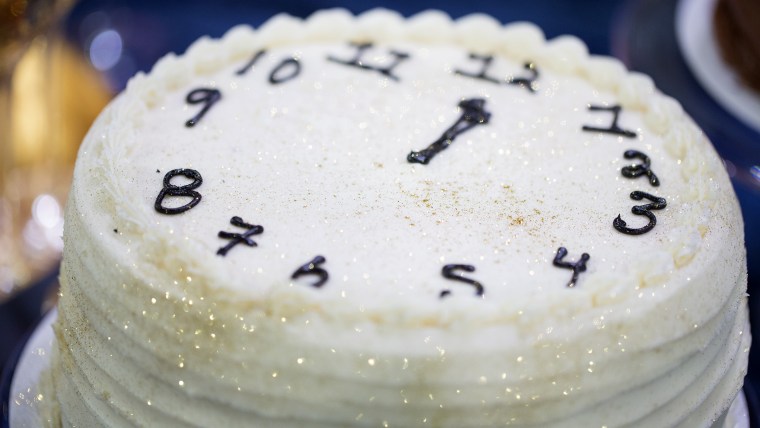 Decorate a homemade or store-bought round cake with icing or wooden numbers to resemble a clock.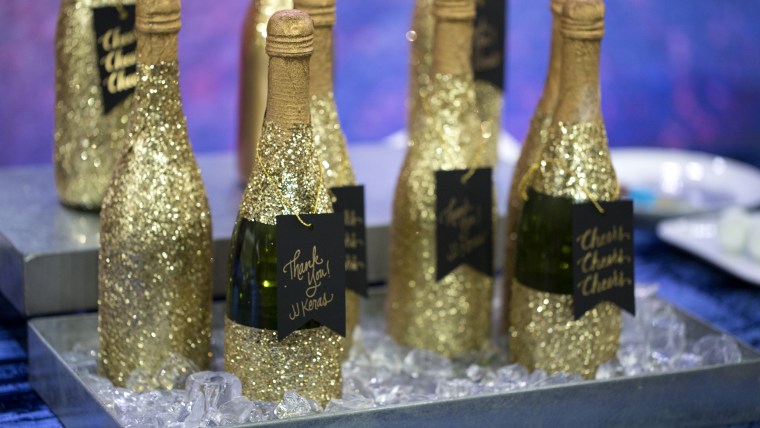 4. Decorative Champagne Bottles
For an extra special touch, use a spray adhesive on the bases of unopened Champagne bottles, then roll them in glitter. Once the Champagne is all gone, use the glittery bottles as vases for decorative tree branches.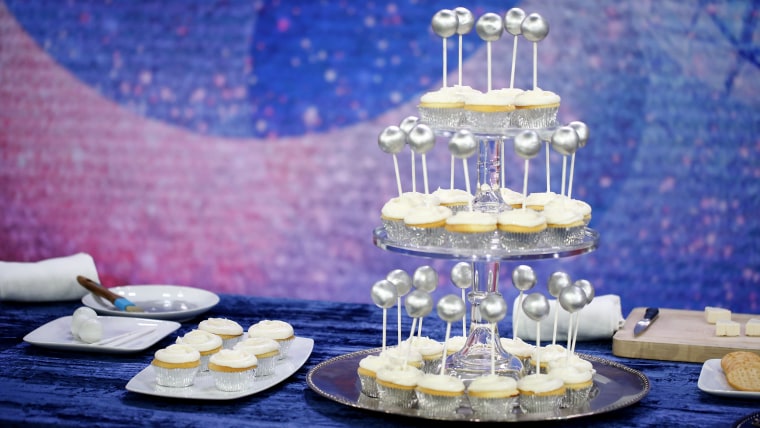 5. Drop the Ball Cupcakes
Upgrade your cupcakes with this fun and delicious No-Bake Oreo Ball garnish that's reminiscent of the iconic New Year's Ball in New York City's Times Square.
Ingredients
1 package Oreos, finely crushed
1 8-ounce package cream cheese, room temperature
1 cup white candy melts
1 package 4.5-inch white lollipop sticks
1 package silver edible luster dust Vanilla cupcakes with silver or metallic cupcake liner
Directions: In a food processor, crush Oreos until a fine crumb is reached. Mix cream cheese and Oreo crumbs until well blended. Shape into 1-inch balls and insert popsicle stick. Place on waxed paper. Place in freezer for 10 minutes. Dip into melted white chocolate, being sure to cover the truffle completely. Place on waxed paper and sprinkle with silver luster dust. Refrigerate until firm. Place in cupcakes.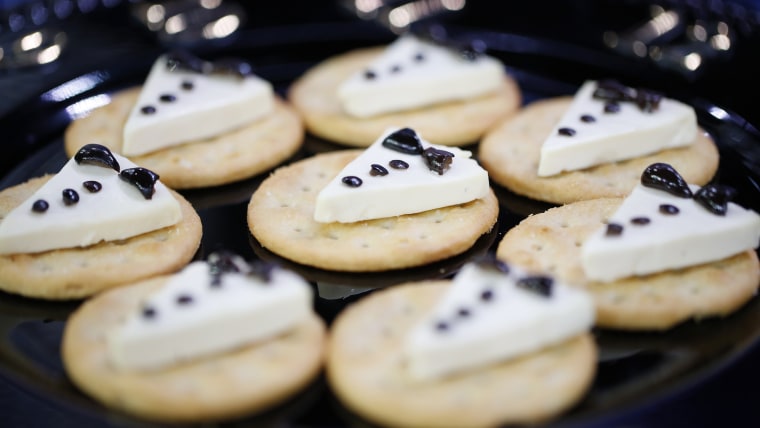 6. Tuxedo Crackers
Dress up crackers and cheeses for the big night for festive party hors d'oeuvres.
Ingredients
1 package of round crackers
Laughing Cow Cheese wedges
Black olives
1 red pepper (optional)
Directions: Place cheese slice on round cracker. Cut olives in half and remove skin. Place the end of a straw into the olive skin and press down. Remove circle cut-outs. Place 3 olive circles vertically down cheese slice. Use scissor to cut out bow tie. Place above olive buttons. Optional: add in red pepper bow ties.
7. Black-Eyed Peas Party Favors
A dish of black-eyed peas is a New Year's good luck food. For a thoughtful and original party favor, use a scoop to fill clear party bags with dried black eyed peas, then tie with gold ribbon.