More and more people are turning to Greek yogurt not just to power their smoothies and use as a protein-packed breakfast, but as a replacement for sour cream and other more fattening staples.
Greek yogurt packs more protein per ounce and has fewer calories and less fat than regular sour cream, making it a great choice for adding a little tang to any dish just begging for some extra creamy goodness.
The Greek-yogurt-for-sour-cream hack has become so popular that Chobani recently introduced a new product: Greek yogurt in a sealable, squeezable pouch called Chobani Savor that makes it easier to spread on baked potatoes, or drizzle on top of soup or on tacos.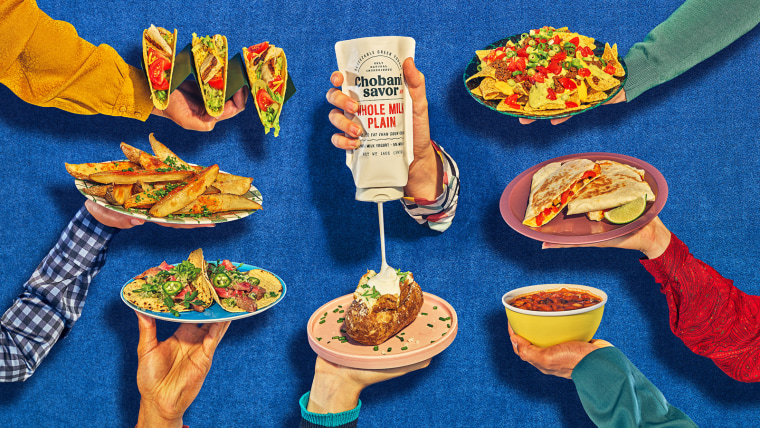 According to Chobani, their Greek yogurt has half the calories of the same amount of sour cream, 75 percent less fat and double the protein. "Greek Yogurt offers the same feel of sour cream, mayonnaise and heavy cream, but is packed with protein, vitamins and minerals — and much less fat," a Chobani spokesperson told TODAY Food. "Simple swaps like these make healthy cooking at home easy."
If you've got plenty of yogurt in your fridge but don't want to eat it just for breakfast, TODAY Food has seven creative cooking hacks for Greek yogurt — from soups to marinades.
1. Thicken up soup.
The folks at Chobani use Greek yogurt in a comforting hot Roasted Butternut Squash Soup for those soon-to-come chillier days. It has roasted squash, cinnamon, nutmeg, garlic, onion and chicken broth.
This Creamy Broccoli Spinach Soup recipe on Pinterest from Greatist uses Greek yogurt and contains 4 cups of both broccoli and spinach along with Parmesan cheese, garlic and onion. Both recipes call for blending the yogurt with the soup in batches at the end to get a super creamy texture.
2. Use it in a dip.
FAGE offers a recipe for a Buffalo Chicken Greek Yogurt Dip, just perfect for a Saturday college football get together, that uses their Total Greek yogurt, chicken, cheese, hot sauce, paprika and scallions with blue cheese crumbles on top. It's much lighter than traditional dip made with mayo or sour scream as the base.
After broiling the dip for 5 minutes, they suggest using tortilla chips, sliced crostini or carrot or celery sticks as dippers.
3. Give pancakes some protein.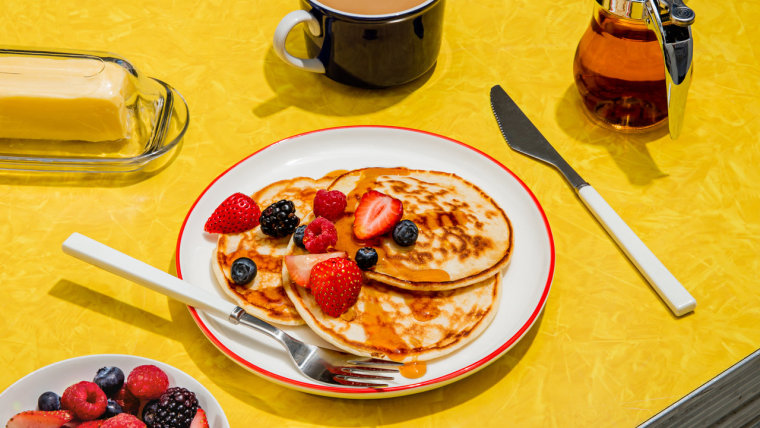 Give pancakes more punch by adding ½ cup of vanilla Greek yogurt to the batter. Chobani's Perfect Pancakes recipe whips up enough pancakes for four in about 30 minutes.
4. Replace whipped cream.
Greek yogurt can also help fill in for heavy whipping cream to reduce calories on a dessert containing or topped with the creamy treat. Chobani offers this recipe for homemade whipped cream with 1 cup Greek yogurt, ½ cup heavy whipping cream and ¼ cup of powdered sugar.
You can also make a chilly breakfast bite to go. These creamy popsicles made with Greek yogurt, fresh fruit and granola are a great way to start the day — or just a great snack for anytime.
5. Swap it for mayo.
Not only can Greek yogurt replace sour cream, it's also a good trade for mayonnaise. The chefs at Chobani recommend this lighter version of a chicken salad, for example.
While the yogurt doesn't replace all of the mayonnaise (it still uses ¼ cup mayo and 1 cup low-fat Greek yogurt), it does replace some, reducing the overall calorie and fat count in the fish.
6. Marinate meat.
Use some Greek yogurt in a marinade for a surprising flavor. This Greek Yogurt Chicken Pinterest recipe from the Lean Green Bean uses Greek yogurt to coat chicken cut in bite-sized pieces before baking it.
Chobani also says you can use it to marinate steak. The proteins will be broken down, creating a super tender meat.
7. Make mac 'n cheese
Why not add a bit of tangy Greek yogurt for some creative mac 'n cheese with extra protein? Not only does the yogurt add an extra creaminess to this comforting staple but the extra tang gives the dish a more complex flavor.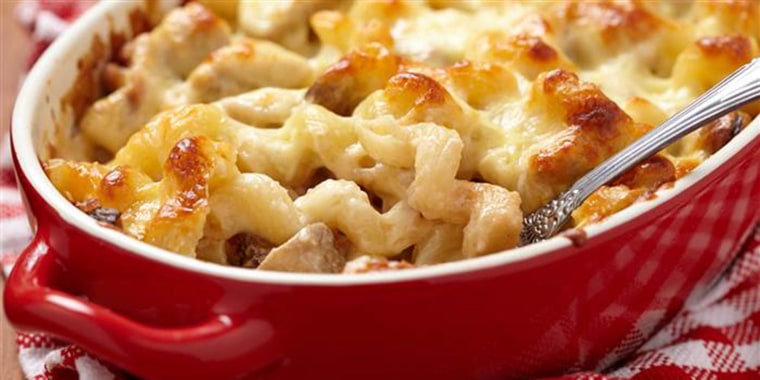 Here are even more ways to use yogurt around the home, as well as some surprising hacks for lemons and salt.