When it comes to eggnog, we just can't get enough. We love it so much, in fact, that we're using it in every meal until New Year's Day rolls around! These quick recipe swaps make it easy to make eggnog a part of your balanced breakfast…or dessert…or party drink! Here are seven different ways for you to get your eggnog fix this holiday season.
RELATED: Eggnog: It's not just for the punch bowl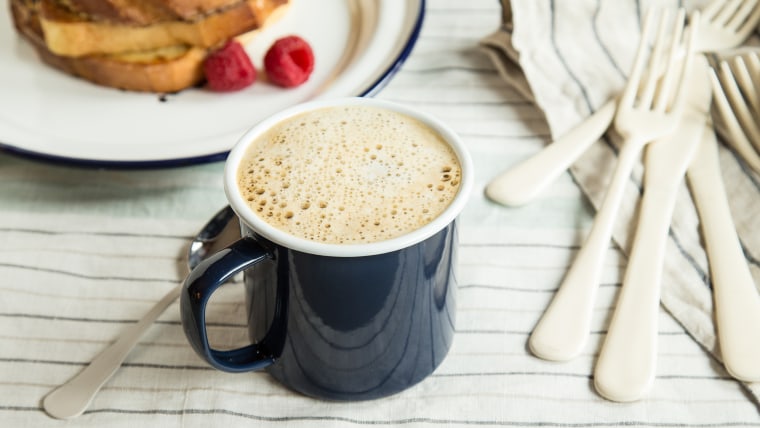 Eggnog Coffee and Hot Cocoa
Need a quick holiday hit of happy first thing in the morning? Nothing's easier than replacing your usual coffee creamer with eggnog. If you want to get a little fancier, warm up a cup of eggnog instead of milk and whisk in your favorite cocoa mix or chai spice blend. Note: though you can warm and froth eggnog with an electric milk frother, it won't foam as much as regular milk — it'll be the consistency of almond or other alternative milks.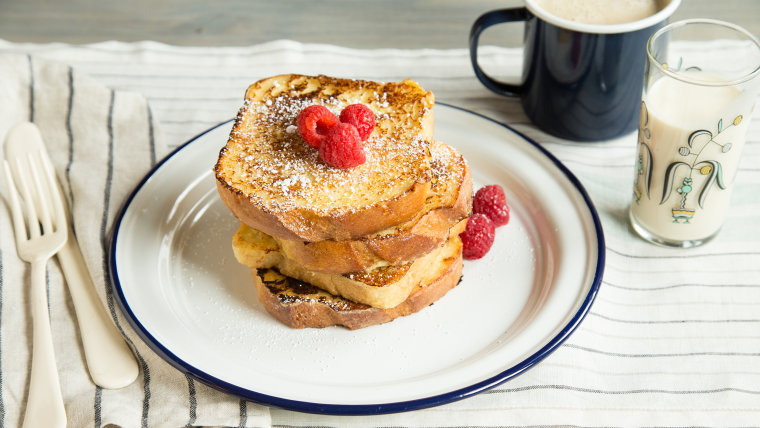 Eggnog French Toast
Use this easy ratio to make a quick but indulgent morning meal: 1 cup eggnog to 1 beaten egg makes enough liquid to soak 4 slices of crusty bread or challah for French toast. Cook on a griddle or nonstick skillet until crispy, then serve with powdered sugar or maple syrup. For overnight eggnog French toast, replace the cream or half and half in our no-stress overnight French toast recipe with eggnog and bake when you wake up.
Eggnog Pancakes and Waffles
No need to start from scratch: replace the milk in your favorite pancake or waffle mix with eggnog for a simple holiday swap-out. Want to make your breakfast even more seasonal? Serve with cranberry compote or top your pancakes with sugared cranberries (see below for the recipe).
Eggnog Bread Pudding
Or maybe dessert is more your jam — try this caramel pumpkin bread pudding recipe with eggnog in place of the 2 cups of milk for a gooey, warm treat that combines the best of fall and winter. Hint: you can replace the pecans in this recipe with semisweet chocolate chips for an even more decadent dessert that works for the nut-allergic set too.
Eggnog Piña Coladas
Do you need a taste of the tropics to warm you up instead of mulled wine or a hot toddy? Give your holiday party a tiki twist by making Christmas coladas. To make 2 drinks, blend 1/2 cup coconut rum, 1/4 cup eggnog, and 1 cup pineapple juice with ice until frozen and frothy. Serve with pineapple wedges and maraschino cherries.
Eggnog Cream Pie
Substitute eggnog for half or all of the maple syrup in this stir-together maple cream pie recipe to give this seasonal dessert a different kind of holiday feel. It's still perfect with cinnamon-dusted whipped cream.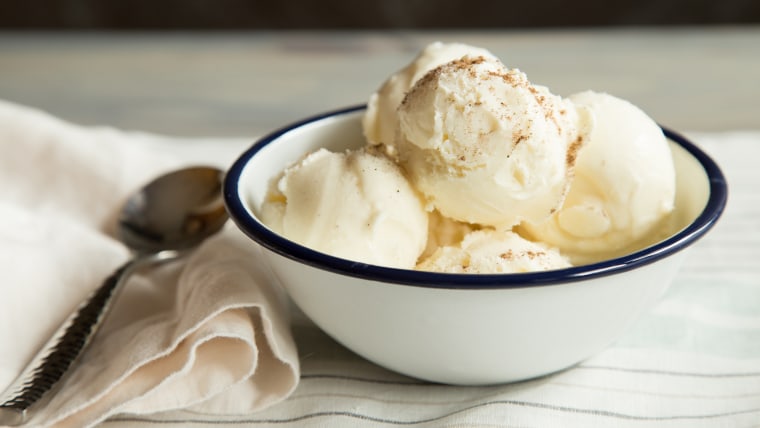 Eggnog Ice Cream
Here's a sure-to-impress move for all you ambitious cooks out there: bust out the ice cream maker and whip up the perfect addition to holiday pumpkin or pecan pies with homemade eggnog ice cream. Substitute eggnog for the heavy cream in your favorite vanilla ice cream recipe. Whisk it into a custard base and churn away.
RELATED: More Christmas recipes, Hanukkah recipes and New Year's recipes