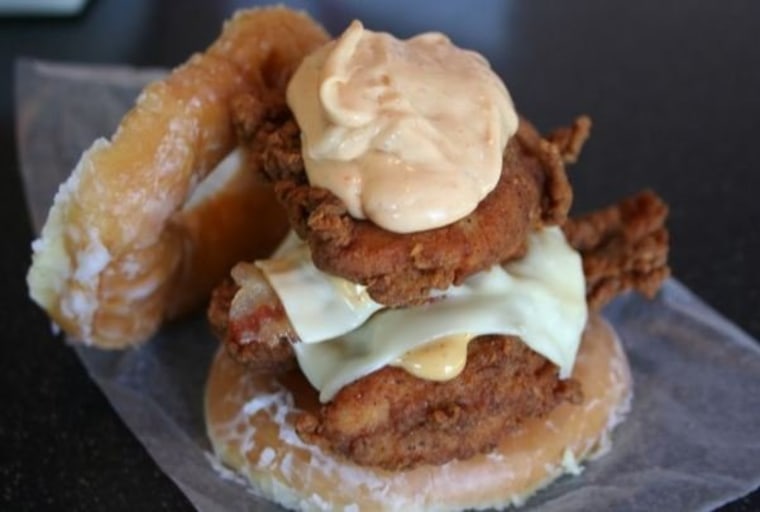 On October 25th, take a break from all those wheatgrass shots, fiber cereals and bowls of quinoa you have eaten to stay healthy. Today, fat-loving friends, is National Greasy Foods Day, and in its honor, here is a round-up of some of the craziest, most delectably greasy foods.
Deep-fried hamburger
Hamburgers have never been heralded as a health food , but here's one that takes the grease-filled cake. At the Ohio Hamburger Festival, in Akron, Ohio, one of the main attractions is a deep fried cheeseburger, where bun and all is battered and deep fried. The batter is in between funnel cake and pancake batter, with enough sugar to give the dish a sweet/salty flare. This is perfect for bringing on diabetes and hardened arteries in one shot.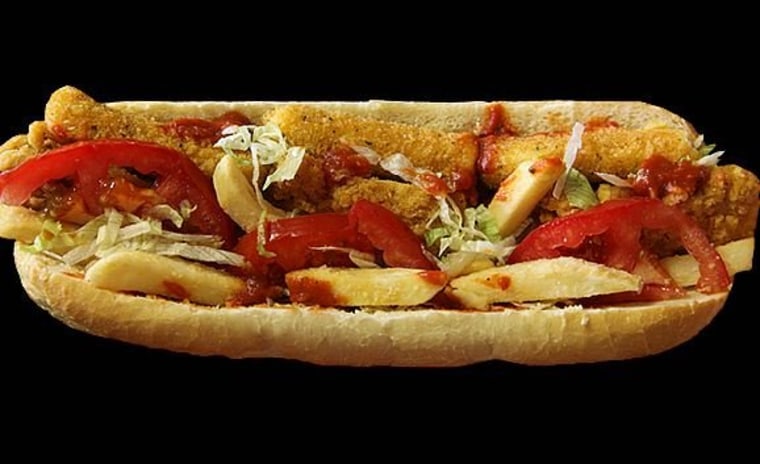 The Fat Darrell
Now here's a classic in grease lore. Journey to Rutgers University for a trip to "the original grease truck," R.U. Hungry, which features a score of different sandwiches and fillings that range from the ordinary to the gut-busting. None is more famous that the Fat Darrell, named after the man who invented it, which consists of chicken fingers, mozzarella sticks, french fries and marinara sauce all inside a roll. In other words, fried, fried and fried, all inside greasy carbs. Is it any wonder that, back in 2004, Maxim magazine voted it the No. 1 sandwich in the country?
French fry-coated bacon
Deep. Fried. Bacon. In case that wasn't enough to entice you, how about if it was battered in french fries? That is exactly what blogger Phil Lees behind My Last Appetite created when, in the middle of making french fry-coated hot dogs, he realized "Why not just head straight for the bacon?" Though he admits feeling slightly sick and "very, very dirty," he has the respect of all who worship at the shrine of greasy over-indulgence.
Chicken fat on the side
Sammy's Roumanian Steakhouse in New York offers traditional Eastern European delicacies like garlicky steak, decadent chopped liver and sweet and sour cabbage rolls. All of these are fatty, but none of them are total grease bombs. Then you see the small carafe on the table filled with…is it olive oil? Oh no, it's pure schmaltz – rendered chicken fat – perfect for mixing into chopped liver or pouring directly onto bread. The Italians have lardo and the Jews? We have schmaltz. Don't knock it till you've tried it, and don't tell your cardiologist!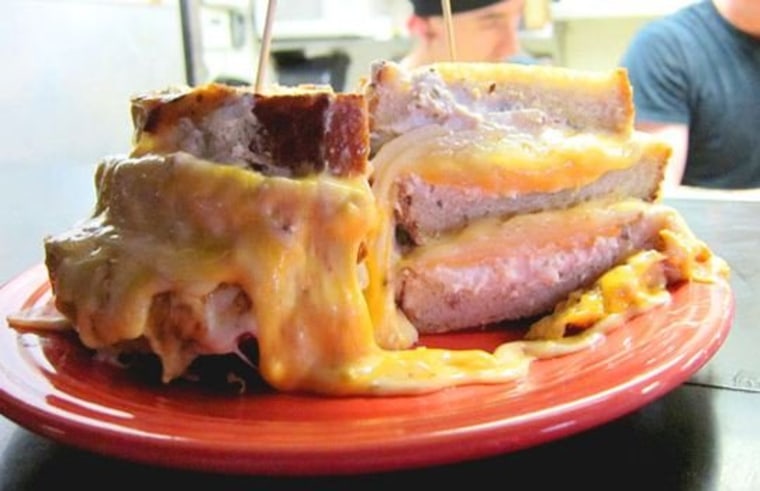 Monster grilled cheese
Grilled cheese might be a guilty pleasure, but you could hardly call it a grease-bomb. Unless, of course, you are talking about the grilled cheese at Melt Bar and Grilled in Ohio. There, the Melt Challenge features a grilled cheese sandwich made with 13 types of cheese, 3 slices of grilled bread, french fries and coleslaw. The plate of food comes out to 5 pounds of gooey melted cheese, deep fried potatoes and carbs galore. If you eat the whole thing, you get a T-shirt, a $10 gift certificate, and your name in the Hall of Fame, so your gluttony will be preserved for posterity.
The Luther
You've probably heard of the KFC Double Down sandwich – a sandwich made with two slices of breaded, deep fried chicken, surrounding cheese and bacon. But have you heard of the Fried Chicken Luther Double Down? That is a Double Down encased by two halves of a glazed Krispy Kreme Donut. Named for Luther Vandross, it is an exercise in excess. Fried chicken, cheese, the Colonel's sauce and deep fried dough -- how could we describe the taste sensation of this sandwich? Top Cultured might have put it best when they call it a "mouth-gasm." Just take it with a Lipitor chaser, and all should be well.
Deep-fried pizza...and anything else you can think of
Do you like pizza? How about sausage? How about Twinkies? At the Chip Shop in Brooklyn, N.Y., you can have them all deep fried. A take on traditional British chip shops, this goes beyond fish and chips all the way to fried mac-n-cheese, fried burgers and even battered and deep-fried pizza. A meal with these eats could cost you well over 3,000 calories, but can you really put a calorie count on pure, deep-fried goodness?
Tell us in the comments below, what the craziest greasy dish you've tried?
Check out Fritos and Foie Gras for more from Sarah Spigelman.