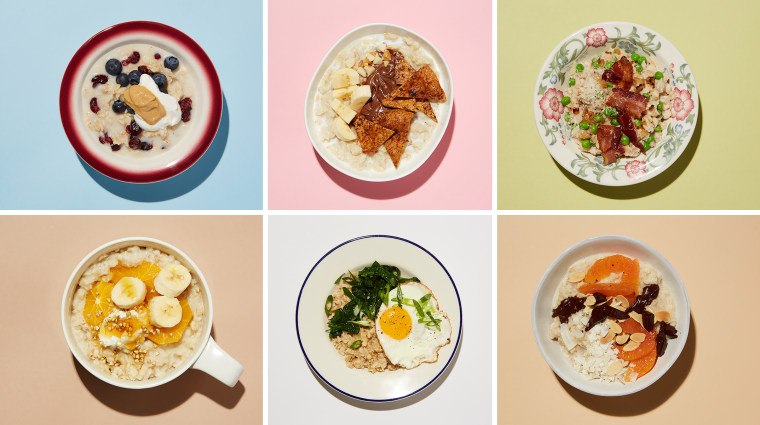 January is the time of year when change is in the air. For many, it means reassessing what (and how much!) food we eat.
In the spirit of the New Year and in partnership with the Quaker Oats Company, we challenged six talented chefs to create a new oatmeal recipe. Using a base of Quaker Oatmeal they added two to five ingredients – from sweet to savory.
The results were unexpected and tasty.
We hope these recipes inspire you to create a new and exciting flavor of oatmeal. Your idea could win you $250,000 and inspire Quaker's newest oatmeal flavor. Learn more from Quaker at www.BringYourBestBowl.com. No Purchase Necessary. Contest Ends 3/12/16.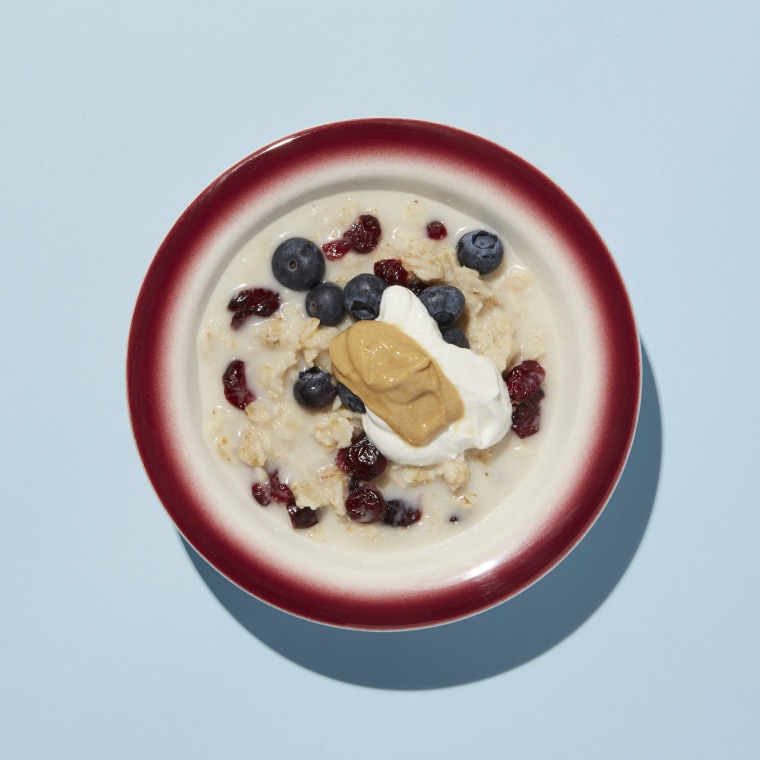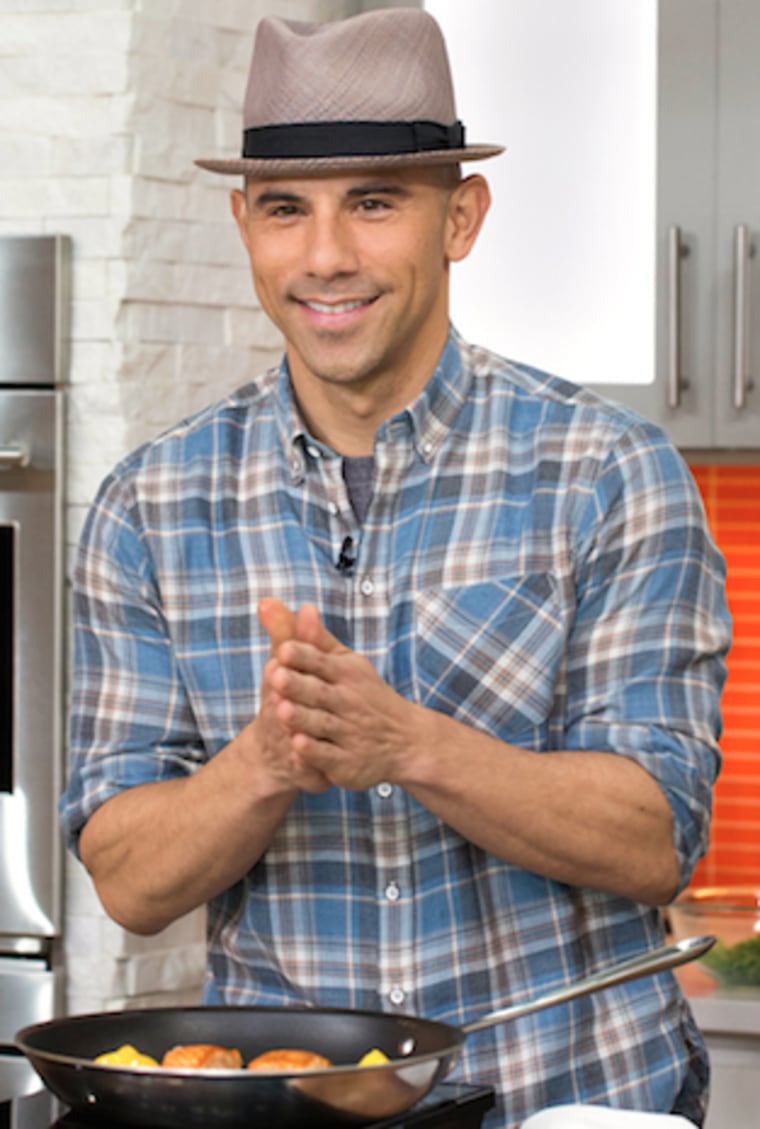 Billy Dec is an Emmy Award-winning TV personality, restaurateur and attorney. He's the owner of Sunda, Rockit, Bottlefork, Rockit Burger Bar, The Duck Inn, and The Underground Nightclub.
His oatmeal is packed with goodness to help him power through his demanding schedule.
Follow the instructions on the package for the oatmeal base. For a single serving Billy uses 1/2 cup Quaker Quick – 1 Minute oats to 1 cup of coconut milk.
Added ingredients:
Dried cranberries
Almond butter
Fresh blueberries "for vitamin C"
A swirl of Greek yogurt
Abby Dodge's Chocolate-hazelnut Oatmeal with Cinnamon Scoopers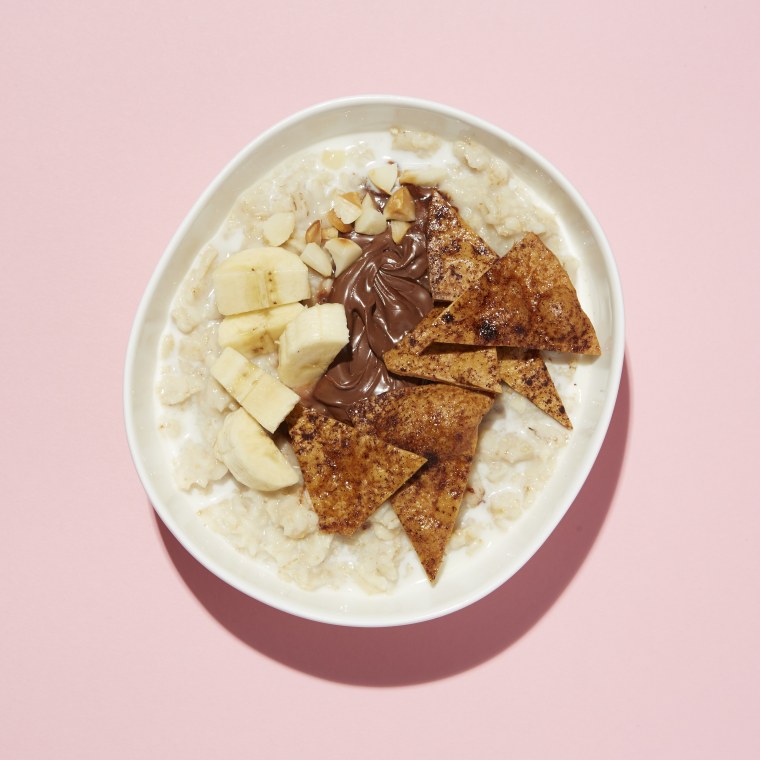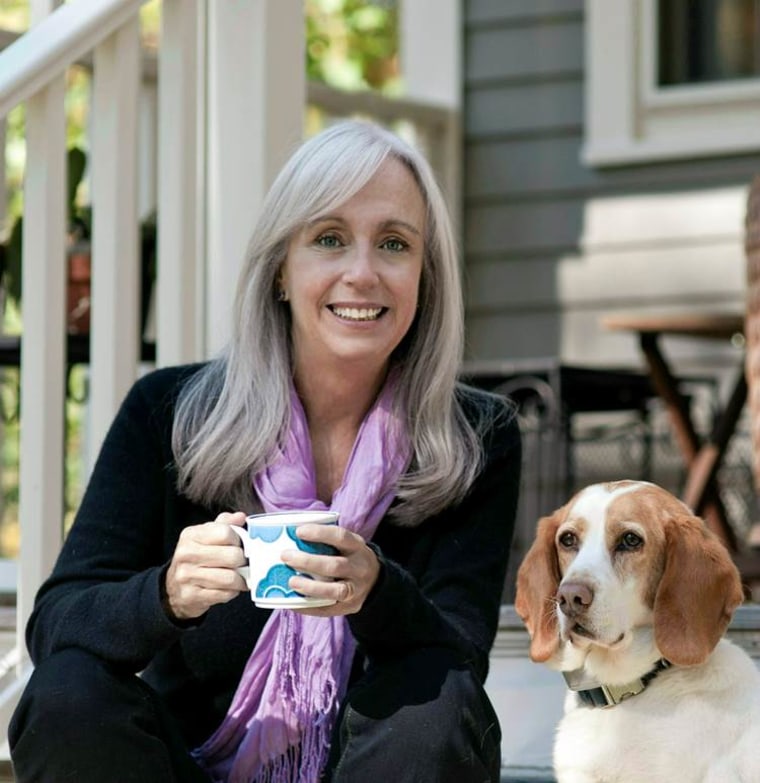 Abby Dodge is a cookbook writer and pastry chef.
She said she "grew up on oatmeal" and she still loves it for breakfast.
In this recipe she pairs Quaker Old Fashioned oats with one strong "co-star" – chocolate-hazelnut spread.
For the oatmeal, follow the instructions on the package.
Added ingredients: a swirl of chocolate-hazelnut spread, sprinkle of chopped hazelnuts, and a few cinnamon-sugar flour tortilla triangles or 'scoopers' tucked into the center. You don't even need a spoon.
For the scoopers:
Directions:
Spread some butter over one medium flour tortilla, sprinkle evenly with cinnamon and sugar and cut into triangles. Arrange, sugar side up, on lined cookie sheet and bake at 400°F until golden brown, 7 to 10 minutes.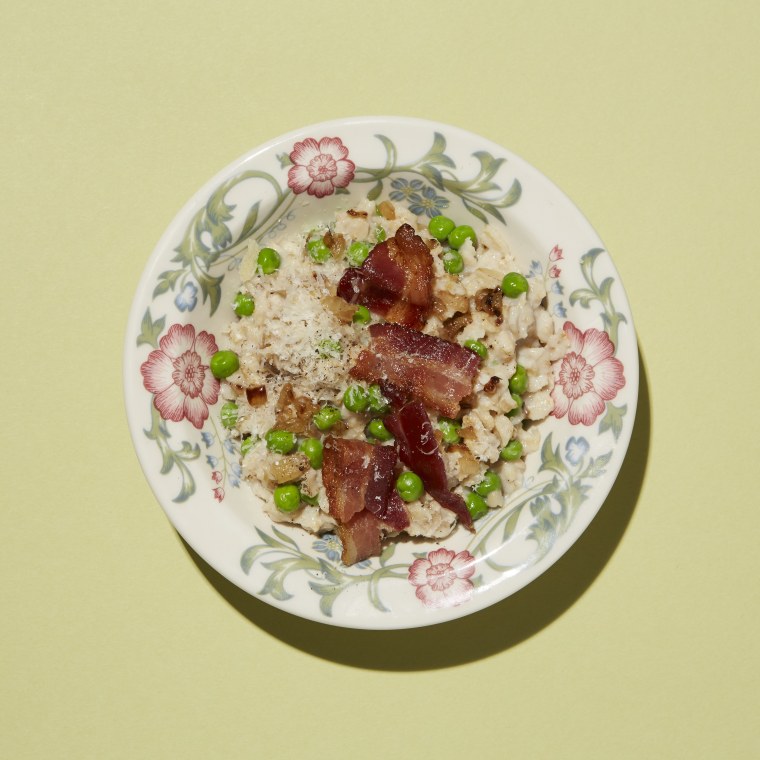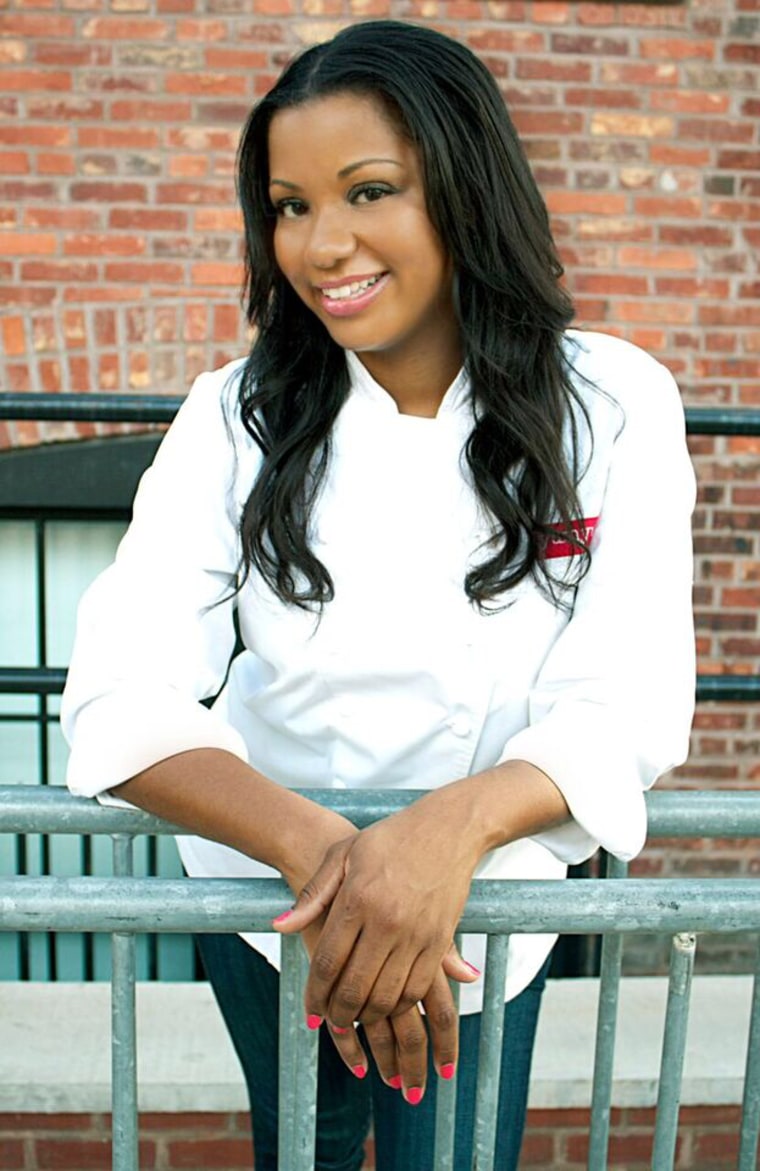 Vanessa Cantave is a chef and founder of YumYum catering. In 2011, Vanessa won the cooking competition on Bravo's "Rocco's Dinner Party." She said she likes to "cook food in a way that feels high-end but not fussy," adding, "nothing's more approachable than bacon!"
For the oatmeal, follow the instructions on the package.
Additional ingredients:
3 strips sliced thick-cut bacon, diced
1 small onion, diced
1/3 cup frozen baby peas
2 tablespoons grated Parmesan
Freshly ground black pepper
Directions:
Cook bacon in small heavy saucepan over medium-low heat until bacon is crispy. Transfer cooked bacon to a paper towel.Add onion to pan with reserved bacon fat and cook until onions are clear and soft. Add frozen peas and the reserved bacon and cook 1-2 minutes until the peas are cooked through.Gently stir in the oatmeal. Season with pepper.Remove from heat and transfer to serving bowls. Garnish with grated Parmesan. Serve immediately.
Tieghan Gerard's Oatmeal with Honey, Ricotta, Bananas, Toasted Buckwheat and Oranges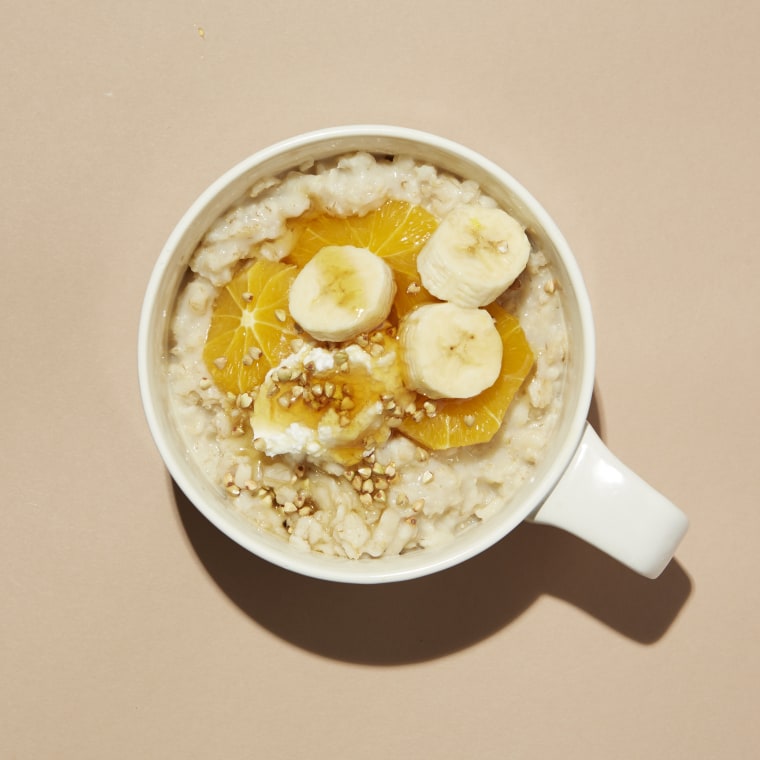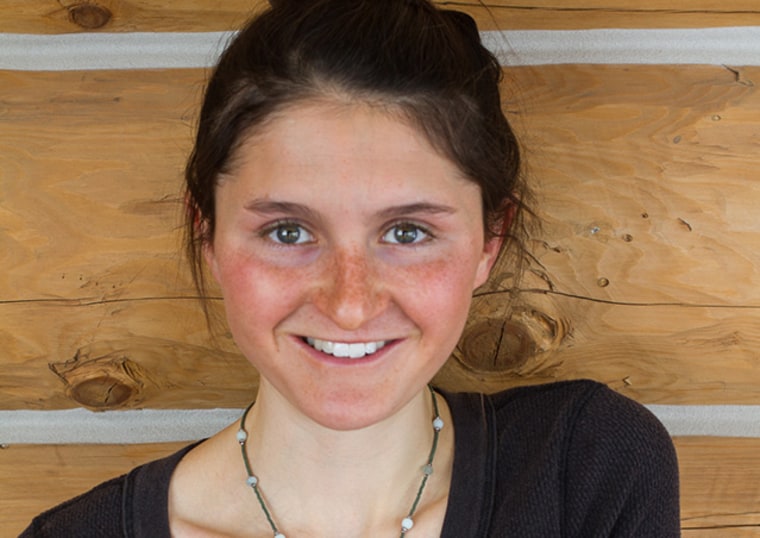 Tieghan Gerard is food blogger. She began cooking at 15-years-old for her parents and six siblings. The "crazy" environment at home inspired the name of her blog: Half Baked Harvest.
Ingredients:
1 cup Quaker® Old Fashioned Oats
1 1/2 cups milk of choice
1 cup water
2 teaspoons vanilla
Pinch of sea salt or kosher salt
1 banana. sliced
1 orange, sliced
"Drizzle" of honey
"Swirl" of ricotta
Directions:
In a medium saucepan, combine the oats, milk and water. Bring the mixture to a low boil and then simmer over medium low heat, stirring often until the liquid has been absorbed and the oats have thickened, about 15 minutes.
Remove from the heat and stir in the vanilla (if using) and salt. If your oatmeal gets too thick, make it thin with more milk.
Top with a drizzle of honey, a swirl of ricotta, sliced bananas, toasted buckwheat and oranges.
Lukas Volger's Toasted Oats with Spinach and Egg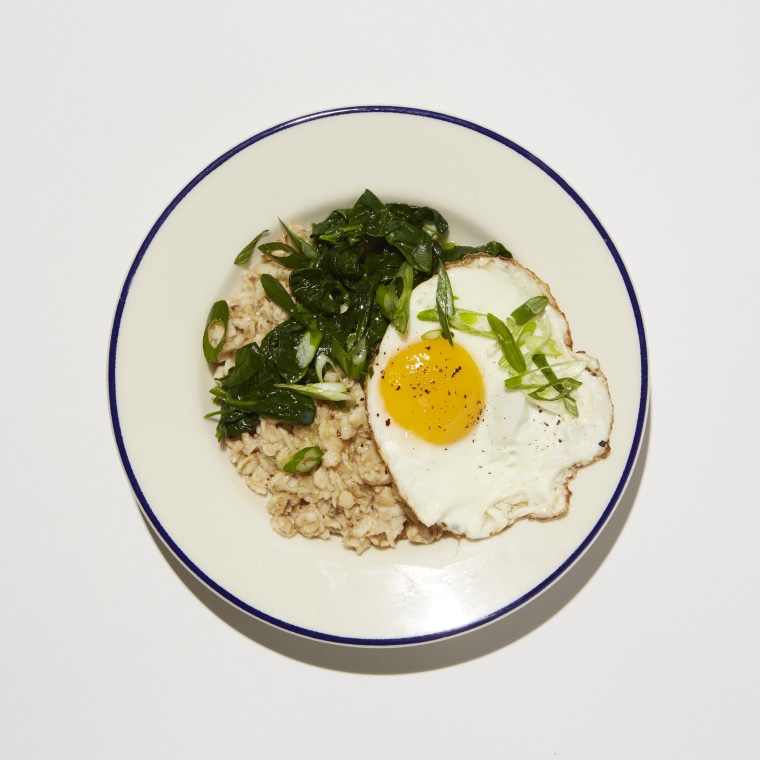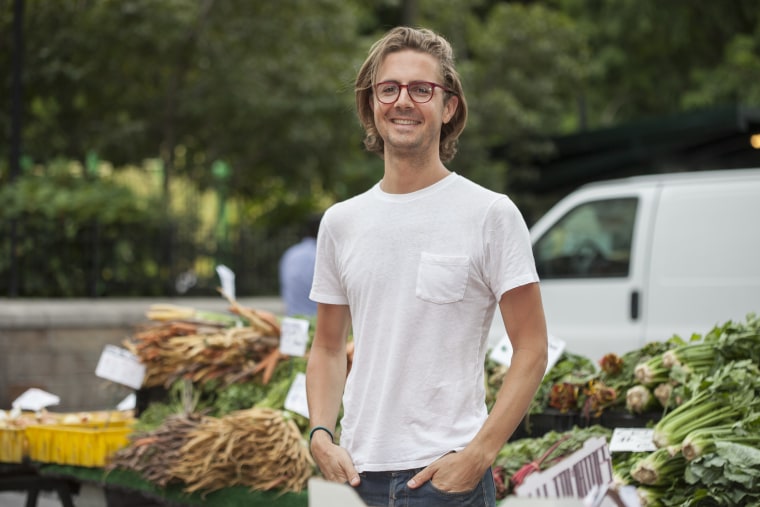 Lukas Volger is a chef, cookbook author, writer and owner of Made by Lukas, a line of fresh veggie burgers. "Oats are such a versatile grain," Lukas said, "and oatmeal is so nutritious and comforting. Toasting the oats imparts a fuller flavor and slightly chewier texture that gets you more out of the oats."
Ingredients:
For the oatmeal:
2 tablespoons butter
1/2 cup Quaker® Old Fashioned Oats
¼ teaspoon salt (optional)
Toppings:
4 cups loosely packed baby spinach
2 eggs
4 teaspoons soy sauce
2 scallions, green and white parts, thinly sliced
Freshly ground black pepper
Directions:
Heat 1/2 tablespoon butter in a medium saucepan over medium-high heat. Once foaming subsides, add the oats and cook, stirring frequently, until fragrant and lightly toasted, about 5 minutes. Add 1-3/4 cups water and salt, if using. Bring to a boil, then partially cover the pan, reduce the heat to low, and simmer for 16 to 20 minutes, until thickened.
Melt 1/2 tablespoon of the butter in a medium-sized nonstick skillet. Add the spinach and a splash of water, and sauté until wilted, about a minute. Transfer to a plate. Wipe out the skillet and return it to the heat.
Melt remaining 1/2 tablespoon butter in the skillet, then crack in the eggs. Once the whites begin to set, drizzle the soy sauce over the top and cover the pan. Cook for 45 to 90 seconds more, until the whites are set and yolks are cooked to your liking.
Divide the oatmeal, and then the spinach, between two bowls. Top each bowl with a fried egg and drizzle with any soy sauce remaining in the skillet. Garnish with scallions, a few grinds of black pepper, and serve immediately.
Jessica Merchant's Dark Chocolate, Coconut and Toasted Almond Oatmeal with Oranges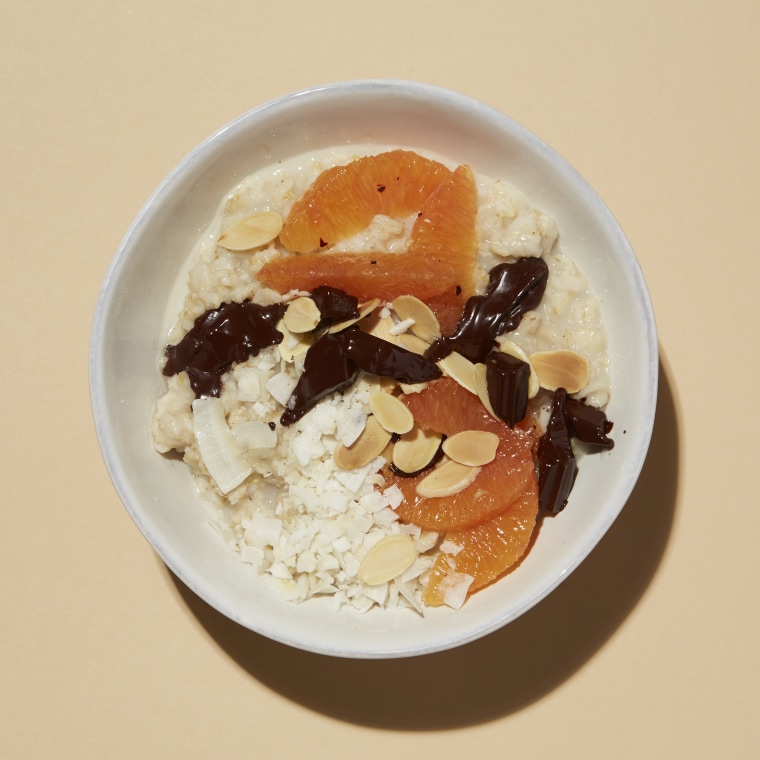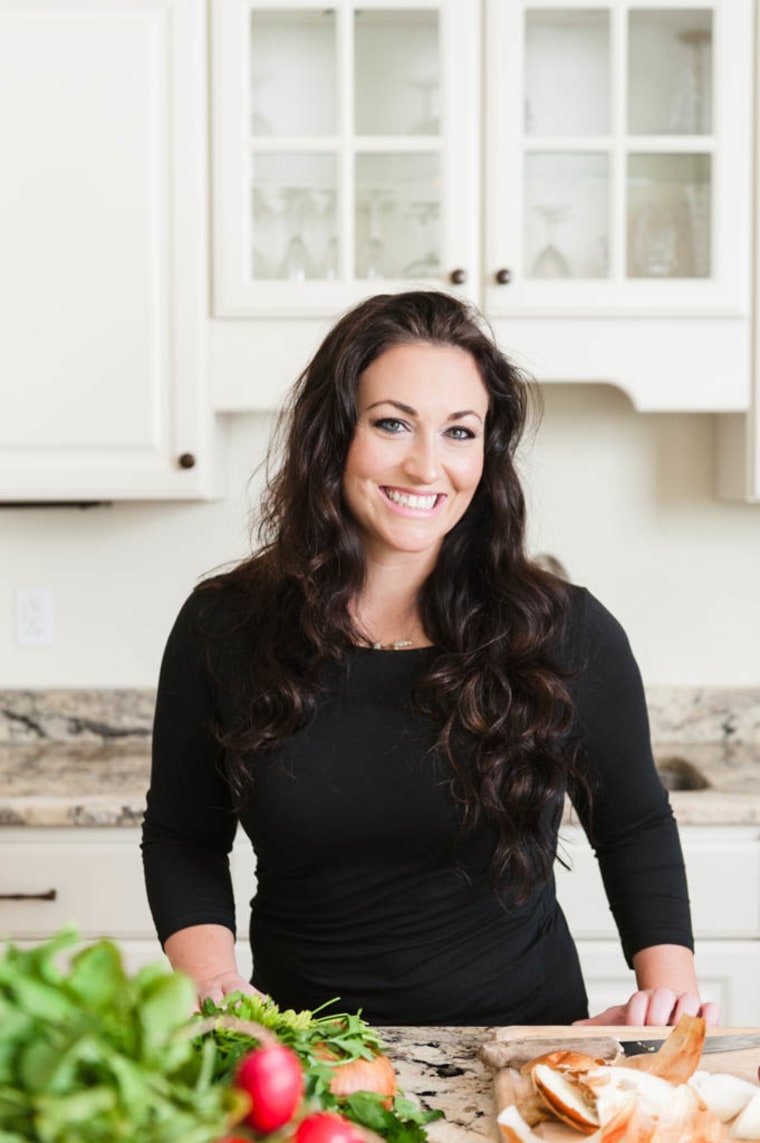 Jessica Merchant is the author of "Seriously Delish" and blogs at Howsweeteats.com. Jessica said "chocolate makes me shout from the rooftops with joy" so naturally she's included chocolate in this recipe.
Serves 1
Ingredients:
1/2 cup Quaker® Old Fashioned Oats
1 cup milk
1 ounce high-quality dark chocolate, chopped
½ orange, segmented and chopped
1 tablespoon unsweetened, shredded coconut
2 tablespoons sliced almonds
Directions:
Combine the oats and milk in a saucepan. Heat over medium heat until boiling, reduce to a simmer.
Cook, stirring occasionally, until the oats are creamy and have absorbed the liquid, about 5 to 8 minutes.
Scoop the oatmeal into a bowl for serving.
Top with the chopped chocolate, it will begin to melt into the oatmeal.
Top with the oranges, coconut and sliced almonds. Serve!
NO PURCHASE NECESSARY TO ENTER OR WIN. Void where prohibited. Open only to legal residents of the 50 US or DC who are 18 or older. Begins December 15, 2015 at 8:00am CT and ends March 12, 2016 at 11:59pm CT. Limit one entry per person. For Official Rules, including odds and prize descriptions, visit https://www.bringyourbestbowl.com/rules. Sponsor: The Quaker Oats Company.