/ Source: TODAY Contributor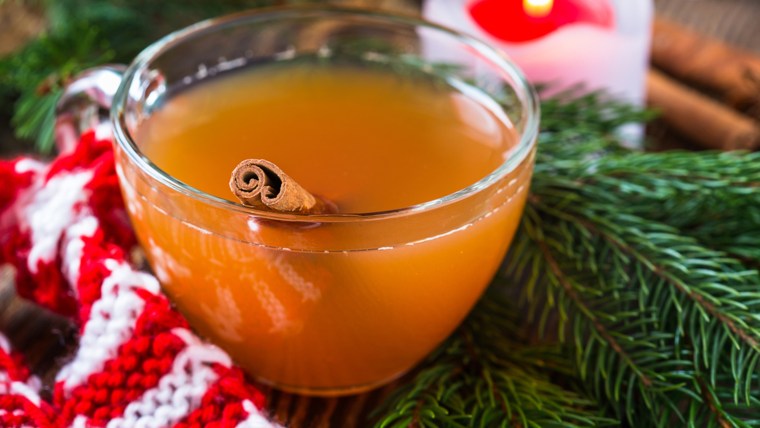 The weather outside is frightful, and though the fire inside is delightful, it doesn't hurt to add a little extra warmth to your tipple now that winter has officially started. Sure, you can put a little whiskey in your coffee, or top off that cup of tea with brandy, but why not add a whole new world of innovative and tasty hot winter cocktails to your repertoire? Wow your holiday guests, or just make yourself jolly and bright with these six steaming seasonal drinks.
Gaspare's Winter Punch
There is no better way to heat up your party than a bowl of warm punch. This recipe takes mulled wine and turns it on its head by adding Campari and cranberries to the mix.
Kahlua Mulled Wine
For a twist, warm two parts mulled wine (try this recipe minus the sugar) and one part Kahlua coffee liqueur for a sweet, almost chocolately-flavored treat.
Extra Fancy Toddy
Sip on this fun take on the Hot Toddy, which utilizes gin instead of whiskey. It's bright, fresh, and with the added rosemary and orange, tastes like winter, only warmer.
Hot Buttered Rhum
Ho, ho, ho, and a bottle of rum is what you will be saying after a sip of this adventurous cocktail. Made with rum, apple cider, and mole bitters, it's a great way to warm up.
Baked Alaska
Unlike the iconic dessert, this drink is a lot easier to make, though it does take a little time. But, you do get to light your cup on fire, so if that doesn't warm you, at least this cocktail made with Pavan, a liquor comprised of sweet grapes and orange blossoms, will.
Mulled Cider
Forget your average hot cider and try the ultra creamy and slightly spicy one they offer at this classy restaurant.