/ Source: TODAY Contributor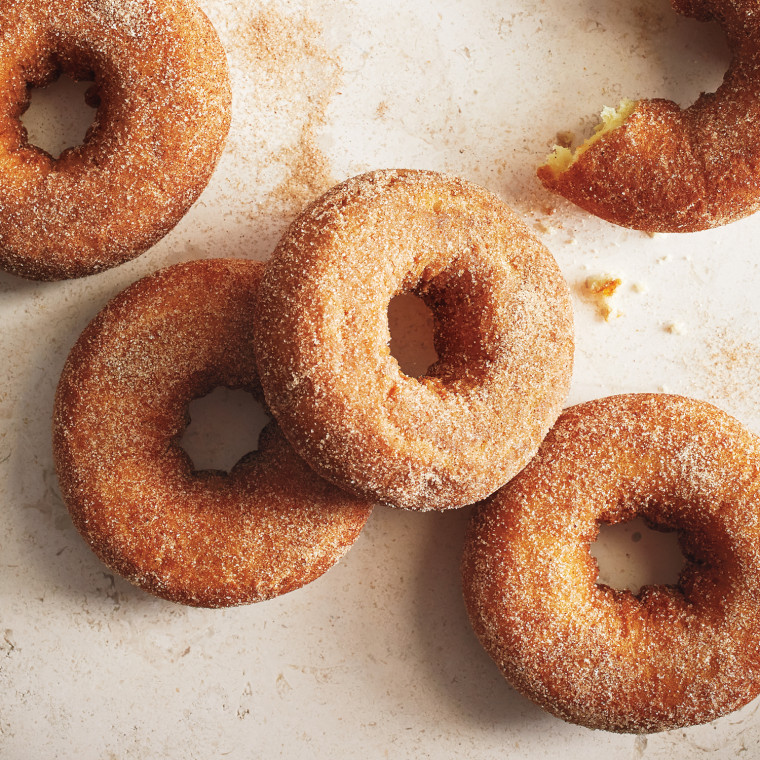 It's been 12 years since Starbucks launched their Pumpkin Spice Latte (now made with real pumpkin) and in the time since, we've seen an explosion in new pumpkin products. Last year brought us Pumpkin Spice Oreos and Pumpkin Spice Extra chewing gum—and who can forget spicy pumpkin beef jerky? It's actually tough to think of anything that hasn't gotten the PS (pumpkin spice) treatment, but still the tide of new products keeps flowing.
Make Starbucks-style pumpkin spice latte all year long
What more can be done with this flavor? Plenty! I sorted through the latest crop from the pumpkin patch to find the best-tasting and healthiest items. As a confessed pumpkin addict, I know exactly what can make or break them: they need to use real pumpkin and boast a true squash flavor, not just some vague cinnamon or clove taste. I was also on the hunt for the newest ones I could find, so some of your favorites may not have made the list. Here's the best of the bunch—many of them are limited edition, so dig in while you can!
How to cook with real pumpkin: Tips for prepping and shopping, plus recipes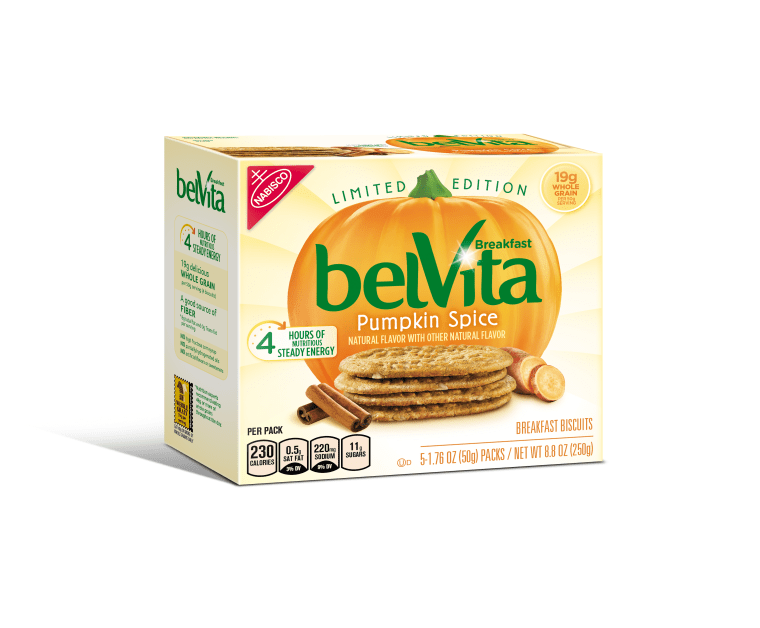 BelVita Pumpkin Spice Breakfast Biscuits
the belVita pouch contains four crunchy, not too sweet biscuits with a distinctly fall flavor. Each 230-calorie serving includes 19 grams of whole grains and 3 grams of fiber. I like that they don't contain high fructose corn syrup, hydrogenated oils or artificial flavors. Throw one in your purse for snacking on-the-go.
Available at retailers nationwide until the week of November 1st.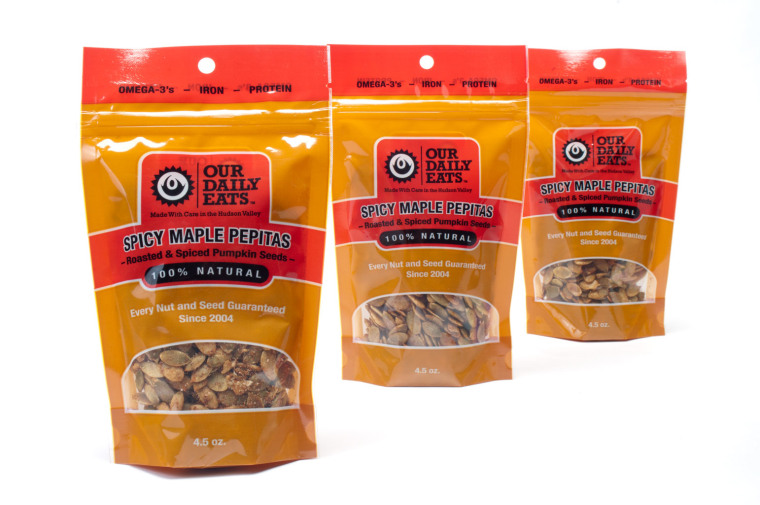 Our Daily Eats Spicy Maple Pepitas
You can't get much simpler than the ingredients list of these hot little numbers: pumpkin seeds, maple syrup, cayenne and sea salt. The insanely addictive seeds pack some serious heat and would go well with pumpkin ale. You can snack to your heart's content on 1/4 cup of them for just 125 calories and 5 grams of fat. In addition to snacking, these vegan pepitas are wonderful sprinkled over salad or a bowl of soup.
Available at ourdailyeats.com and select stores in the northeast.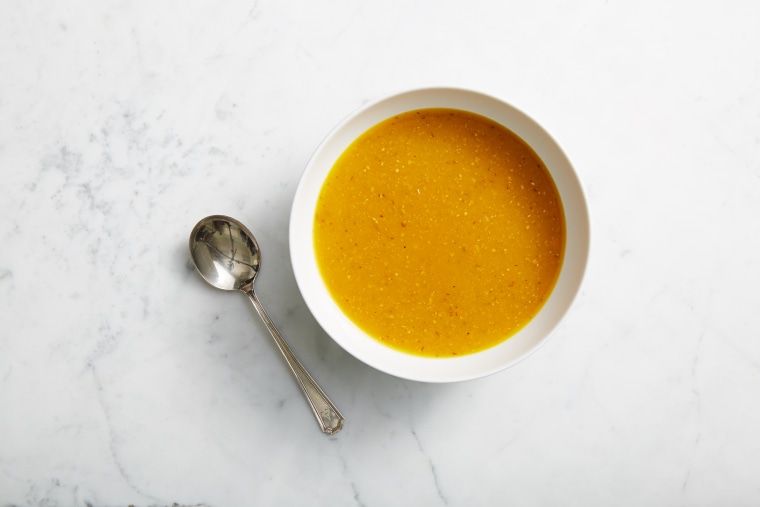 Splendid Spoon Pumpkin Pear Hempseed Soup
With notes of Saigon cinnamon, rosemary, vanilla, cardamom and cayenne, a few sips of this soup (serve it cold or hot) will have you conjuring up holiday memories. An eight-ounce bottle contains two 70-calorie servings, so it's not a problem if you sip a bit too much.
Available at splendidspoon.com through the winter.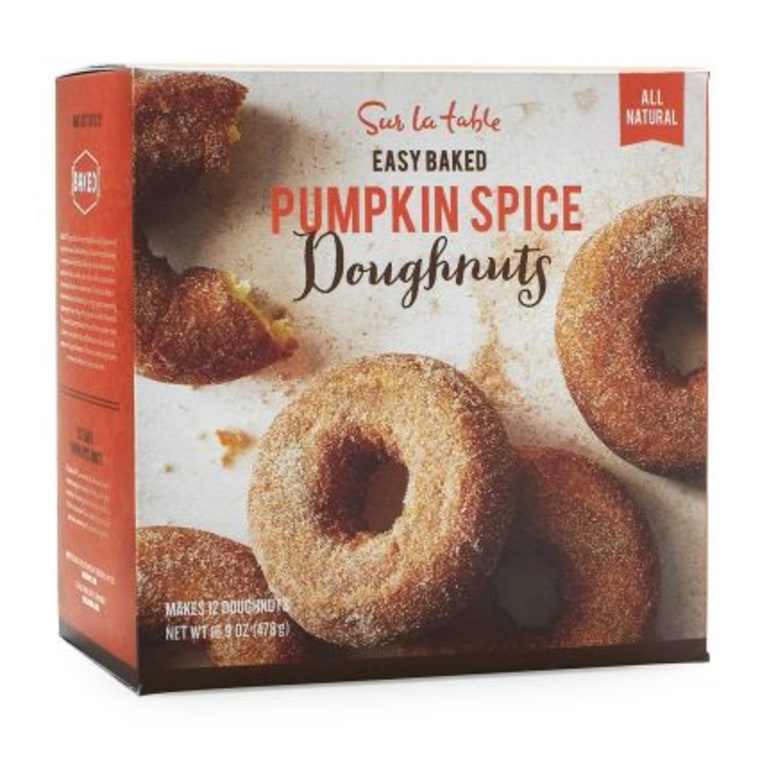 Sur la Table Easy Baked Pumpkin Spice Doughnuts
It may not surprise you to learn that I've never fried a batch of doughnuts before, but that doesn't mean I can't appreciate the combination of warm dough with cinnamon sugar. The addition of pumpkin to the equation only makes it more enticing. Not only does this mix make it simple to bake a batch of tender pumpkin doughnuts for your Halloween party, they look incredibly impressive. The box makes either 18 standard size doughnuts (150 calories) or 30 minis. To make them you'll need a doughnut pan, as well as eggs and canola oil. I recommend serving them with hot coffee and apple cider.
Available at Sur la Table stores and surlatable.com through November.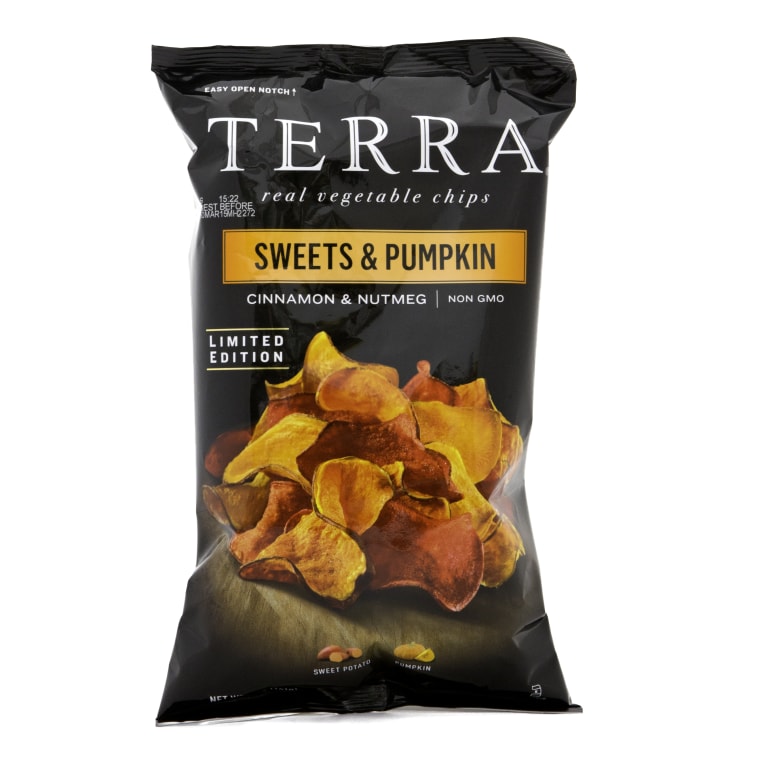 Terra Chips Sweets & Pumpkin Chips
Chips are not my weakness, but these kept me reaching for another handful. Not only are they delicious, they're gorgeous enough to deserve a spot at any fall party. Each bag combines pumpkin with sweet potatoes that have been dipped in beet juice. Crunch on 17 chips for 140 calories, 10 grams of fat, just 15 milligrams of sodium and 4 grams of sugar.
Available exclusively at Whole Foods Market nationwide through the end of this year.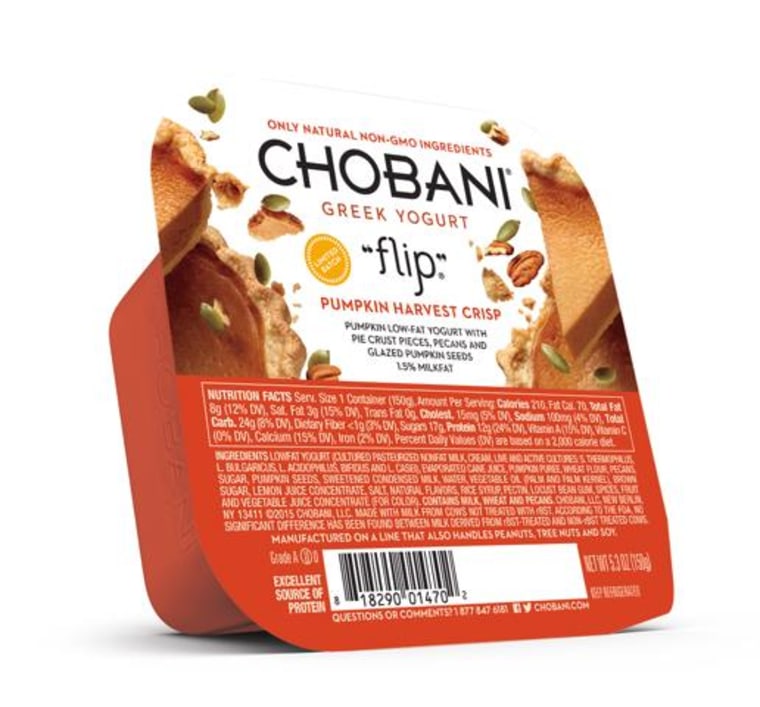 Chobani Pumpkin Harvest Crisp Flip Greek Yogurt
Last year, Chobani introduced Pumpkin Spice as a limited edition flavor and it was such a hit that they took it and made it one of its new Flip offerings. It combines creamy blended low-fat pumpkin yogurt (with pumpkin puree) with bits of pie crust, pecans and glazed pumpkin seeds, all for 210 calories, 8 grams of fat, and 17 grams of sugar. Since it's made with Greek yogurt, the Flip provides 12 grams of protein.
Available at grocers nationwide through mid-November.