The barbecue world is known as a boys' club, but many women across the country — from Melissa Cookston in Memphis, Tennessee, to Tiffani Faison in Boston, Helen Turner in Brownsville, Tennessee, and Tootsie Tomanetz in Lexington, Texas— are taking control of the smoker.
In Charleston, South Carolina, aheritage-breed hog farmer with a passion for food decided it was time to start her own, all-women team, called "We Only Smoke When We Drink." They will be making their public debut on March 8 — which just so happens to be International Women's Day — at a Charleston Wine + Food festival event called "Smokin' in the Boys' Room." The event will highlight women changing the face of barbecue today, including Amy Mills, Jess Pryles, LeAnn Mueller and Ali Clem, with 20 teams, consisting primarily of women, making their best 'cue.
The founding member of We Only Smoke When We Drink is Christian Jackson, co-owner of Holy City Hogs with her husband Tank Jackson. In previous years, Christian has frequented barbecue events around the country with Tank, doing mostly behind-the-scenes work.
That's how she met Delaniah Bringle, co-owner of Peg Leg Porker restaurant in Nashville, Tennessee. Delianiah works with her husband, pitmaster Carey Bringle.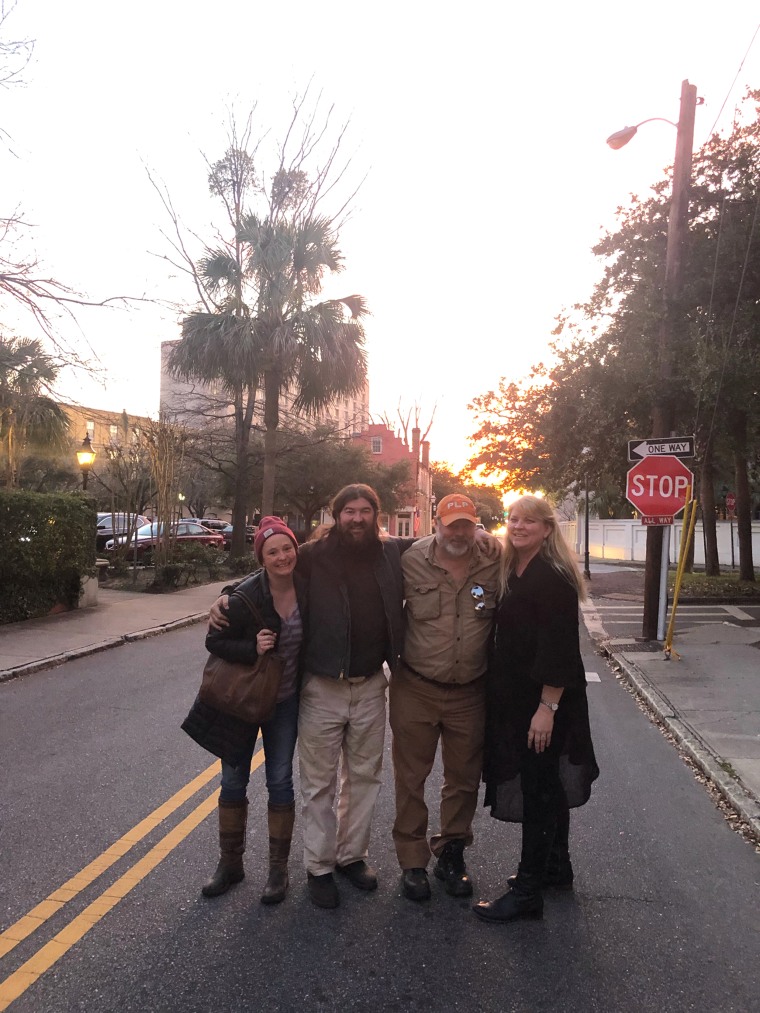 "So, Delaniah and I met through our husbands," Christian told TODAY Food. "And through the Charleston Wine + Food event ... We were assisting our husbands as usual, running around being taskmasters. And we met then. And we instantly had fun."
In 2016, the women joined forces with Christian's college roommate, Julie Modlik, who owns an electroplating company with her sister in Akron, Ohio. Everyone began gathering together with their families at Christian's farm, when everyone comes in for Charleston Wine + Food, to smoke a hog.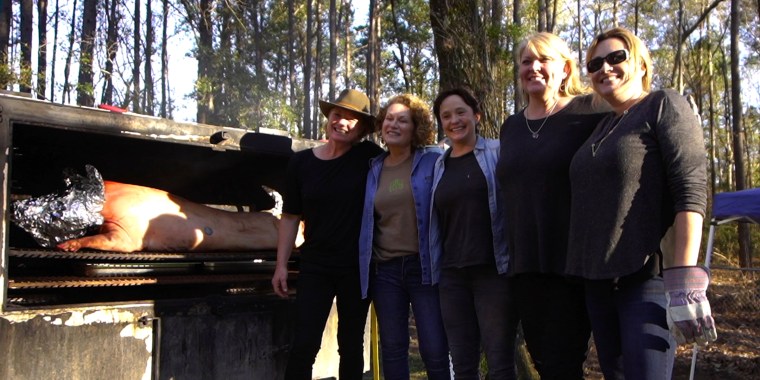 "You know, when you're waiting for the hog to cook, you sit around a fire, you smell the smoke, the smoke is cooking the hog, and then, you know, people are, you know, stoking the fire, and there's coals, and it's just a wonderful smell," Delaniah told TODAY. "And then everyone's sitting around talking, no phones, and drinking, and, you know, there's some cussin' going on, maybe some storytelling."
"It's such a bonding experience, and it's just so much fun to, you know, do the whole process," said Christian. "I mean, it's a journey."
Christian and Delaniah were more than ready show off their smoking skills, independently from their husbands, as a legitimate all-women team. They just needed a couple more people to join.
Christian recruited another friend, Teresa Smithmyer, the owner of Bulls Bay Saltworks in McClellanville, South Carolina; as well as another dear friend, Terri Henning, a real estate investor who is deeply entrenched in the Charleston food scene. They met in 2015 at a fundraiser for the families of the victims of the Mother Emanuel church shooting. Terri purchased a barbecue for 50 people, while Holy City Hogs, Christian's business, donated the pig.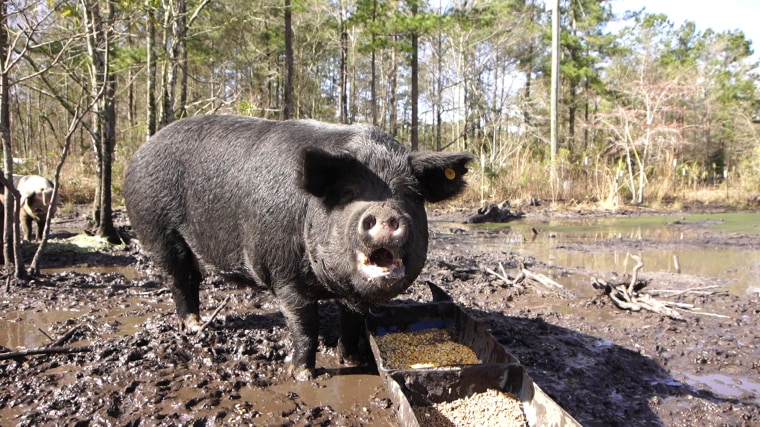 "That was the first time that I met them," Terri told TODAY. "And their warmth was infectious. And it's been a strong friendship since."
The name of their team, "We Only Smoke When We Drink," was inspired by Delaniah's late friend, Beverly Alderson, who passed away the year she met Christian. Beverly had a set of rules for her girlfriends whenever they got together.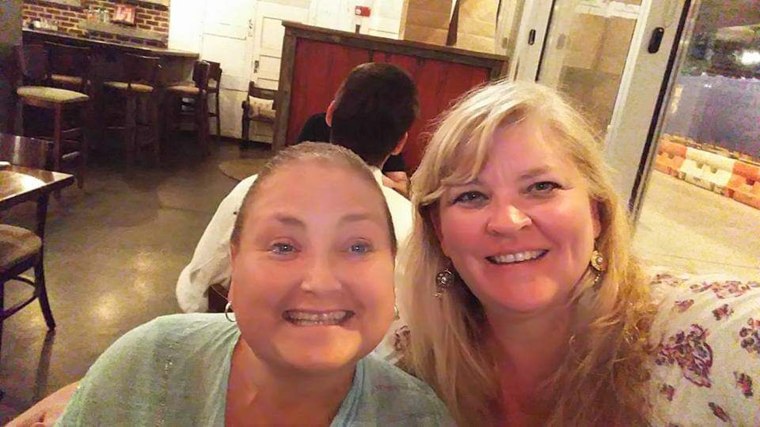 "You had to cuss, you had drink, and you had to smoke," said Delaniah.
Now, each member of the team brings something amazing — literally and figuratively — to the table. Christian brings a hog from her farm. She and Tank raise their heritage breed hogs outdoors, free to roam around their large farm. One of their hogs, which can feed 100 people, costs $3,500.
"The pig that we are smoking today, I've known since [it was] a baby," said Christian. "It's an emotional experience. But you know, they're living living good lives, so [they're] happy pigs."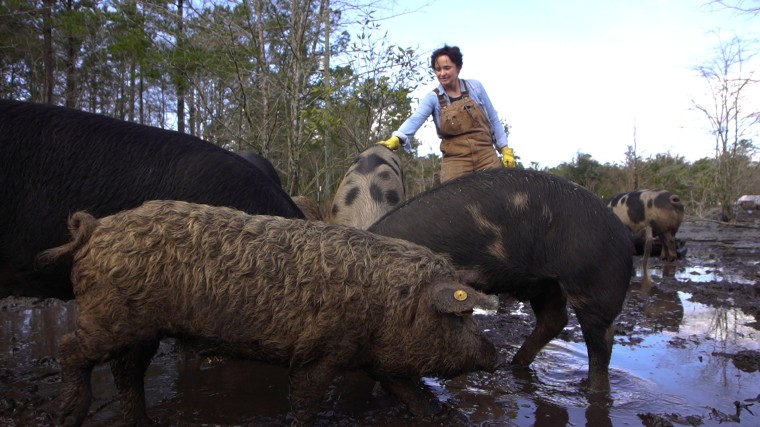 They cook the hog whole in to honor its life and ensure nothing is wasted.
"If someone just wants the belly, well, what do we do with the rest of the pig? Then it takes us more time to go everywhere and find homes for the rest of the pieces. So, the whole-animal usage is really is the best."
Terri is an excellent ham carver, said Christian, so she gets right in there to trim some fat off the pig and remove its internal organs.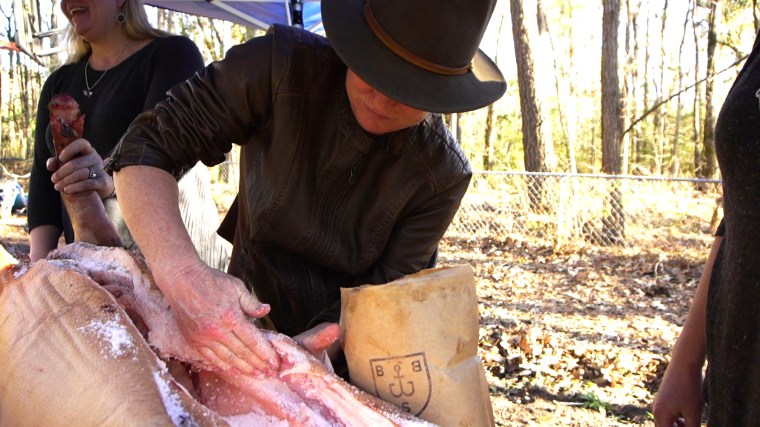 Teresa then comes in to rub down the pig's cavity with her famous solar-evaporated sea salt, harvested just minutes north of Charleston — and there's no such thing as too much salt, as most of it will fall off during prep and cooking.
Delaniah brings lots of knowledge about hog smoking, her smoker and her secret blend of spices to season the pig.
"What I'm most excited about Smokin' in the Boys' Room is that, because I have been kind of on the back side of our restaurant, that this time, you know, I kind of get to show what I can do and show the boys that I can definitely do what they do, and maybe even better," Delaniah said.
The women then flip the pig right-side-up, cover its face, ears and tail in tin foil (so they don't burn; they cook much quicker than the rest) then load it, with a bit of muscle, right into the Bringle's smoker. They smoke the hog running-style, which means all the fat will drip down into the pans, which they've filled with vegetables, below it.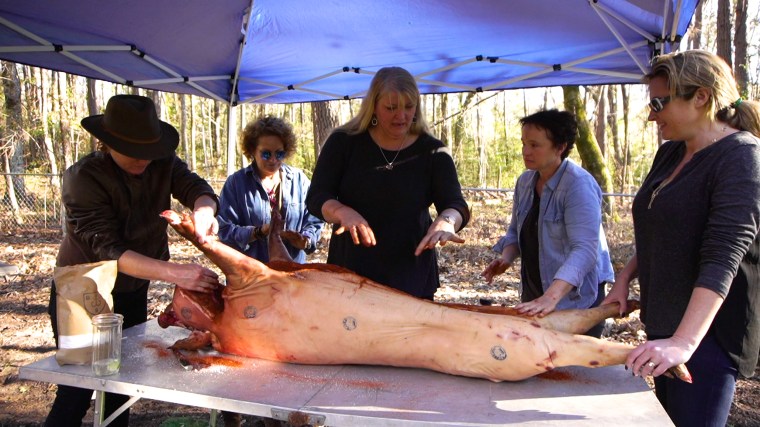 "And then we'll cook him for, I don't know, 14 to 18, 24 hours depending on how big he is," Delaniah explained. "And I think Ludwig today is 145? 146. So he'll probably cook somewhere in between that time. But like I said, our smoker is very efficient so we'll just put him on and then we'll have to, you know, baste him every six hours, and check the fire."
In January, the women gathered at Christian's home on Wadmalaw Island to practice for the big event. After smoking the pig, they set up a feast — complete with Delaniah's Kool Aid pickles, of course — at the scenic Rosebank Plantation, a favorite spot of Christian's near her home.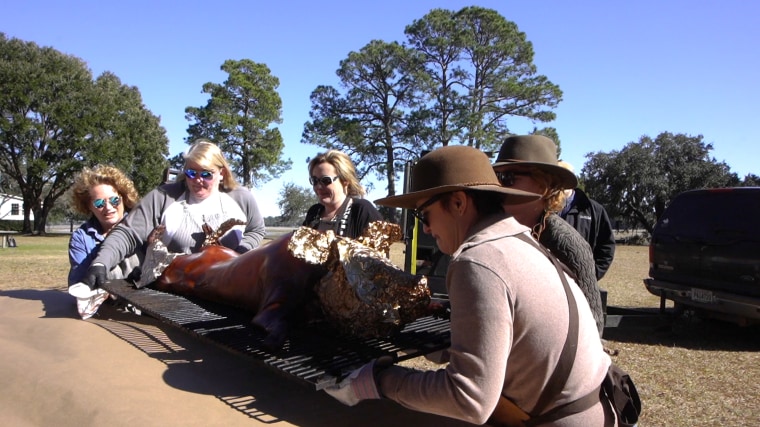 They pulled the hog from the smoker, its skin a deep caramel color, sweating beads of fat.
All five women slid on their heat-resistant gloves, cut into the glass-like skin, sampling it like candy, and easily pulled the meat from the bones.
"You could use forks but I just prefer my hands," explained Delaniah. "There are many different parts of the hog once you get inside and you can feel the meat better, and if it is cooked right, the meat should just fall into your hands without slicing or chopping."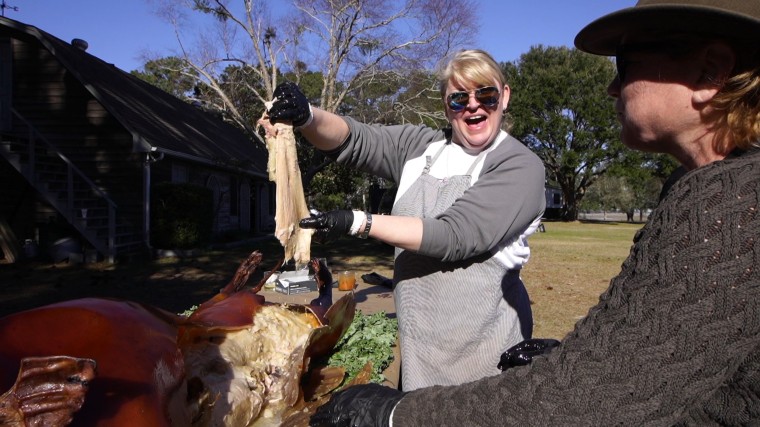 As they sat down to pile their pork into sandwiches, they toasted to their successful first team hog. They're ready, they said, to share their delicious pork to everyone at Smokin' in the Boys' Room in March.
But beyond the festival, they're also ready to compete in the big leagues. Specifically at Memphis in May, one of the country's largest festivals that runs throughout the month and features a world-championship barbecue cooking contest. While Christian and Delaniah's husbands have competed at the popular festival before, this would be the first professional competition for the ladies of We Only Smoke When We Drink.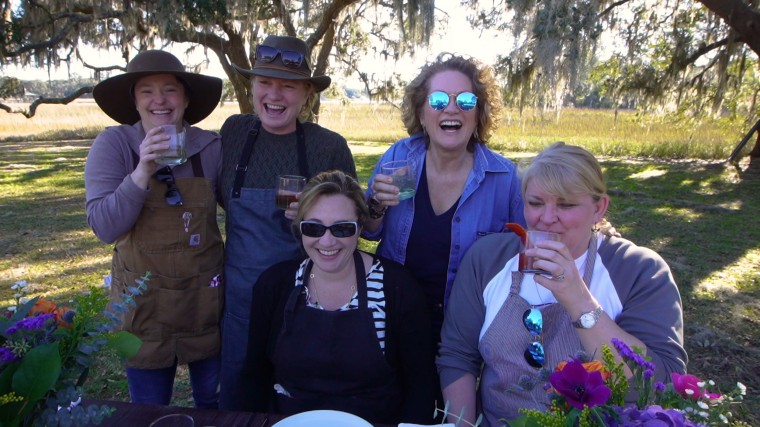 "I'm hoping for our team ... [we go] to Memphis in May," said Christian. "I'm tired of staying at home. I'm ready to go."
The team's application was approved at the beginning of March and they'll be going head-to-head against their husbands in the Whole Hog category — using the same smoker and hogs from the same source — Holy City Hogs, of course.