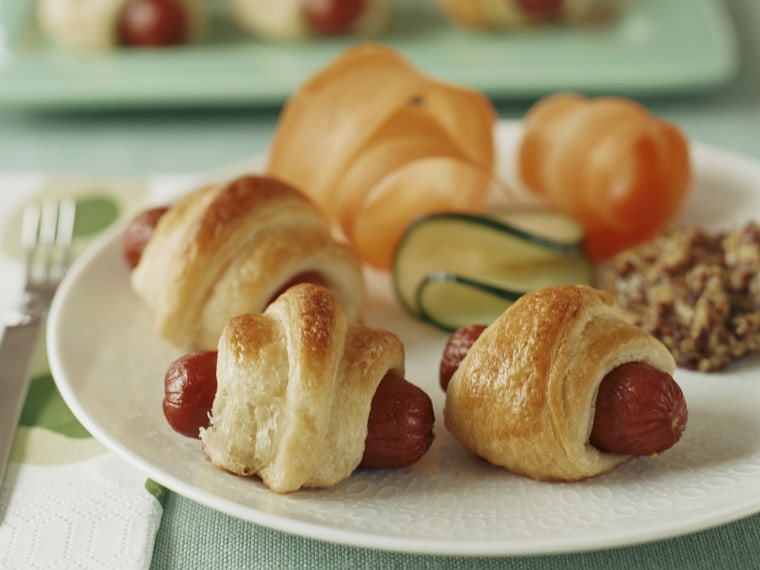 World-renowned chef and restaurateur David Burke cooks up all the different types of foods you can blanket your franks with, and offers a few variations of the classic cocktail party treat.

There's nothing better than a tray of pigs in a blanket at a cocktail party, but I'm all about taking things to the whimsical level. If you think about the simplicity of the popular appetizer, it's easy to see that there's a variety of ways to present them, and these are some of my best ideas.
Sure, the word "pig" is in the name, but that doesn't mean it has to be a pork product every time, or even an animal one, for that matter. And then there's the blanket. While there is nothing wrong with all of the buttery and flaky qualities of a puff pastry crust, there's a variety of ways you can wrap your bite-sized appetizers that will be just as delicious.
Last but not least are the finishing touches. Ketchup and mustard go hand in hand with hot dogs, but what about pepperoni and cheese wrapped in pizza dough, or bananas and Nutella? When creating your new version of the appetizer, you'll want to think about the dipping sauce as well.
The beauty of pigs in a blanket is the flexibility around them. All you need is the basic recipe below for a window of inspiration to open up.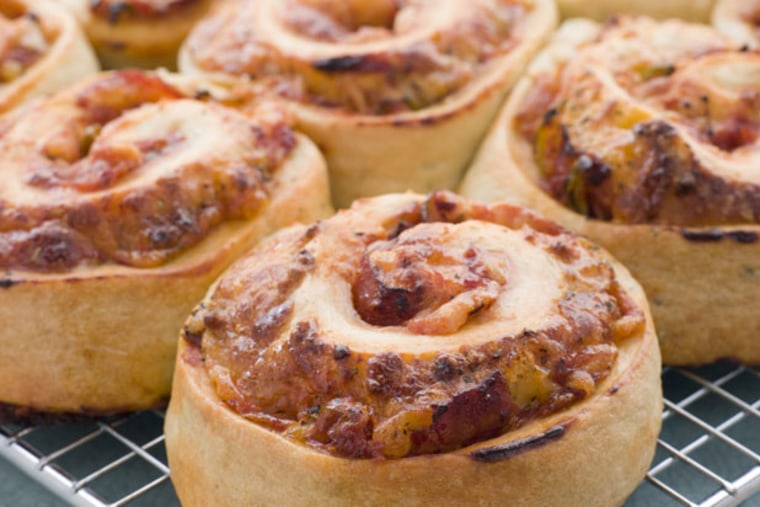 Pizza-in-a-blanket
Instead of using puff pastry, use pizza dough to make your appetizers. Wrap the dough around a little mozzarella cheese, tomato sauce and pepperoni to make a pizza version of them.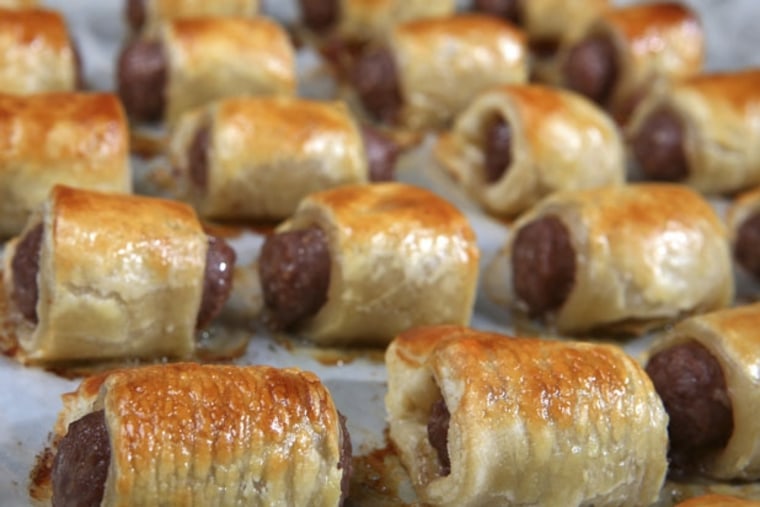 Breakfast in a blanket
Pigs in a blanket can have a place on your breakfast table as well. I wrap breakfast sausage in brick dough and serve them with a side of maple syrup. Use the basic recipe below for a starting point, but brush the rolls with maple syrup instead of egg wash.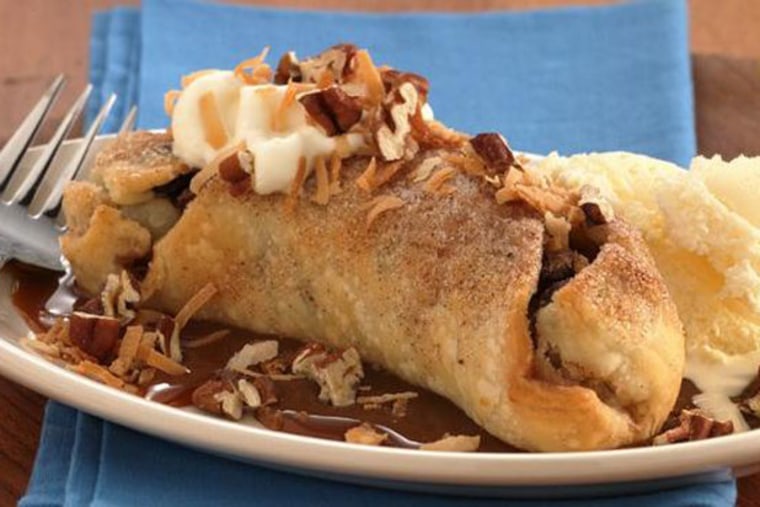 Sweet ending
To create mini desserts based off the classic appetizer, use phyllo dough spread with Nutella and wrap it around bananas. Just use this the basic recipe below for pigs in a blanket as your starting point for instruction, and follow the baking directions on the back of the phyllo dough's box.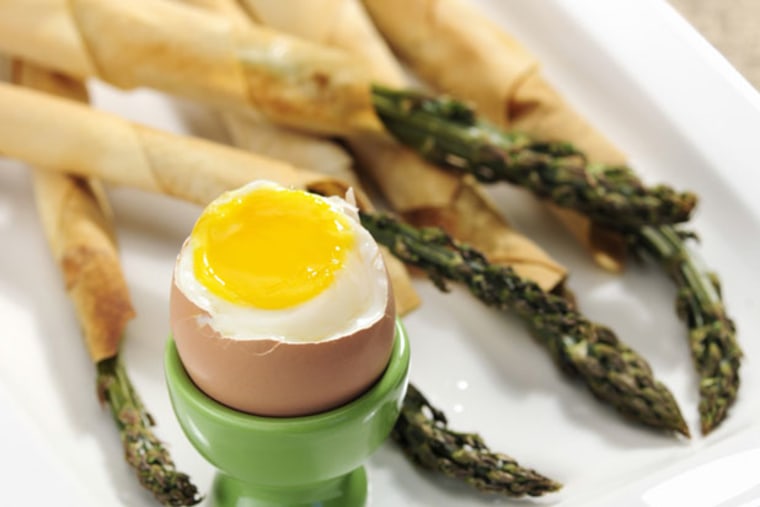 Asparagus spears
Just like mini hot dogs, asparagus spears have the perfect level of crunch to be wrapped up. Instead of spreading Dijon, shred and sprinkle a little bit of your favorite cheese for additional flavor.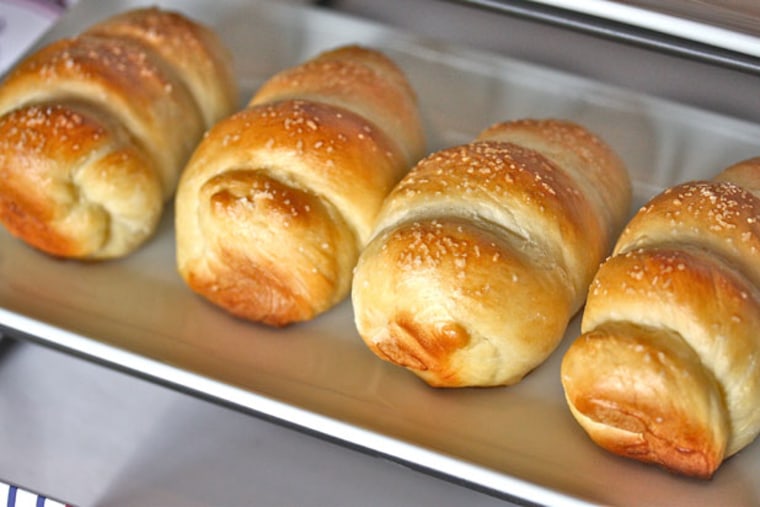 Pretzel pigs
If you're a pretzel nut, there's no reason you shouldn't wrap your pigs in them. Wrap your franks in pretzel dough to make a simple variation of the classic dish.
Click here for more creative spins on the cocktail party classic from The Daily Meal.
Perfect pigs in a blanket
Courtesy of The Daily Meal
Ingredients
One 12-ounce package cocktail franks (about 30)
1 package of puff pastry sheets
Thawed Dijon mustard, as needed
Cooking spray
2 eggs, beaten

Directions
Preheat the oven to 375 degrees.

Remove the cocktail franks from their package and pat them dry with a paper towel. Poke 1 or 2 small holes in each frank and set aside.
Unroll each pastry sheet onto a clean work surface. Take a cocktail frank and measure out a little less than the width of it on the pastry sheet and cut the sheet into long, thin strips. Divide the strips into 3-inch pieces (you may want to test to make sure this is long enough to wrap around an entire frank).
To assemble, spread about a teaspoon of Dijon mustard onto each pastry strip, then wrap around a cocktail frank. Press the seam with your fingers to seal, and then set it seam side down on a baking sheet greased with cooking spray. Continue to assemble the rest of the cocktail franks with the pastry strips.
Add 2 tablespoons of water to the beaten eggs and whisk quickly to combine. Using a pastry brush, brush each miniature hot dog with the egg wash, then bake in the oven until the puff pastry is cooked and golden brown, about 15 minutes.
To learn more about DavidBurke, visit his website and his Facebook page, and follow him on Twitter @ChefDavidBurke.
More from The Daily Meal:
How to Make the Perfect Eggs Benedict
10 Recipes for the Ultimate Sandwich Melts
How to Make Even Better Guacamole