Right now, all I want to talk about is savory, greasy fried grilled cheese sandwiches. Luckily for me, a lot of people are on my wavelength and they're making terrific—or at least thought-provoking—versions.
The American Grilled Cheese Kitchen, San Francisco: AGCK takes their grilled cheese seriously enough to have a breakfast menu: The Breakfast Piglet is filled with sharp Cheddar, ham, egg and apple mustard. At lunch, they serve a no-egg version of it, as well as the Mousetrap, made with cheddar, creamy Havarti, Monterey jack, on artisan sourdough. The place, nearby Candlestick Park, usually closes at 4, but they extend their hours to the first pitch for most Giants home night baseball games.
The Grilled Cheese Truck, Los Angeles: In most places, macaroni and cheese and house-smoked BBQ pork are side dishes. At the Grilled Cheese Truck, they're the basis for the Cheesy Mac & Rib Sandwich. Likewise, the Pepperbelly Melt is filled with housemade chili and Fritos (served with habanero jack cheese, on cheddar jalapeno bread). You can also design your own sandwich with both the BBQ pork and chili but that's getting a little crazy.
Roxy's Grilled Cheese, Boston: In keeping with the theme of grilled cheese places that respect their local baseball parks, Roxy's offers the Green Muenster, an homage to Fenway Park's famed leftfield wall. (It's a mix of Muenster cheese, guacamole and bacon.) Here, too, mac & cheese is considered a sandwich filling: mixed with spicy sausage and caramelized onion it's called Mac & Chorizo. Among Roxy's ingenious inventions: they brush the bread with mayonnaise rather than butter before slapping it on the griddle.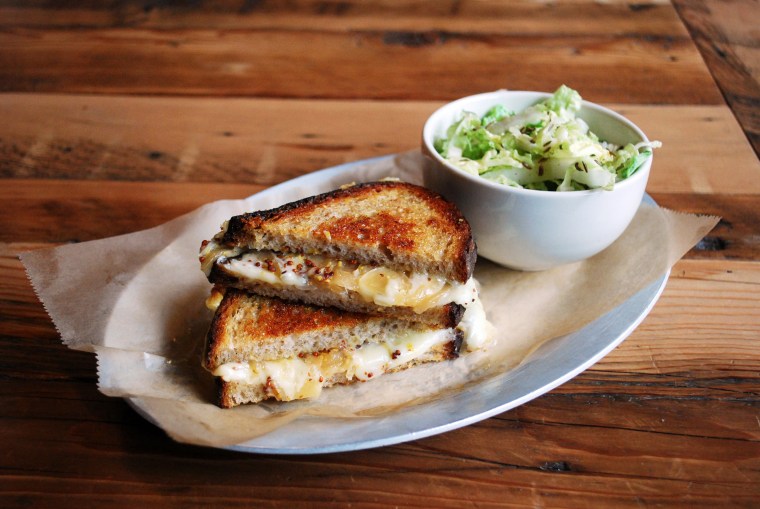 Queens Kickshaw, Queens, N.Y.: This new café uses the amazing ethnic diversity of its hometown Queens to inspire the menu. Sandwiches include the Greek-influenced feta with roasted red pepper spread, and the French-style Gruyere with pickled and caramelized onions. I'm not sure what country inspires the grilled cheese with gouda, black bean hummus and guava jam, but it sounds tasty.
More from Food & Wine: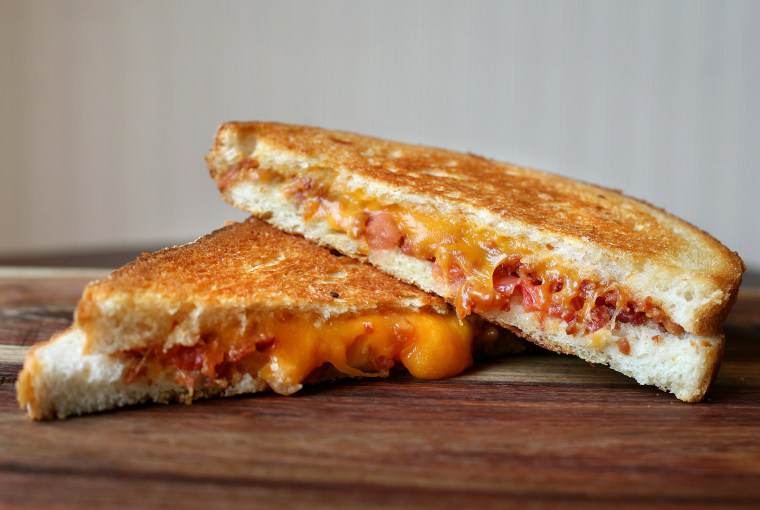 Grilled Cheese & Co., Cantonsville, MD. This mini-chain now has three locations in Maryland. So of course they have the Crabby Melt, melted jack cheese on top of their homemade 'crabby dip.' Among their current specials is the Hermanator, designed by NASCAR driver Kenny Wallace: provolone, turkey breast, pickles with honey-mustard sauce.
More from Bites: