If you haven't tried nitro coffee yet, you're missing out! Nitro is cold coffee on tap that's infused with tiny nitrogen bubbles, and the bubbles give this coffee a foamy texture, like beer. Beer (kinda) for breakfast? We're in!
Until now, it's been pretty hard to find in most places across the country, even among small, artisanal coffee shops.
But Starbucks is getting ready to ratchet up the availability in a big way, rolling its new Nitro Cold-Brew coffee out in about 500 shops by the end of summer. Whether you get it near you probably depends on how adventurous the coffee drinkers are in your area, and whether the store has the counter space to install the tap system.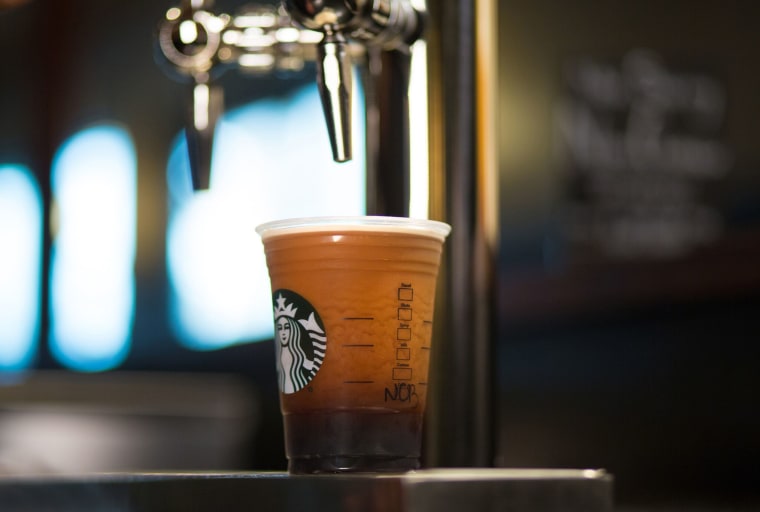 RELATED: Chewable coffee? Testing the new trend of caffeine-infused gummies
Nitro Cold-Brew starts off as the chain's regular Cold-Brew, which it released just last year. Under the counter is a single keg of cold-brew coffee; one line runs to the plain cold-brew tap, and the other line gets infused with tiny nitrogen bubbles as it pours out of the nitro tap. Regular Cold-Brew comes out as you'd expect: plain, deep-brown, cold coffee. As the nitro pours out, it cascades into the cup, separating a bit into darker and lighter brew, with a thick, foamy top—it looks a lot like a Guinness beer, and even has a similar texture.
RELATED: Cool new ways to order your coffee this summer
Right now, Starbucks' Nitro Cold Brew is available in just 14 Seattle stores and another three in Portland, Ore., where TODAY got a taste. San Francisco will get nitro in the coming weeks, followed by Los Angeles, Chicago, Boston and New York. Here are five things you should know before ordering one, if nitro comes to your town:
1. Look for the beer-like tap.
To know if your Starbucks is serving nitro, look for the signage, of course, or the telltale chrome double-tap at the corner, which looks a lot like a beer tap you might see at a bar.
2. Go with the special new 10-ounce cup size. For Nitro, Starbucks came out with a 10-ounce "short" cup, 2 ounces less than a tall. That's because without the volume of the ice, the coffee—and caffeine—are quite concentrated. While the chain also offers tall ($3.95 for 12 ounces) and grande sizes ($4.45 for 16 ounces) for the Nitro Cold Brew, it recommends you go small. The short 10-ounce size is $3.45.
3. Skip the milk. And ice.
Nitro is served up unsweetened, without ice—avoid both of those things, and forgo the milk station as well, or you'll risk quickly diluting that foamy top. (It already comes out of the keg cold.)
4. Lose the lid and straw. Don't be confused when the barista sets down your nitro without a lid and straw. That's because a straw would bypass the best part, that crema on top. So if you need a lid to take the drink on the go, they'll happily give you one, but once you get where you're going, remove the lid one and savor it as Nitro is meant to be.
5. It has only 5 calories—naturally.
Even though it tastes sort of filling, like a Guinness, nitro coffee has only 5 calories and 0 grams of sugar. The beans the chain uses for its cold brew have a slight natural sweetness to them already, and the nitro's foamy crema delivers a smooth, thick texture, so you won't miss the cream or sugar.