/ Source: TODAY Contributor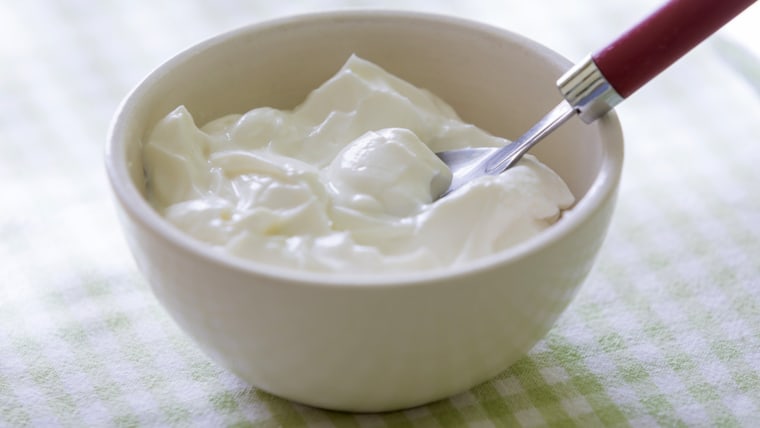 Yogurt has certainly earned its status as one of the darlings of the ingredient world: It's tasty, portable, rich in probiotics and packed with nutrients like calcium and vitamin D. But if you've been using it to make smoothies and parfaits only, you're missing out. Here are five other ways to weave yogurt into your daily diet—and to make that tub sitting in your fridge work even harder for you.
1. Pasta sauce
Boost the protein content of a basic tomato sauce and give it a creamier texture by adding a few spoonfuls of plain yogurt—an especially helpful tactic if you're trying to sneak nutrients into a picky kid's diet. If you're making an alfredo sauce, try using Greek yogurt. Even if you use the full-fat version, ounce for ounce it still only has about a quarter of the calories as heavy cream.
2. Mayonnaise substitute
Thick and creamy Greek yogurt works especially well in typically mayonnaise-heavy dishes such as dip, chicken salad and deviled eggs.
3. Marinade
Soaking meat, chicken or fish in any sauce or liquid before cooking will add flavor, but using a yogurt-based marinade has an added benefit: tenderization. "It seems that calcium in dairy products activates enzymes in meat that break down proteins, a process similar to the way that aging tenderizes meat," writes Cookwise author and noted food-science expert Shirley Corriher in Fine Cooking, also noting that "the only marinades that truly tenderize" are the ones that include dairy products.
4. Cream cheese
Store-bought cream cheese tastes delicious on bagels, but it lacks the nutritional punch (think protein and probiotics) of yogurt. For a healthier alternative, you can make your own thick spread by straining yogurt. There are dozens of recipes online like this one from the blog Taste Love & Nourish. Most methods involve refrigerating yogurt overnight and letting it strain through cheesecloth or a coffee filter.
5. Sweet treats
When substituted for sour cream and incorporated into batters for baked goods like muffins and cakes, yogurt can certainly lower the fat and calorie content. But yogurt is also a worthy stand-alone ingredient. You can add sugar plus your favorite mix-ins and then freeze it for a healthier, less expensive alternative to store-bought frozen yogurt, like this two-ingredient version from Chocolate-Covered Katie. If classic French desserts are your thing, you can even use yogurt to make lightened versions of crème brûlée and chocolate mousse.