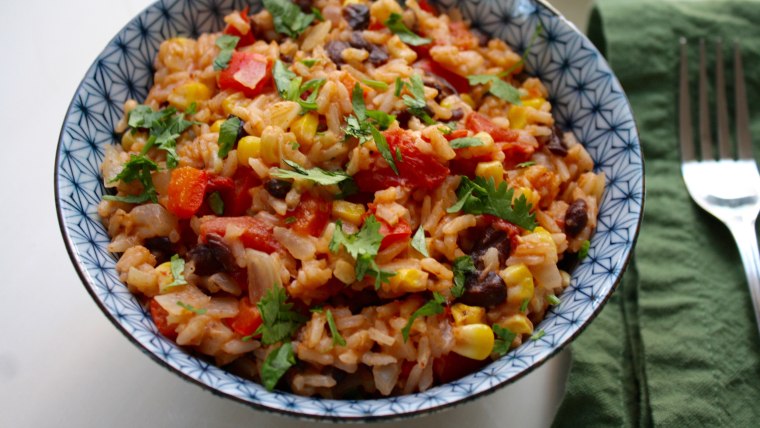 As someone who cooks for a living, it's easy for me to lose sight of how many people feel intimidated or overwhelmed when they enter a kitchen. One of my best friends is a brilliant college professor, an all-around wise and competent woman who just crumbles at the thought of making dinner. So for this week's meal plan, I've gone in search foolproof recipes that anyone can master. With a few winners up your sleeve you can take on just about any kitchen, save money, and eat well.
If you're intent on making healthy choices I applaud you, but don't be tempted to substitute ground chicken or white meat turkey in the spaghetti pie recipe; you'll need the darker meat or the dish will come out too dry and not the right texture. Also, two of the recipes call for wine, one red the other white. You can always substitute an equal amount of water or stock, but I recommend those little screw-top boxes that can be kept in the fridge for the next time you need a small quantity (rather than an excuse to drink the rest).
Go forth ye intrepid kitchen warriors and conquer your cooking fears!
MONDAY
TUESDAY
WEDNESDAY
THURSDAY
FRIDAY
SHOPPING LIST:
3 yellow or white onions
1 green bell pepper
1 red bell pepper
3 medium ripe tomatoes
2 pounds large eggplants
1 head of garlic
1 bunch fresh basil
1 bunch fresh parsley
1 bunch cilantro (optional)
1 tablespoon apricot preserves
2 cups long-grain white rice
1 small bag frozen peas
1 small bag frozen corn
1 15.5-ounce can black beans
¼ cup pimento-stuffed or other green olives
1 cup bread crumbs
1 12-ounce box of spaghetti
1 cup tomato paste
1 28-ounce can diced tomatoes
1 14.5-ounce can diced tomatoes
1 ½ cups grated parmesan cheese
1 ½ cups shredded mozzarella plus 8 ounces fresh mozzarella
1 cup shredded cheddar, Monterey Jack or pepper jack cheese
3 large eggs
1 pound ground turkey or sirloin beef
1 pound pork cutlets
1 pound peeled and deveined medium or large shrimp
¼ cup red wine
1 cup dry white wine
Pantry items
Olive oil
Garlic powder
Chili powder
Ground cumin