After visiting over 340 McDonald's in 53 countries, James McGowan, the 28 year-old blogger behind McDonald's Around the World, is a bonafide expert on the international chain restaurant. Curious about the best and worst that the chain has to offer, TODAY.com recently spoke to McGowan about his most memorable McDonald's meals abroad.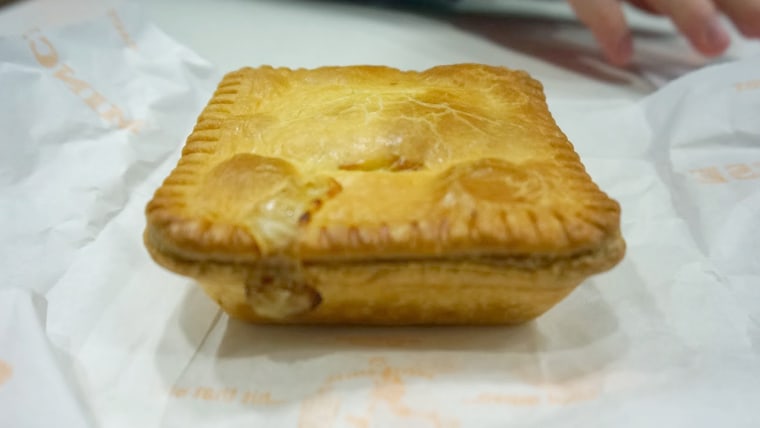 About 95 percent of the McDonald's items on McGowan's blog are from his personal travels, and if he's ever in a non-travel period, which he says is "rare these days," he will sometimes post throwback photos from his earlier trips. Originally from Ontario, Canada, McGowan now lives in Bangkok, Thailand, where he works for a tech startup. Already a citizen of the world, he's also also lived in Singapore and got his master's degree while living in Korea.
There are three criteria that McGowan looks for when considering whether or not a dish is really special: "unique ingredients, local flavors and the 'strange' factor," he says. "Japan, Hong Kong, Thailand, Australia and the Middle East are my favorite locations to search for and try new items."
"I've also had some really bad items," McGowan says. For example, he is not a fan of some of the seasoning packets called "Shakers" that he tried in Hong Kong and Singapore. The Shakers are meant to be sprinkled over french fries and one particular citrus-flavored Shaker was "one of the worst" things that he's ever had.
"But the worst thing for me, is to go to a country that doesn't have anything special for me to try," he told TODAY.com. "I will never eat a Big Mac or QPwC [Quarter Pounder with Cheese] just to 'hit' that country."
While he doesn't like to play favorites among his reviews items, McGowan did reveal to TODAY.com some of the most memorable dishes (in a good way) that he's tried over the years, including the meal that kicked off his passion project. Here are some of his biggest standouts from his years of eating at McDonald's locations around the world: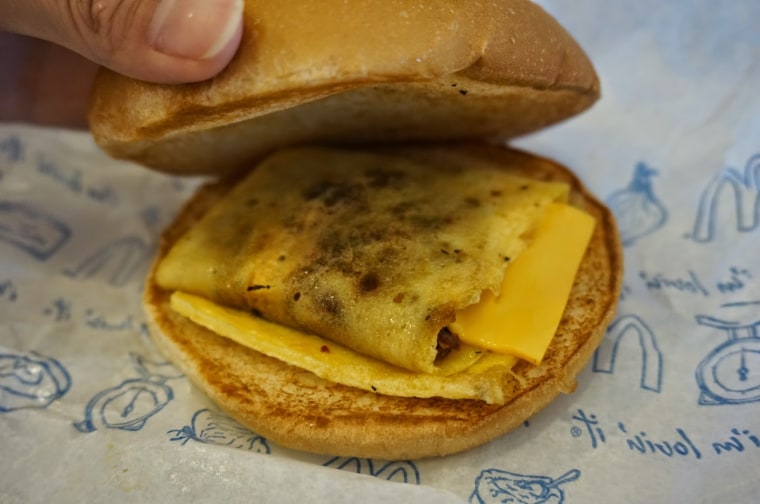 Seeni Sambol Breakfast Sandwich
Sri Lanka
Named the "Seeni Sambol Burger with Egg & Cheese," this morning menu item actually isn't a burger at all, but it is served on McD's signature soft hamburger bun. Inside is a carefully folded seemingly handmade egg omelette filled with cheese, a slightly peppery mayo, crunchy fried red onions and Seeni Sambol, a sweet-and-spicy onion relish that gets an extra hit of umami flavor from cured tuna. Gowan writes: "I wish I [could] find more burgers like this, and I'll definitely [have] another of these the next time I pass through Colombo." Pleasantly complex and tasty, this probably comes closest to an all-time favorite pick for McGowan.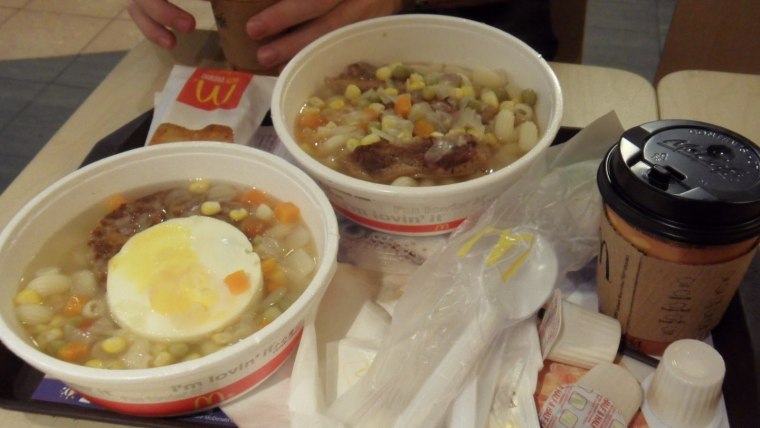 Hong Kong
Having soup for breakfast may seem unusual to most Americans, but it's totally normal in Asia. As a teenager, McGowan was so surprised when he spotted soup as a morning breakfast item on the menu that he just had to order it—even though he wasn't hungry. He wasn't disappointed: tender noodles, a just-salty-enough broth, sliced grilled chicken and vegetables made for a filling and even kind of healthy meal, he says. The soup is also available with a sausage patty and McMuffin-style egg on top, instead of the chicken. Plus, it comes with hash browns and a medium coffee. It's a good thing he did stop to try this breakfast soup because the it's what inspired him to start his blog.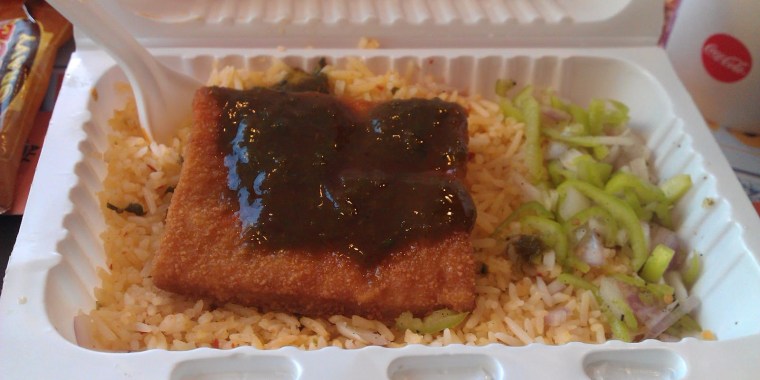 Sri Lanka
McGowan struck gold again in Sri Lanka, with this Fish McRice entrée, a tray of rice spiced with onion and other herbs with a piece of fish on top. The fish wasn't like the minced Filet-O-Fish patty we know, he says, but a real fish filet that was smothered in a nice ginger sauce called McRice Gravy. Altogether, McGowan says it was a "real treat."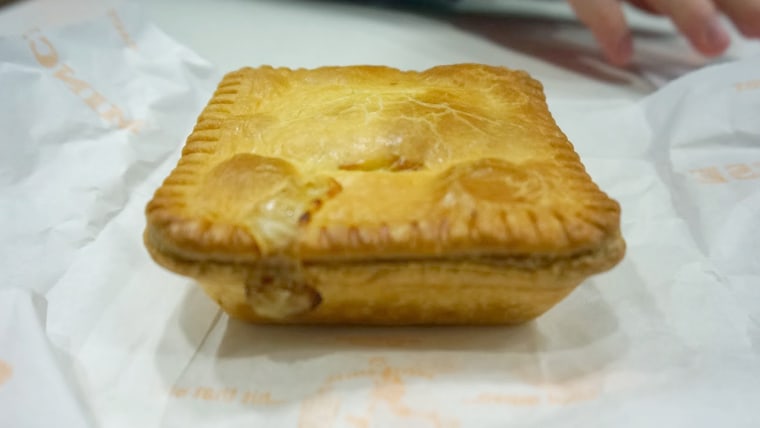 New Zealand
Meat pie is a distinct regional specialty Down Under, so McGowan had to try McDonald's take on the dish while visiting Auckland. Filled with minced beef, creamy cheese and gravy, the square-shaped pastry is topped with a layer of crispy and soft pie dough. McGowan rated the pie a 4 out of 5 says because the crust "could have been more buttery" and a sharper and less creamy cheese "would have worked better."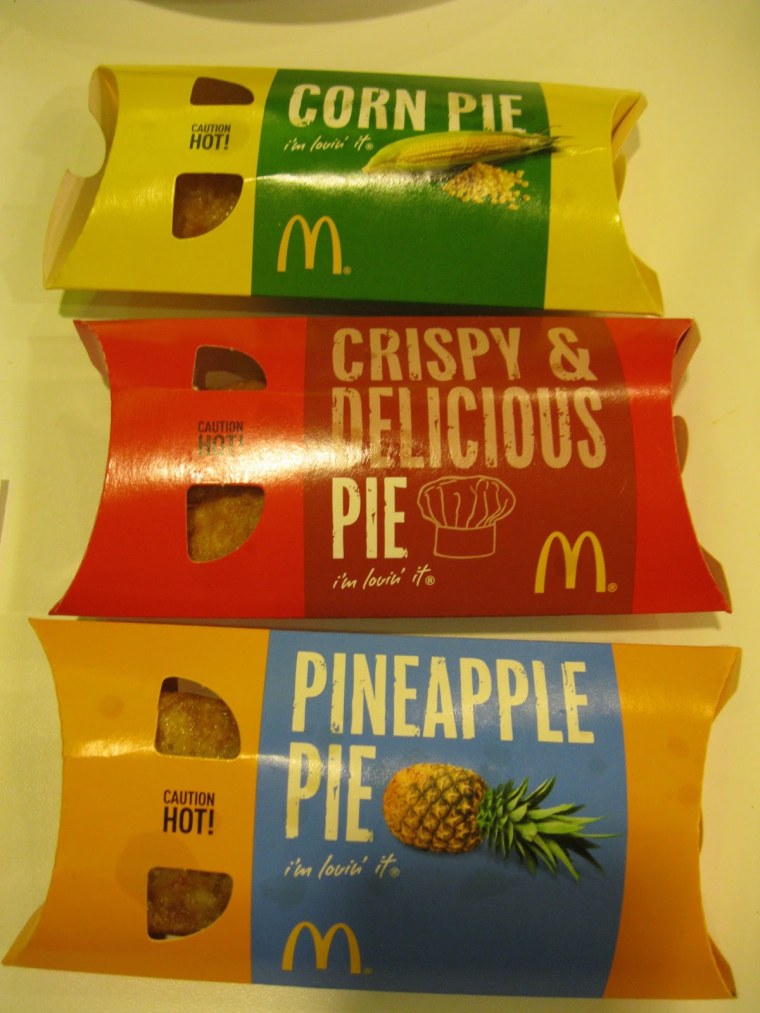 Hand Pies in Corn, Curry Crab, Spinach, and Ham and Egg flavors
Thailand
Unlike the New Zealand Georgia Pie, these pies are reminiscent of the familiar Apple-Pie-in-a-sleeve that we're used to seeing in McDonald's in the US. That's where the resemblance ends. Inside the flaky shells are exotic fillings like Curry Crab (crab stick that worked surprisingly well, though his was light on the meat, he says), Ham and Egg (creamy, not too salty), Corn (tasty, like creamed corn) and Spinach (more cheese than spinach, he says). There are more hand pie flavors in Thailand from tuna to pineapple, but McGowan especially recommends the four previously mentioned. Here's hoping these pescatarian and vegetarian hand pies come stateside too.