Author and chef Ashton Keefe shares recipes from her cookbook, "Lemon & Salt: A Modern Girl's Guide to Culinary Revelry."
Toast is in. This so-called trend is mystifying; doesn't everyone know that carbs make everything better? I'm not one to argue with toast. And crostini is the toast-of-choice for entertaining: crostini. Elevate your basic crostini with the best of this spring's farmers market -- or whatever you have in your fridge!
Beyond bread and butter: 11 ways to give your morning toast a total makeover
Treat it like a tiny, bit size open-faced sandwich. Start with good bread, liberally dressed with olive oil and salt. Top with cheese, vegetables and meat and repeat. Now, that's a great start to a party!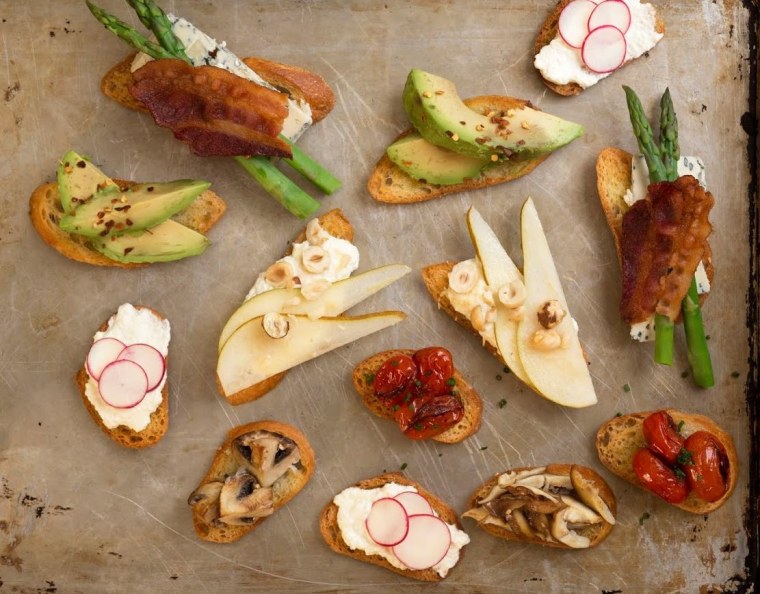 Basic Crostini
Makes 2 dozen crostini
Crostini is a perfect start to any party. Each of these recipes can top 1 dozen crostini, but feel free to mix and match.
1 baguette, cut into 1/4" thick slices
Extra virgin olive oil, as needed
1 - 2 garlic cloves, whole
Preheat oven to 350° F. Place baguette slices in a single layer on a sheet tray and drizzle or brush generously with olive oil. Cook until toasted, about 8 minutes. Remove and rub with garlic clove to infuse garlic flavor.
Cherry Tomato Crostini
1 tablespoon extra virgin olive oil
1 pint cherry tomatoes
2 cloves garlic, whole
1 teaspoon fine sea salt
1 teaspoon sugar
Preheat oven to 325° F. On a sheet tray toss together olive oil, tomatoes, garlic, salt and sugar. Cook for 35 - 40 minutes, shaking the pan every 15 minutes or so until tomatoes begin to pop but don't lose their shape completely. Remove and discard garlic cloves. Place tomatoes in a bowl and stir to combine, adding more olive oil as desired.
Pear and Goat Cheese Crostini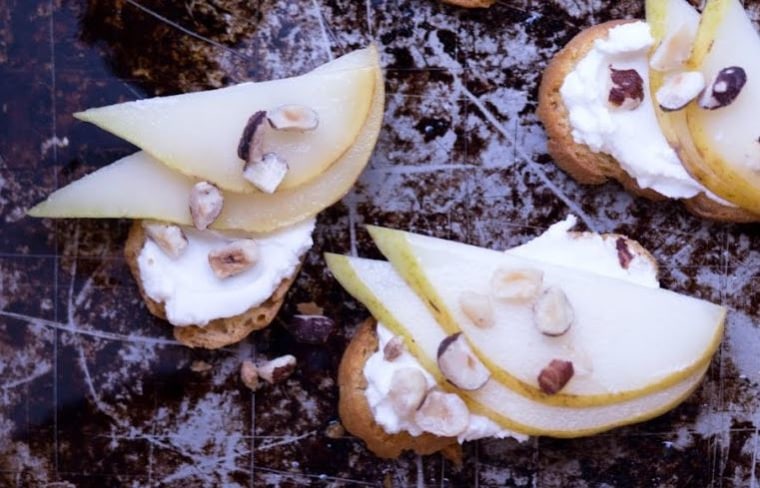 1 - 2 ounces goat cheese, room temperature
1/2 pear, thinly sliced
1 tablespoon lemon juice
1/4 teaspoon fine sea salt
2 - 3 tablespoons toasted hazelnuts, roughly chopped
Spread crostini with goat cheese. Toss pears with lemon juice and salt. Top crostini with pears and hazelnuts.
Mushroom Crostini
1 cup assorted mushrooms, cooked
1 - 2 sprigs thyme
1 tablespoon lemon zest
Maldon sea salt
Extra virgin olive oil
Top crostini with mushrooms and season with thyme, zest and salt. Drizzle with olive oil.
Asparagus and Bacon Crostini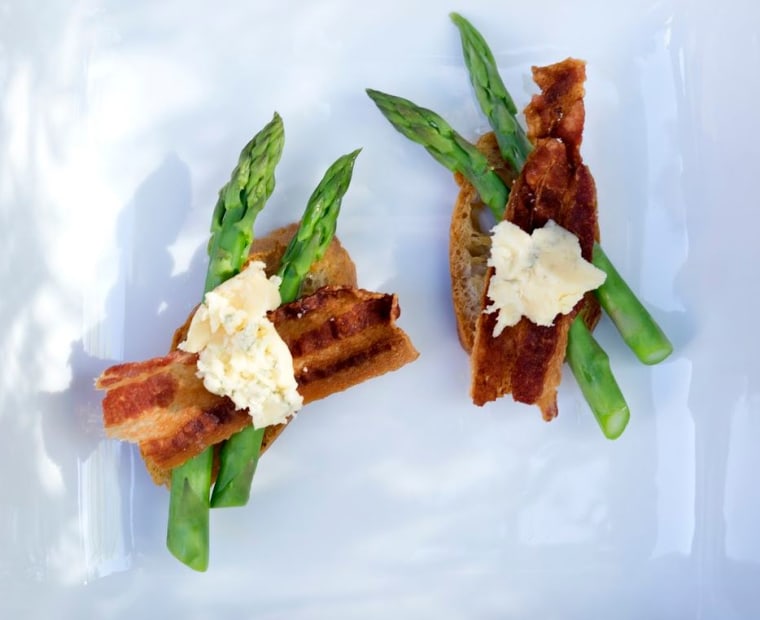 2 - 3 ounces blue cheese
6 slices bacon, cooked
10 - 12 asparagus, blanched
Extra virgin olive oil
Top crostini with blue cheese, then bacon and asparagus. Drizzle with olive oil if desired.
Ricotta and Radish Crostini
1 cup ricotta cheese
3 - 4 radishes, thinly sliced
Maldon sea salt
Slather ricotta on crostini and top with sliced radishes. Season with salt.
Avocado Crostini
1 avocado
1 tablespoon lemon juice
1/2 teaspoon fine sea salt
1 tablespoon red pepper flakes
Extra virgin olive oil
Cut avocado in half and remove pit. Cut into large slices and toss with lemon juice, salt and red pepper flakes. Top crostini and finish with a drizzle of olive oil. Serve immediately to prevent oxidation.