Today would have been Julia Child's 105th birthday, and there's no better way to celebrate the legacy of the original celebrity chef than by enjoying some of the foods and flavors that made her a legend.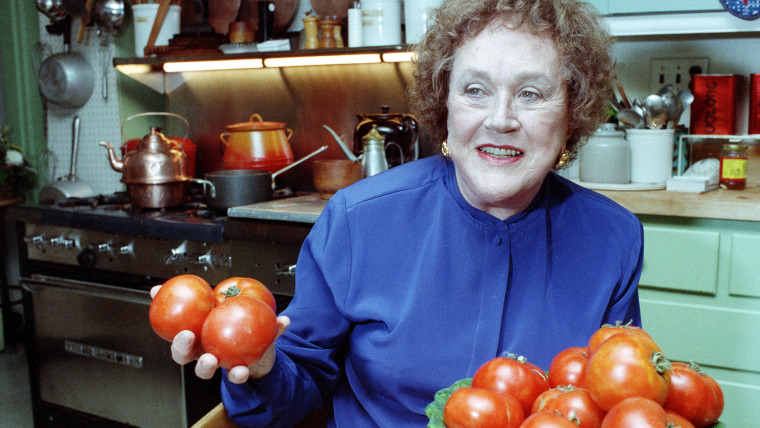 Child is best known for bringing her mastery of French cuisine to millions of American households, but she was part of much more — including forming the foundation for food related television programming and the rise of celebrity chef culture.
"Julia's influence is profoundly felt in today's proliferation of top chefs and restaurants, farm to table eating and food media," Todd Schulkin, executive director of The Julia Child Foundation for Gastronomy and the Culinary Arts, tells TODAY Food. "These were all things she passionately advocated during her career."
The foundation was established by Child herself in 1995, and its mission centers on educating people about the importance of understanding where food comes from, what makes for good food, and the value of cooking.
There are plenty of ways one could celebrate Child today — and really any time you sit down to a meal — but Schulkin says, "There's no better way to celebrate her birthday than cooking up a feast at home or sharing a meal with family and friends at your favorite neighborhood restaurant."
Feeling adventurous? Try these recipes created by Child herself, courtesy of her foundation. These recipes, from "Mastering the Art of French Cooking" by Child, Louisette Bertholle, and Simone Beck, first debuted in 1961 and have become comfort food classics for many American cooks.
Chocolate lovers, rejoice! This decadent mousse, known as "Fondant Au Chocolate," uses egg yolks for a rich, silken texture that's impossible to resist.
Ratatouille isn't just the name of a delightfully adept rodent. It's a classic French dish made with fresh vegetables like eggplant, zucchini and tomatoes that works well in the summer or winter because it can be served hot or cold.
Looking for more ways to celebrate Julia today? These French-inspired recipes from the TODAY vault will transport you right into her kitchen.
This decadent egg dish is perfect for breakfast, brunch, lunch or even dinner. The classic combination of ham and cheese melds perfectly with eggs. This updated recipe uses a base of hash browns as a crust, but you can also go the traditional pastry route, if you wish.
A chocolate soufflé is the quintessential French dessert, and it's not nearly as complicated as we may imagine. This recipe is a simple 6 ingredients, and involves no flour, so it may even be a consideration for your gluten-free guests.
A classic French dish, Coq au Vin is chicken slowly cooked in red wine. Immensely flavorful and tender, this dish is perfect for any special occasion dinner.
"People who love to eat are always the best people," is one of Child's many sayings that will, like her recipes, live on through the ages. Happy birthday, Julia Child, we miss you. And, as she said at the end of her cooking show, "Bon appetit!"
Are you a fan of French cuisine? Check out more delightfully delicious recipes.