Food blogger Tara Bench of Tara Teaspoon shares 5 fantastic fruit hacks for National Watermelon Day. She shows us how to make sweet and savory watermelon pizzas, a fruit topped cake, personalized watermelon letter skewers, melon ball ice cubes and a lemonade that uses an incredible trick for juicing watermelons.
1. Watermelon Fruit Cake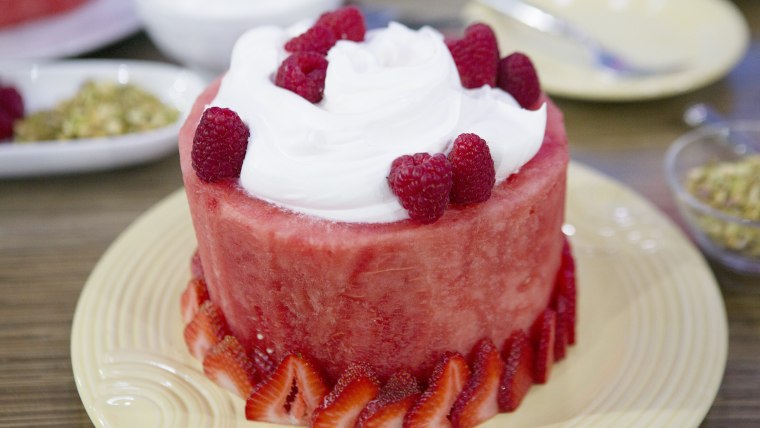 This cake is made from all fruit, topped with cream and nuts. It's the healthiest cake out there — a guilt-free dessert!
Ingredients:
1 seedless watermelon
1/2 pint strawberries
2/3 cup heavy cream
2 tablespoon sugar
1 pint raspberries
1/4 cup chopped pistachios
Preparation:
Cut a thick, 3-inch slice from the center of the melon (this should resemble a big cake layer). Trim the rind from the slice, making it as neat and round as possible. Place on a platter.
Remove strawberry greens, then thinly slice the fruit. Overlap slices around the base of the watermelon. Whip the cream and sugar to soft-stiff peaks. Spoon cream on top and sprinkle with raspberries and pistachios.
2. Watermelon Name Skewers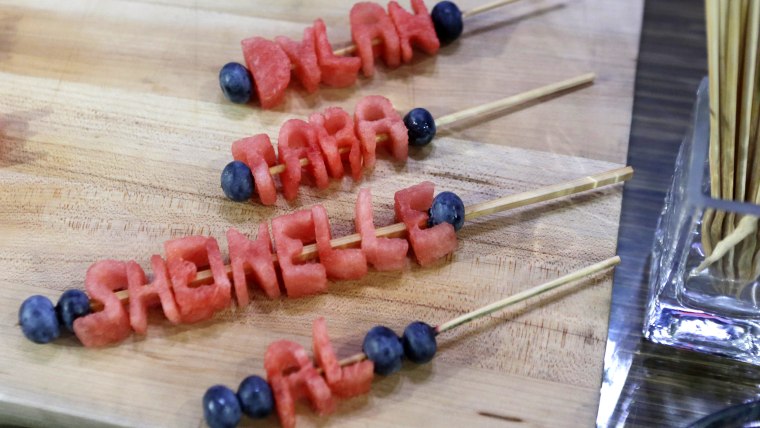 These little decorations are perfect for parties! Stick them in a drink or just eat the fruit right off the skewer. Kids and adults will love these.
Ingredients:
Watermelon, sliced
Berries and other fruit, for garnishing the ends
Preparation:
Slice the watermelon into 1/2-inch thick slices.
Using letter-shaped cookie cutters, or a small knife, cut out letters and thread them onto skewers with a blueberry or raspberry at each end of the skewer.
3. Watermelon Lemonade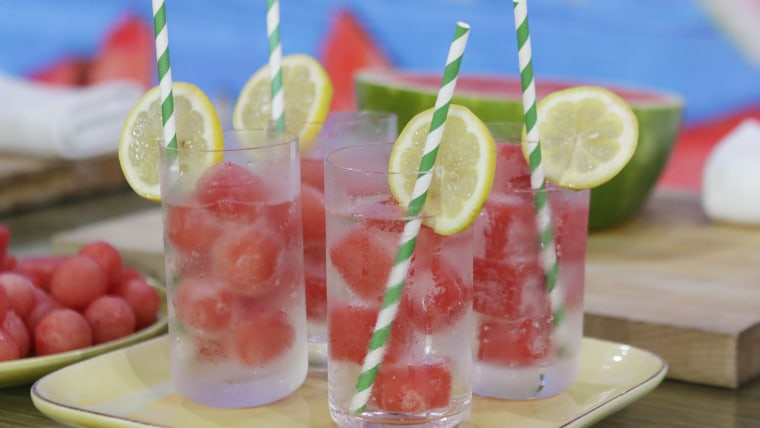 Not only is this the best juicing hack ever, it's perfect for all summer drinks and cocktails, plus you can pour (or ladle) right from the fruit if you want! Juicing the watermelon this way also saves a lot of time. Tip: Slice a tiny bit off one end of the melon so it stands upright as a punch bowl.
Learn the best way to juice a watermelon here.
Ingredients:
1 whole watermelon
1/2 cup sugar
3½ cups water
1/2 cup freshly squeezed lemon juice
Lemon slices, for garnish
Ice
Stick blender
Preparation:
Bring the sugar and 1/2 cup of water to a boil in a small saucepan, stirring sugar to dissolve. Set aside.
Cut a hole in one end of the watermelon. Insert the stick blender and process the inside of the melon until all the flesh is blended. Strain the watermelon juice through a fine mesh sieve if you want it smooth. You should have about 2 cups of strained watermelon juice.
Mix the sugar syrup with 3 cups cold water and the lemon juice. Stir well. Fill glasses with ice, add about 3 tablespoons of watermelon juice and then top off with lemonade. Stir gently before serving.
4. Watermelon Ice Cubes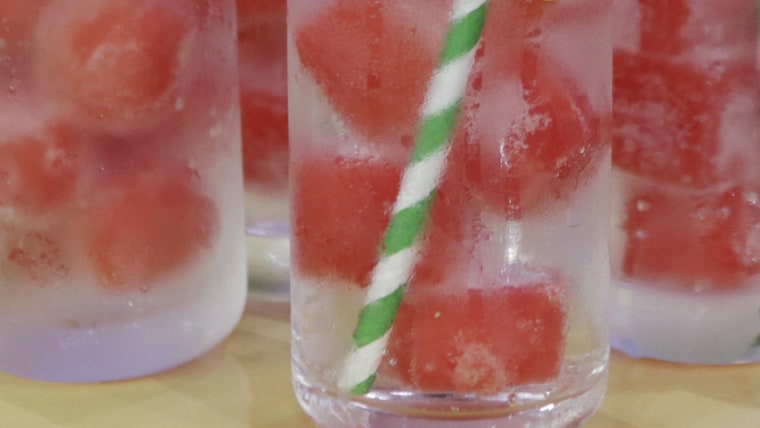 Little cubes or balls of watermelon can make great ice cubes! What a chic way to keep drinks chilled. Enjoy some with seltzer or a fun pink cocktail or mocktail.
Ingredients:
1 seedless watermelon
Preparation:
Cut melon into cubes (or scoop out balls with melon baller) and place on a tray. Then freeze. That's it!
5. Watermelon Pizza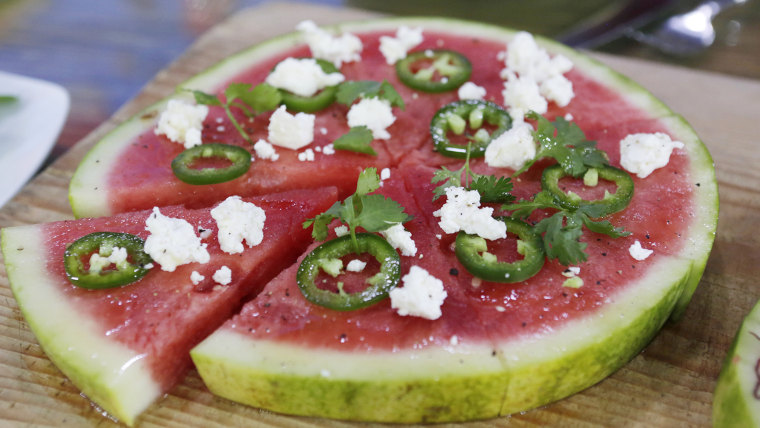 It can be sweet or savory! Salty cheeses pair perfectly with sweet watermelon, but so do tart fruits.
Ingredients:
Savory pizza- Queso fresco, jalapeno slices, cilantro, black pepper, lime and honey
Sweet pizza- Whipped cream, blueberries, kiwi, walnuts, fresh mint, and melted chocolate
Preparation:
Savory pizza- Slice the watermelon in half. Then, cut 1-inch thick circles from each half.
Sprinkle the cheese over the watermelon. Arrange the slices of jalapeño and cilantro on top. Then, finish off with a sprinkle of black pepper, a squeeze of fresh lime juice and a drizzle of honey.
Cut into eight pieces and serve.
Sweet pizza- Slice the watermelon in half. Then, cut 1-inch thick circles from each half.
Spread the whipped cream on top of the watermelon slice. Then top with blueberries, sliced kiwi, walnuts and fresh mint leaves. Finish it off with a drizzle of melted chocolate.
Cut into eight pieces and serve.