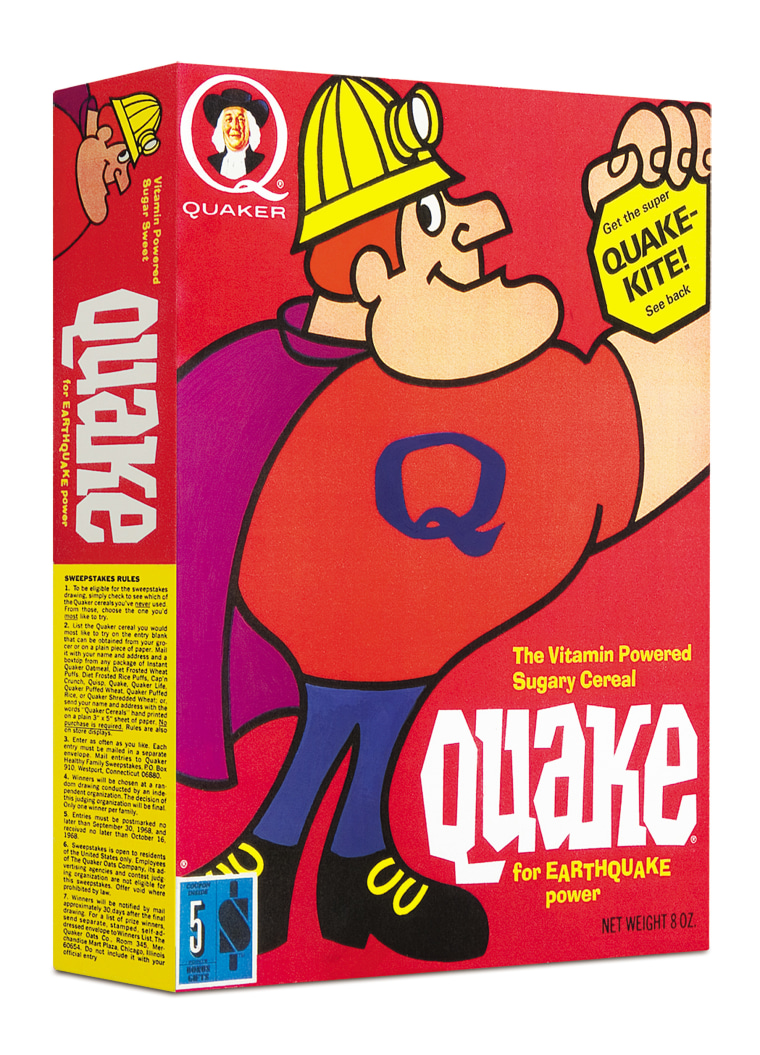 Who doesn't love breakfast cereal? Topher Ellis, co-author of newly released "The Great American Cereal Book," shares his obsession with the breakfast staple and takes a walk down memory lane with a look at his five favorite discontinued brands.
I'm a big cereal consumer. At any given time, I've got more than 3 dozen boxes of cereal in the house. I buy my favorites whenever they're on sale and try most of the new cereals to review. More than a dozen different cereals that are in my pantry right now won't last a month.
I got my start eating cereal in the mid 1960s. It was easy for me to identify with cereal mascots and characters, since many of them had running story lines that would span years, and they were frequent visitors during commercial breaks in my Saturday morning cartoons.
I'm not sure which I liked more: the character on the box or the prize inside it. I had to fight with my two brothers for the latter. We tried different rules, like taking turns and allowing the prize to got to whomever finished the box, but the law that prevailed was first come, first served.
Like most of my generation, I can still relate to those characters and cereals – many of which no longer exist. These are the top five discontinued cereals that I wish would make an encore (along with a seriously good prize).
Quaker Oats Quake: As a kid, I was a huge Quisp and Quake fan. The only things that differentiated these two vitamin-powered, corn-based cereals were their shapes and their titular heroes. My brother Tom was quazy for Quisp (whose mascot was an extra-terrestrial) and I adopted a frenzy for Quake (that's miner Quake with "Earthquake Power," not the slimmed down "cowboy Quake." Tom and I even had a set of helmets (Quake miner's helmet with a working light, and Quisp's beanie with a whirling propeller on top) that you could send away for. Quisp has been sporadically revived in certain stores and on the Internet, but Quake has never come back.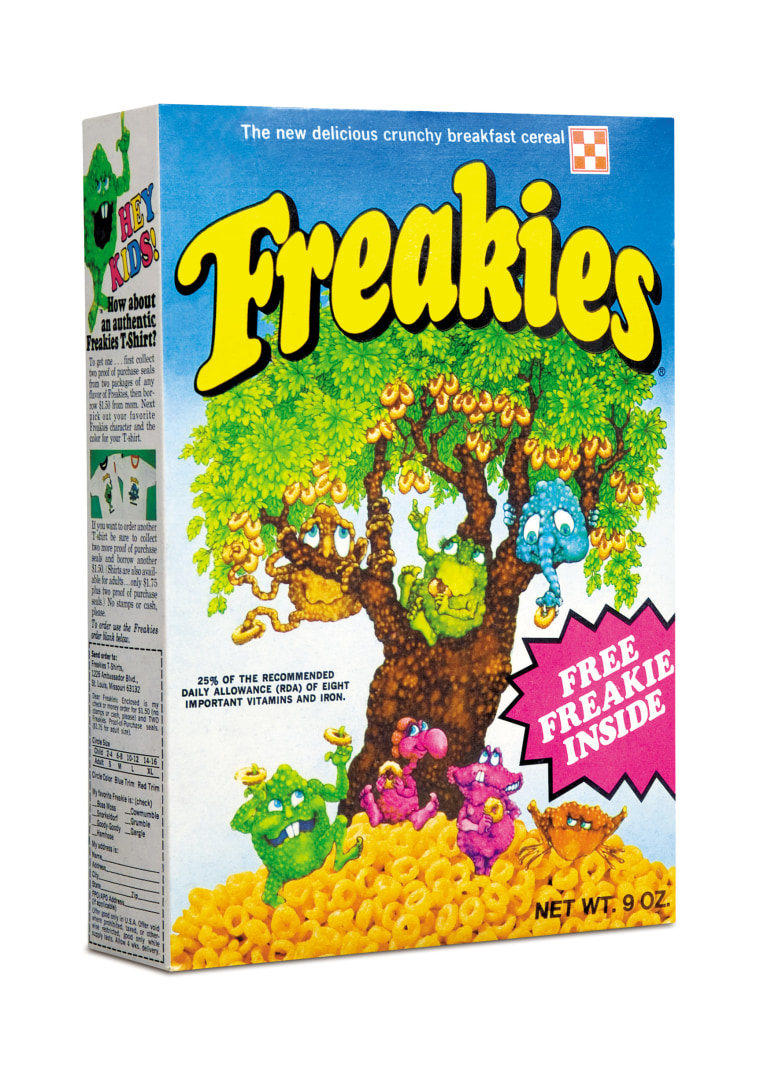 Ralston Freakies: These sweetened cereal rings were made of corn, oats and wheat that supposedly grew on the Freakies Tree, which was inhabited by seven sci-fi critters, each with their own unique character traits and a crazy back story that showed off the creative team's great sense of humor. What's not to like? 
Quaker Oats Cinnamon Crunch: One of the best Cap'n Crunch spin-offs, this scoop-shaped corn-and-oats cereal laced with sugar and cinnamon featured Jean LaFoote, the Barefoot Pirate – my favorite pirate (sorry, Captain Jack Sparrow). LaFoote was notorious for his attempts to steal Cap'n Crunch's cargo of cereal, but was always thwarted by the Cap'n and his crew with the tagline "You can't get away with the Crunch, because the crunch always gives you away."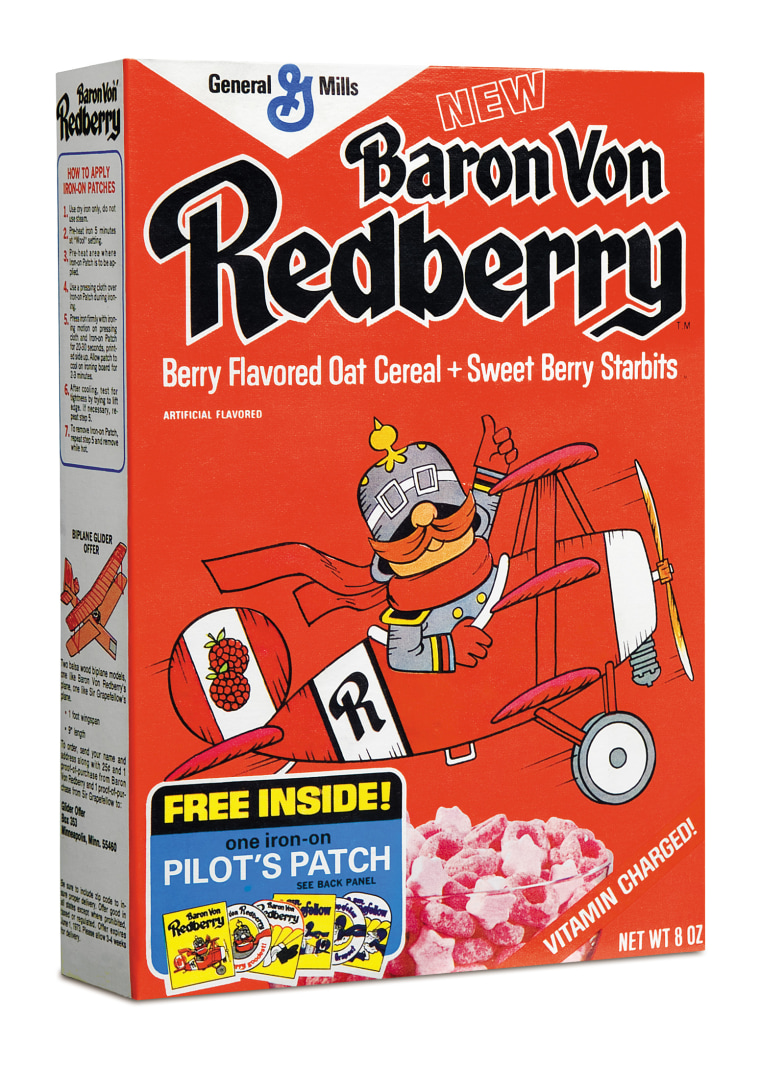 General Mills' Baron Von Redberry: I liked this berry-flavored cereal, but picked out the star-shaped marshmallow bits for my youngest brother Jay to consume. The Baron's cereal was very similar to Franken Berry, except that Redberry was essentially a berry-flavored Cheerio. World War I flying ace Baron Von Redberry would face off in the skies against his nemesis, Sir Grapefellow. 
Nabisco Team Flakes: I get more questions about the availability of this cereal by visitors to Topher's Breakfast Cereal Character Guide than any other. Even though it was discontinued in 1993, folks still crave this cereal, which became the first four-grain (rice, wheat, corn and oats) flake cereal when it was introduced in 1963. It was healthy and had a nice, light, crispy texture. Not only did folks enjoy them for breakfast, but quite a few recipes also called for the flakes. Almost 20 years later, in 2011, a "Bring Back Team Flakes" fan page went live on Facebook.
Except for No. 5, there are common threads to my favorites: They are sweetened kids' cereals with great characters, and often contained fun prizes inside the box. That was a winning combination. I'd still buy them today if they were on my grocer's shelf (but I might not eat them).
Tell us, what were your favorite childhood breakfast cereals?
Topher Ellis co-wrote "The Great American Cereal Book: How Breakfast Got Its Crunch" © 2011 ABRAMS. Topher is editor of "The Boxtop" cereal newsletter and operates the Topher's Breakfast Cereal Character Guide. Growing up, he fought with his two younger brothers for rights to the prizes in the bottom of cereal boxes. Today, with two kids of his own, if he wants the prize, he simply buys three boxes of cereal.
More from Bites: