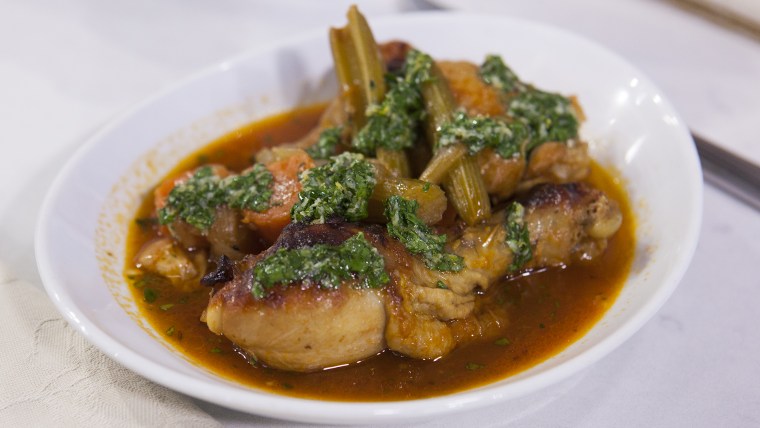 Sometimes the hardest part of accomplishing a task is the "thinking it through" part, the idea, the creative inspiration. Once you know what you're doing, the execution seems to fall into place. This is certainly true when it comes to meal planning. Wouldn't it be great if you had someone to figure out five delicious and healthy meals—and create the shopping list—that would last the workday week? Here at TODAY Food, we plan on doing just that for you, and every weekend we will be posting a new one, so keep coming back!
Each week the recipes will include at least one meatless day, but if your protein-craving, teen basketball star needs it, by all means add some chicken breast to the Rigatoni with Broccoli, Walnuts and Feta, or fry up a sausage just for her or him.
Now comes the easy part—thinking through how you're gonna spend that delicious free time…
A few notes:
The recipes are measured by servings, usually four, so you'll need to scale the shopping list up or down, depending on how many you are feeding and their appetites. Also, basics like salt and pepper or olive oil aren't included unless an unusually large quantity is required. Finally, feel free to make substitutions, especially pantry items you already have on hand—don't go out and buy three different kinds of vinegar unless you happen to want to stock your pantry.
MONDAY:
TUESDAY:
WEDNESDAY:
THURSDAY:
FRIDAY:
SHOPPING LIST: (Click here to print)
4 chicken drumsticks, skin on
4 chicken thighs, skin on
4 salmon filets (6-8 ounces each)
2 sirloin tip steaks (each 1 to 1 1/2 inches thick; about 2 1/4 pounds total)
1 pound pork cutlets
1 large onion
1 bunch celery
2 bunches asparagus
1 bell pepper
2 large carrots
2 cups shredded cabbage
1 avocado
1 bunch scallions
1 bunch chives
1 head of garlic
1 bunch fresh thyme
1 bunch fresh rosemary
1 bunch fresh parsley
Fresh basil (optional)
1 lemon
3 cups fresh broccoli florets
1 8-ounce box of rigatoni
1 cup jasmine (or other) rice
1 15-ounce can (or smaller) of San Marzano tomato puree
Chicken stock or concentrate (for 4 cups broth)
Soy sauce or low-sodium tamari (1/2 cup)
Sesame oil (2 teaspoons)
Sriracha sauce(2 teaspoons)
Sesame seeds (2 tablespoons)
1 sheet of nori seeweed—optional
Garlic powder (1/8 teaspoon)
Apricot preserves (1 tablespoon)
Brown sugar (1/4 cup)
Red wine vinegar (3/4 tablespoon)
Rice wine vinegar (3 tablespoons)
Apple cider vinegar (2 tablespoons)
Red pepper flakes
1 bag frozen edamame (not in shell)
1 cup fresh ricotta cheese
6 ounces feta cheese
½ cup sour cream
½ cup dry white wine
¼ cup red wine