Though this version of the famous chicken recipe doesn't require you to peel and cook 40 cloves of garlic, it's still jam-packed with rich flavor. The cloves melt into the sauce as it bakes for a subtle but pleasing pungency in each bite.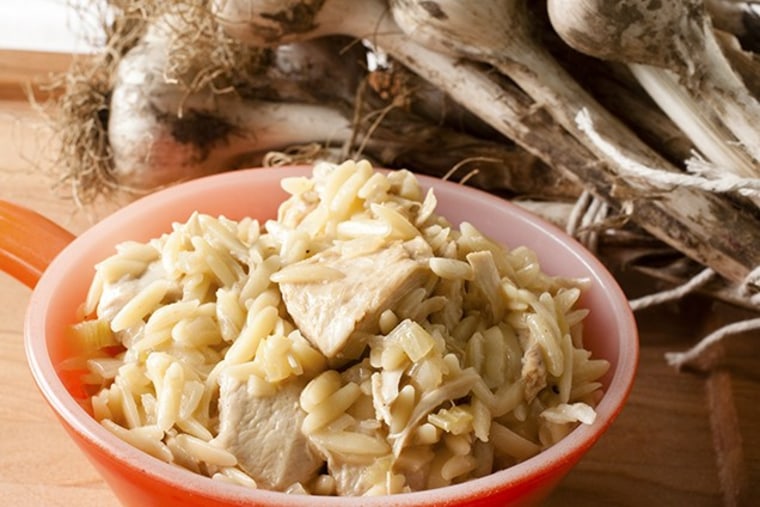 Ingredients:
1 cup orzo

1 teaspoon kosher salt

1 cup canola or vegetable oil

1/2 teaspoon freshly ground black pepper

2 tablespoons unsalted butter

1/4 teaspoon fresh thyme leaves (from about 2 sprigs)

2 whole heads garlic, cloves separated, peeled, and roughly chopped

1 cup white wine

1 pound boneless, skinless chicken breast or thighs, cut into 1-inch pieces

1/4 cup sweet vermouth

1 small yellow onion, minced

1/4 cup heavy cream

2 celery stalks, minced

Yield: 6 Servings
Directions:
Preheat the oven to 375F.
Bring a 1-quart saucepan filled with water to a boil while you make the casserole and add the orzo. Cook until al dente, then drain and reserve.
Heat the oil in a small Dutch oven over medium-high heat.
Add the chicken and cook about 2 minutes per side until browned. Transfer to a plate.
Reduce the heat to medium and add the butter. When the butter is melted, add the garlic and cook, stirring frequently, for 5-10 minutes until the garlic is soft and browned.
Add the onion, celery, salt, pepper, and thyme and cook for 5 minutes more, stirring frequently, until the vegetables are crisp-tender.
Add the white wine, vermouth and cream, and bring to a simmer, stirring to scrape up any remaining browned bits on the bottom of the pan.
Return the chicken to the pan and stir in the orzo.
Cover and bake for 30 minutes until the chicken is cooked through and the garlic is very tender. Stir to incorporate the softened garlic cloves into the sauce and rice, and serve immediately.
This recipe originally appeared on iVillage.