/ Source: TODAY Contributor
Justin Chapple, the test kitchen pro behind Food & Wine's Mad Genius Tips, shows off four tips for making simple, but impressive New Year's Eve desserts.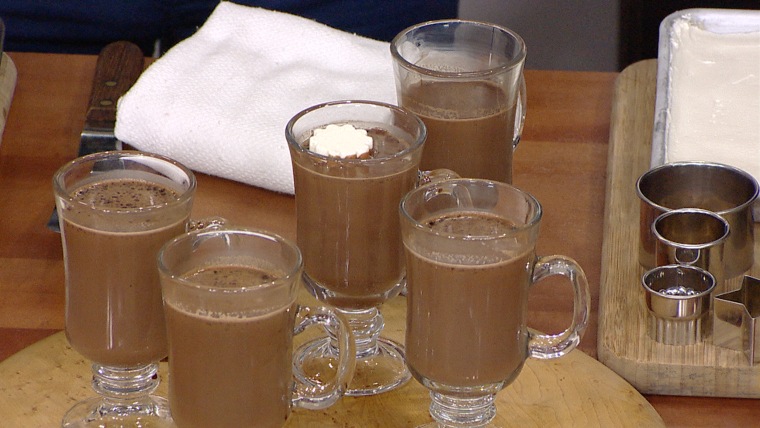 Frozen Hot Chocolate Topping
Whipped cream is a classic topper of hot chocolate. But did you know you can freeze it? This not only allows you to make it ahead but you can cut it into insanely fun shapes that make an ordinary cup of hot chocolate (or coffee) into something extraordinary.
What you need:
• Large mixing bowl
• Electric mixer
• 2 cups heavy cream
• 1/4 cup confectioners' sugar
• 1 teaspoon pure vanilla extract
• Offset spatula
• Wax paper
• 2 baking sheets
• Cookie cutters or knife
Here's how you do it: In a large bowl, using an electric mixer, beat 2 cups of heavy cream with 1/4 cup confectioners' sugar and 1 teaspoon of pure vanilla extract until stiff. Using an offset spatula, spread it on a foil or wax paper-lined small baking sheet; freeze until firm. Using cookie cutters or a knife, cut the frozen cream into shapes and transfer to another foil or wax paper-lined baking sheet. Keep in the freezer until ready to serve.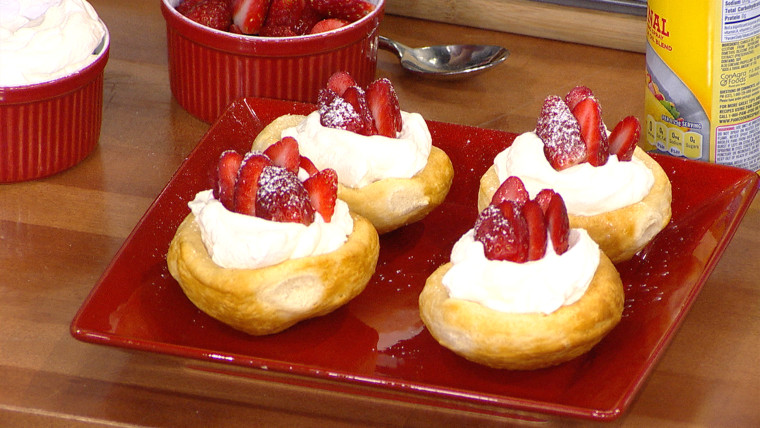 Strawberries & Cream Biscuit Bowls
Biscuit bowls are easily a secret weapon for last-minute sweet snacks. The best part is you can use store-bought biscuit dough and shape it into large or small sizes.
What you need:
• Muffin tin
• Store-bought biscuit dough
• Sliced strawberries
• Whipped cream
• Oven
Here's how you do it: Preheat the oven to 400 degrees. Invert a standard or mini muffin tin and lightly spray the bottom with nonstick baking spray. Flatten each piece of biscuit dough into a 6-inch circle for a standard tin or 3-inch circle for a mini tin. Lay each dough circle over the back of each muffin cup and press around the cup to form a bowl shape. Bake for about 12 minutes, until lightly browned. Let cool slightly and then remove the biscuit bowls. Fill the bowls with sweetened whipped cream and sliced strawberries.
Simplest Salted Caramel Sauce
The microwave is the secret to thick, gooey caramel sauce without making a mess on the stove. You can make it ahead and gently reheat it to use as a dip for apple wedges or salty pretzel sticks—it can even be drizzled on ice cream or cheesecake!
What you need:
• Microwave-safe measuring cup (like an 8-cup glass Pyrex)
• 1 cup sugar
• 2 tablespoons water
• 2 tablespoons light corn syrup
• Microwave
• Wooden spoon
• 2 tablespoons softened butter
• 1/4 cup heavy cream (room temperature)
• Generous pinch of salt
Here's how you do it: In a large microwave safe measuring cup (like Pyrex), combine 1 cup of sugar with 2 tablespoons each of water and light corn syrup. Microwave on high in 2-minute intervals until the mixture just starts to change color (this could take anywhere from 4 to 7 minutes depending on the wattage of your microwave). Carefully remove from the microwave and let stand until a golden caramel forms, about 2 minutes. Using a wooden spoon, stir in 2 tablespoons of softened butter, 1/4 cup of room temperature heavy cream and a generous pinch of salt. Let cool before serving.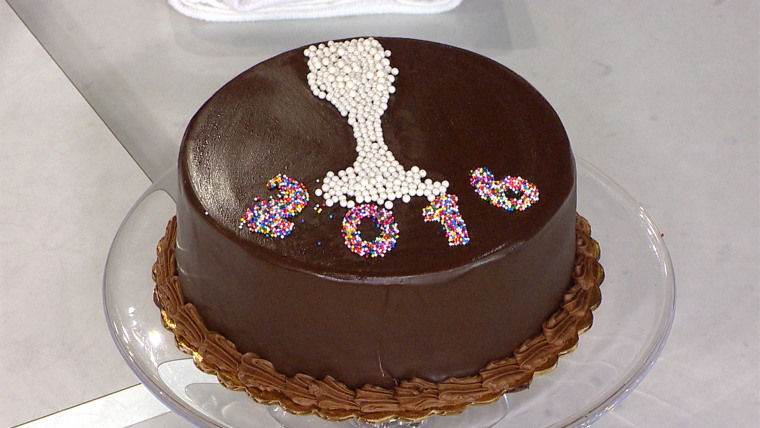 Decorate Cakes with Sprinkles, The Easy Way
Get ready to become your group's official cake decorator. The easy way to expertly decorate a cake with sprinkles is to use cookie cutters and cupcake liners (or even just a spoon).
What you need:
• Frosted cake
• Cookie cutters
• Cupcake liner or a spoon
• Sprinkles
Here's how you do it: Arrange cookie cutters (whatever shapes or letters you like) on a frosted cake and, using a cupcake liner or spoon, fill the area inside the cutter with a thin layer of sprinkles. Carefully lift the cookie cutters to reveal your beautiful cake creations.
RELATED: 5 easy last-minute New Year's Eve appetizers
For more must-try party apps, check out our Pinterest board!