With Thanksgiving right around the corner, the air is filling up with plenty of pumpkin spice aromas. But you don't have to wait around for good ol' pumpkin pie or pop into a coffee shop for a PSL to get your fix. The pumpkin craze has officially taken over just about everything, from M&Ms to Thomas English muffins and even Trader Joe's Os.
Pumpkin lovers better get their appetites ready because we're rocking your world with 35 items that you need to try before peppermint becomes comes rolling along.
RELATED: Make Starbucks-style pumpkin spice latte — with real pumpkin! — all year long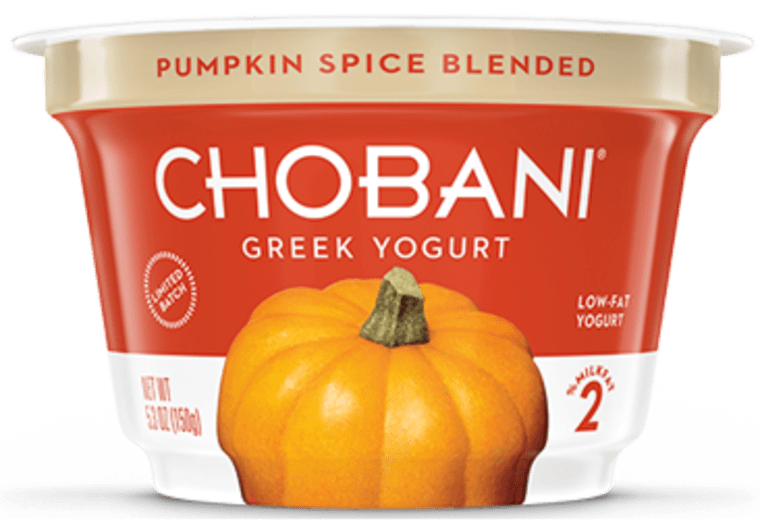 1. Chobani Pumpkin Spice Yogurt
The light brown-orange color of the yogurt gave us second thoughts as we took a spoonful, but it was surprisingly good.
2. Pumpkin Spice Latte M&Ms
These weren't exactly a crowdpleaser at TODAY HQ. As TODAY Digital's Director of User Experience Phil Zepeda said, "It's a very confusing, flash of flavors happening in my mouth."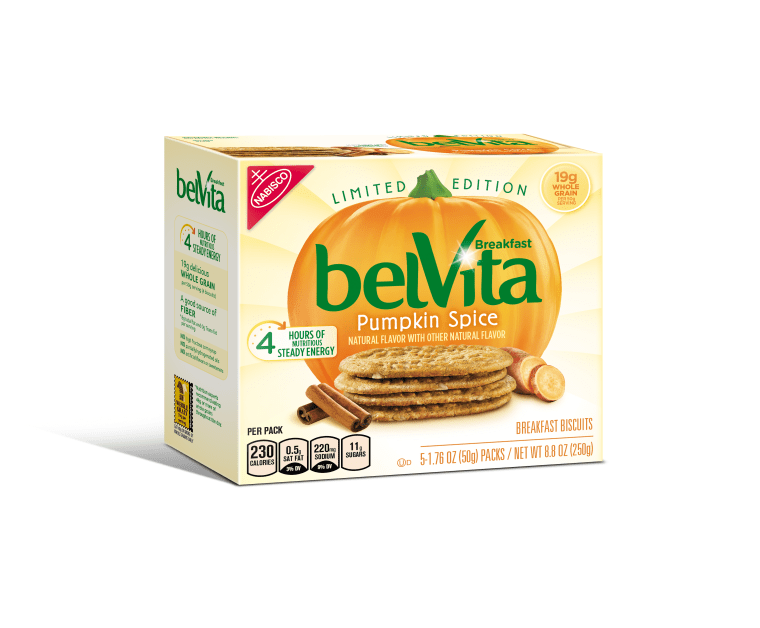 3. BelVita Pumpkin Spice
These didn't last long around our office, thanks to a lovely fall spice flavor that wasn't too overpowering.
4. Trader Joe's Country Pumpkin Spice Granola Cereal
If you're craving pumpkin spice, you might be disappointed. It's tasty granola, but lacks that real pumpkin punch.
5. Nature Box Pumpkin Spice Nom Noms
These were the perfect mix between an oatmeal cookie and granola bar. However, if you're looking for something with a strong pumpkin twist, this may not satisfy your cravings as it tasted more like cinnamon than anything else.
RELATED: This healthy pumpkin muffin recipe will satisfy your pumpkin spice craving
6. Thomas' Pumpkin Spice Bagels
These bagels weren't joking around when it came to pumpkin spice. You could smell the bag from a few feet away and despite some skepticism, these were actually a hit.
7. Cosmos Creations Pumpkin Spice Popcorn
We couldn't stop munching on these! If you love kettle corn or caramel popcorn, then you'll want to try this.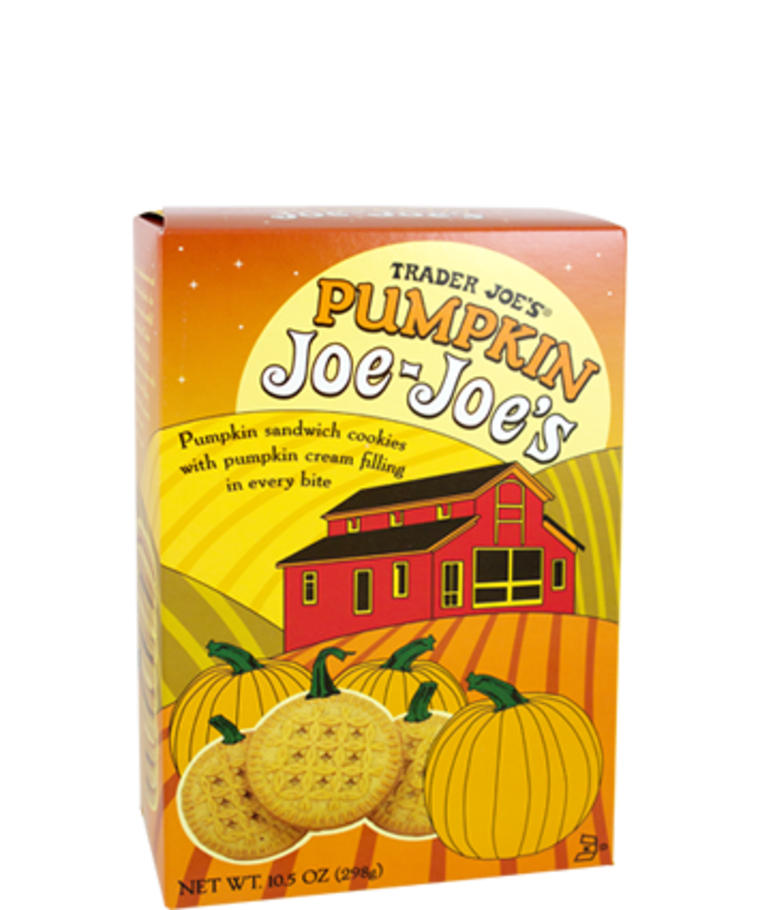 8. Trader Joe's Pumpkin Joe-Joes
Imagine a golden Oreo that's filled with pumpkin cream instead of plain old vanilla.
9. Sugar Bowl Bakery Pumpkin Bites
These treats are like brownie bites that swap out cocoa for pumpkin.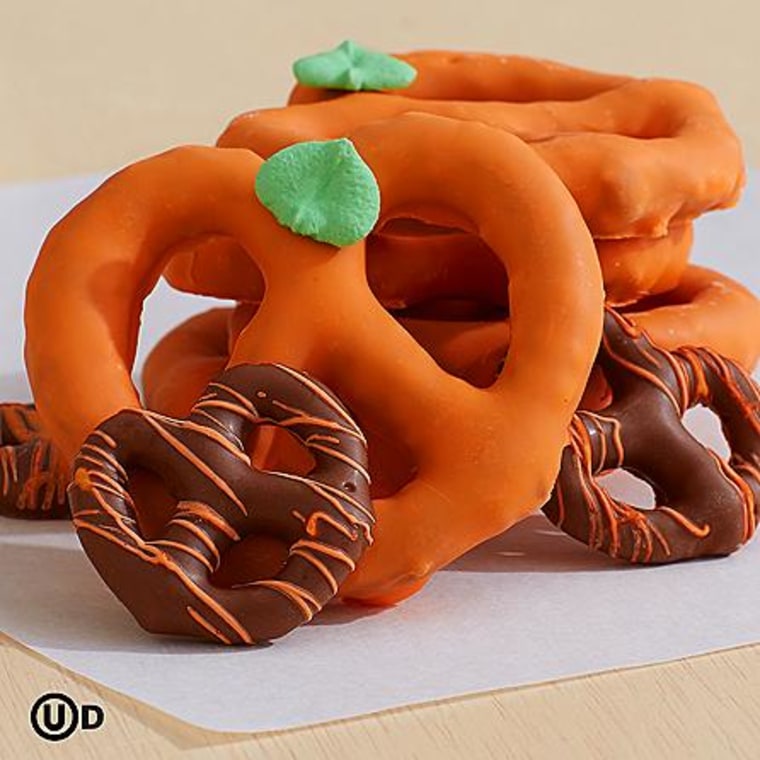 10. Shari's Berries Pumpkin Pretzel Twists
"First of all, this pretzel is so pretty I almost didn't want to eat it. But one bite and I was sold. It has a delicious white chocolate flavor with the slightest hint of pumpkin, making it the perfect bite-sized snack for fall!" said Rachel Becker, digital assistant for TODAY.com and NBC Brand Partnerships.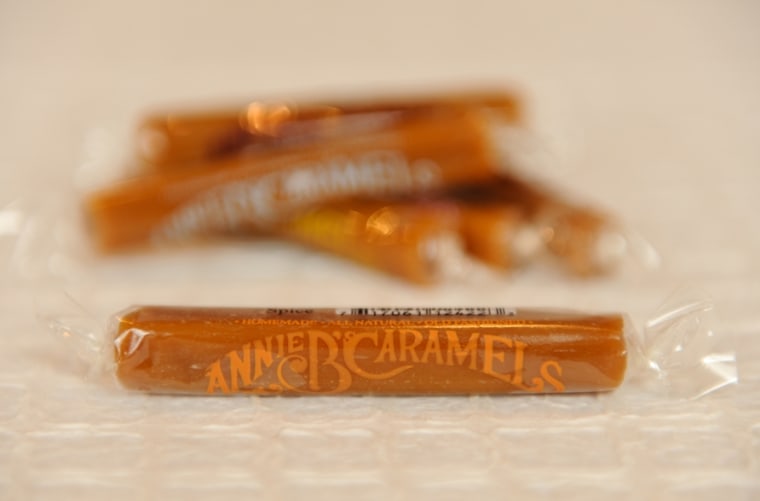 11. Annie B's Pumpkin Caramels
"Have you ever wanted to chew on a cinnamon stick? Well now you can! Though, it certainly wasn't a dream of mine. While the slight sweetness cuts a bit of the cinnamon blast, you're left wondering whether you'd just rather have had a plain caramel or a chai tea instead," said Brandon Goodwin, TODAY senior multimedia producer.
RELATED: 6 healthy pumpkin snacks you need to try before the end of fall
12. Trader Joe's Os
We couldn't keep our hands out of this box. They reminded of us Honey Nut Cheerios, but with a distinct pumpkin flavor.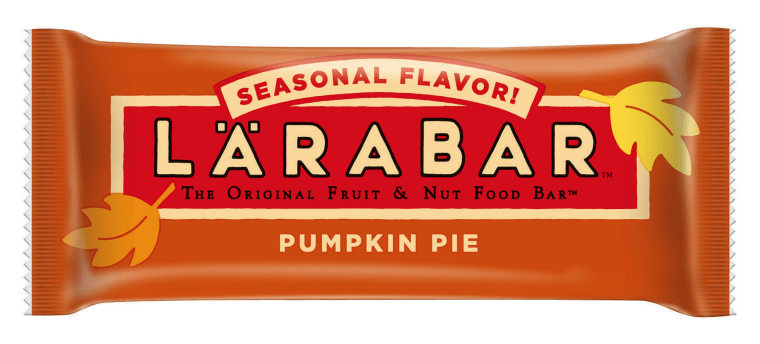 13. Larabar Pumpkin Pie
"It tastes only slightly like pumpkin, and it's a little dry, so I'm not sure I'd try this again. But I do like that I can pronounce all the ingredients!" said Amy Eley, TODAY.com's home editor.
RELATED: 6 healthy pumpkin snacks you need to try before the end of fall
14. Trader Joe's This Pumpkin Walks Into a Bar . . . Cereal Bars
It has all the goodness of a cereal bar, but instead of the traditional cinnamon-apple or strawberry filling, this one is filled with a sweet pumpkin.
15. Brach's Pumpkin Spice Candy Corn
Candy corn lovers will adore this take on the classic Halloween candy, which takes like a PSL in candy form.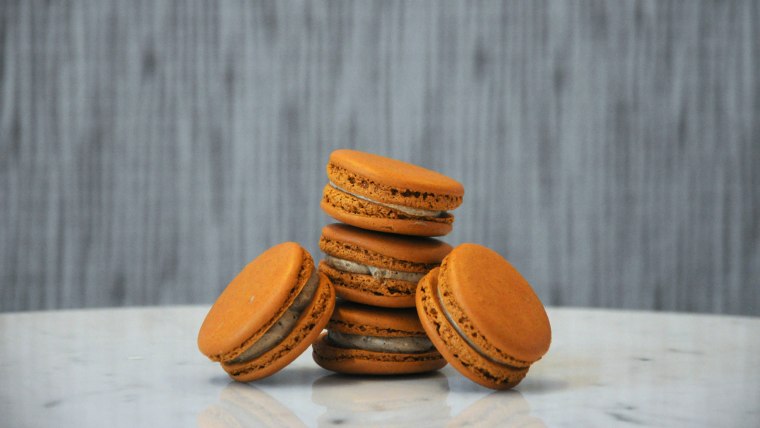 16. Danas Bakery Pumpkin Spice Macarons
The macaron specalist infuses all the wonderful flavors of pumpkin pie into the chewy French cookie.
17. DAVIDsTEA Pumpkin Chai, Pumpkin Spice, Pumpkin Mate, Pumpkin Pie Matcha
If you're not a fan of pumpkin spice lattes, try these more subtle loose leaf teas.
18. Blockhead's Pumpkin Mango Chilli Burrito
Packed with fresh pumpkin, sweet potato, mango, pineapple, black and pinto beans, chilies and rice, this burrito is the ultimate fall lunch.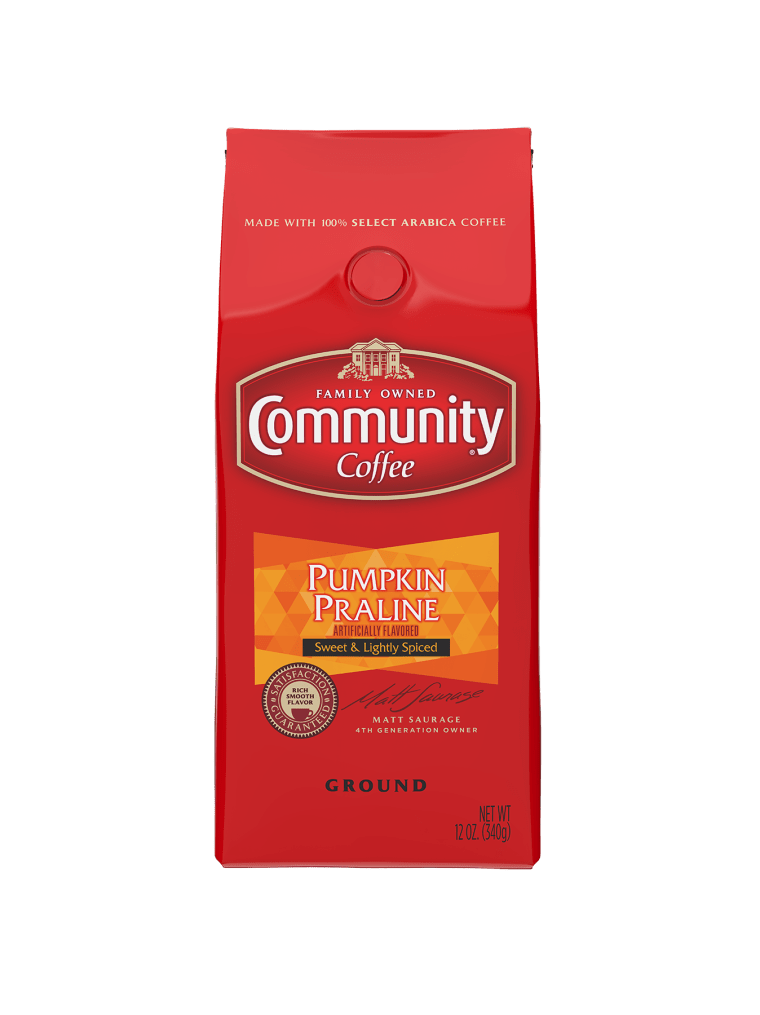 19. Community Coffee Pumpkin Praline
Instead of shelling out for that daily PSL, you can brew up a cup of fall goodness at home.
20. Krusteaz's Pumpkin Spice Bread Mix
That pumpkin spice bread that your favorite coffee shop serves up can be at your home in a jiffy with Krusteaz's mix. Thanksgiving morning breakfast, anyone?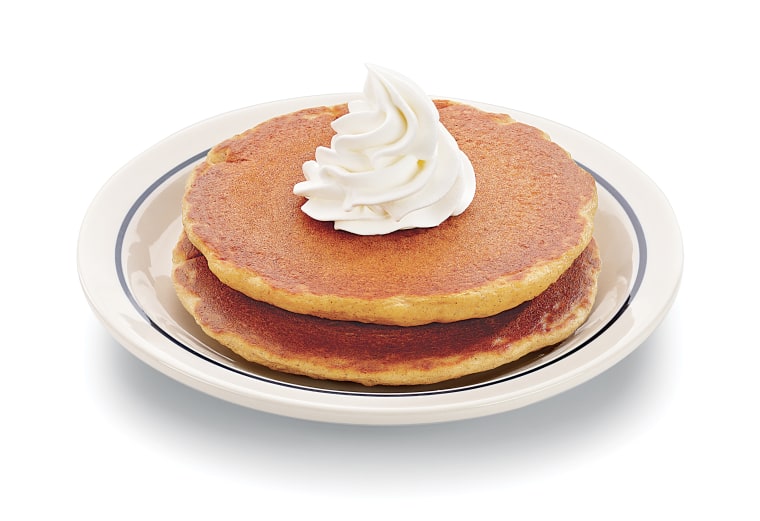 21. IHOP Pumpkin Pancakes
Pumpkin pancakes? Yes, please! We're a sucker for these all year long. The hints of pumpkin flavor along with the fluffy flapjack texture are truly perfection.
22. Trader Joe's Pumpkin Cranberry Crisps
You can elevate your crackers and cheese game this fall with these pumpkin cranberry crisps. Try spreading some ricotta on top and drizzling with honey for the ultimate Thanksgiving appetizer.
23. Stonyfield Banana-Pumpkin YoToddler
Just because you're a kid doesn't mean you can't get in on the pumpkin craze. Your little one will loves these yogurts (the adults may just too).
24. Country Crock Pumpkin Spice Spread
Add this to bagels or toasts for the ultimate pumpkin morning.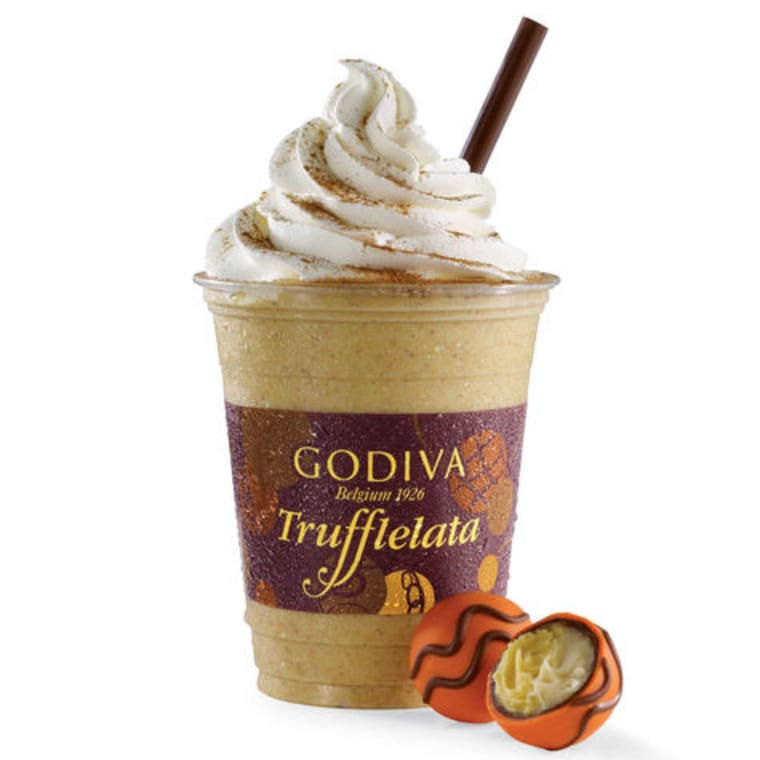 25. GODIVA Pumpkin Spice Truffleta
This blended drink is so rich and decadent, it's almost like a pumpkin spice milkshake.
26. Thomas' Pumpkin Spice English Muffins
If you're looking for the ultimate pumpkin breakfast, you could pair these with Country Crock's Pumpkin Spice Spread.
27. Trader Joe's Fall Harvest Salsa
Dip into this autumnal spread — made with pumpkin, butternut squash and apples — with tortilla chips for a fun sweet-savory snack.
28. Blockhead's Pumpkin Pie Frozen Margarita
A fan of frozen margaritas? Then this one will be right up your alley. Made with pumpkin puree, cinnamon-flavored tequilla, whiskey and fresh lime, you can expect a combination of sugar and spice to hits your taste buds.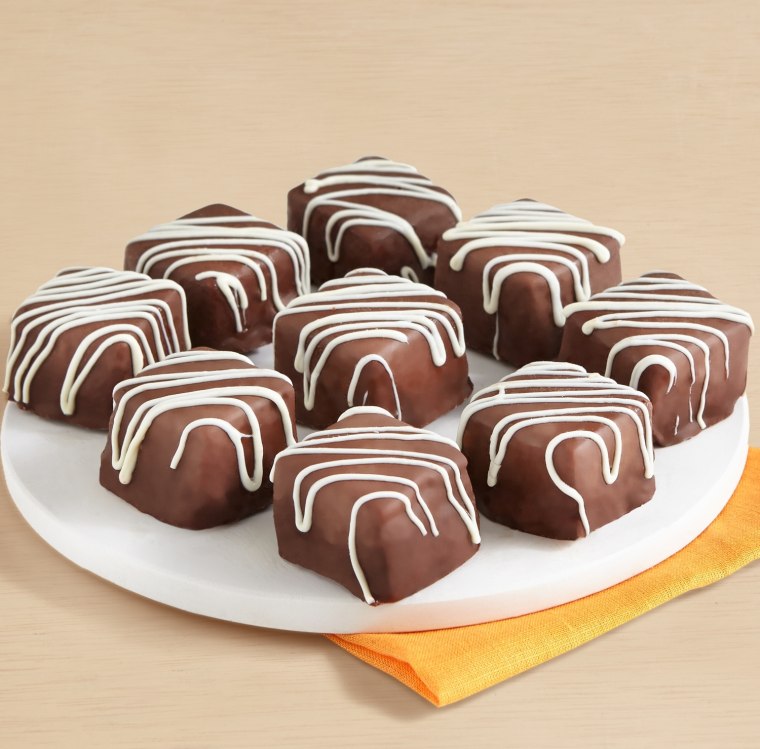 29. Shari's Berries Pumpkin Cheesecake Bites
These chocolate-covered treats can just be popped in your mouth for the ultimate fall-inspired sweet treat.
30. Trader Joe's Pumpkin Biscotti
These taste like a combination of gingerbread mixed with a little pumpkin spice with the wonderful airy texture of a biscotti. These would be quite delicious dipped in a cup of coffee!
31. 16 Handles Fist Pumpkin
The delicious taste of pumpkin ice cream, but with half the guilt because it's fat free.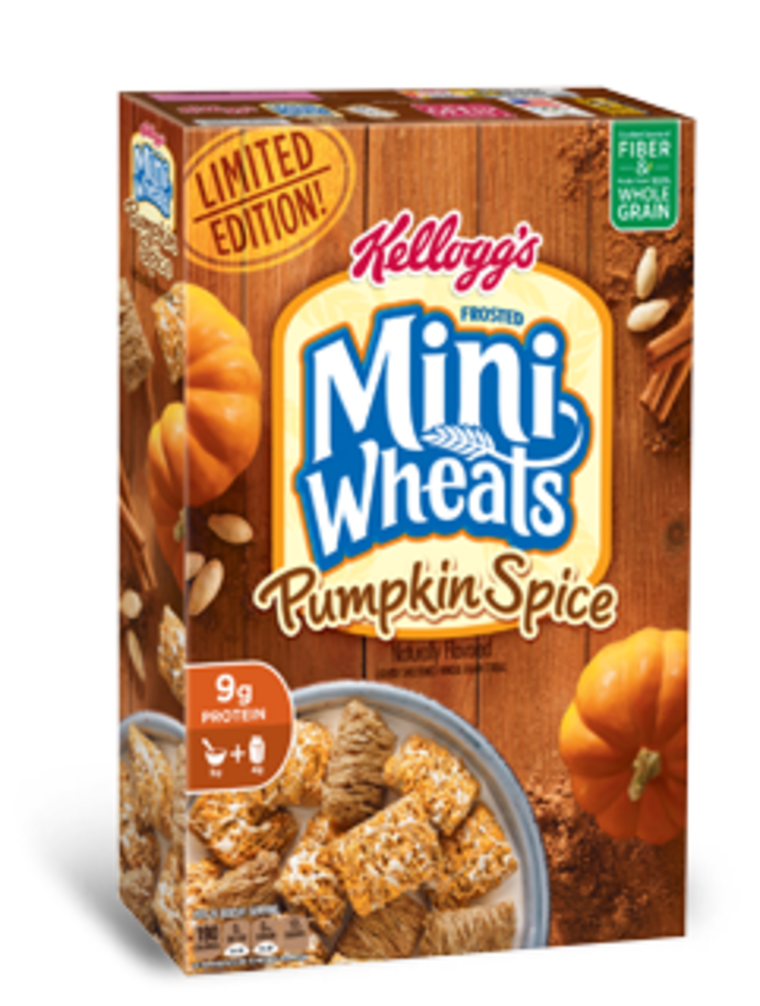 32. Kellogg's Pumpkin Spice Frosted Mini-Wheats
The cereal maker replaced the standard sugar coating with one that's made from pumpkin spice.
33. Dandies Pumpkin Marshmallows
Dandies marshmallows are vegan, making it possible for everyone to get in on the pumpkin spice craze. Top your sweet potato casserole with these fluffy beauties or just toss in a mug of hot chocolate.
34. Trader Joe's Pecan Pumpkin Instant Oatmeal
Start your morning off with some pumpkin goodness. It's the heartiness of oatmeal mixed with the falltime flavors of nuts and pumpkin.
35. Peeps Pumpkin Spice
"I'm coming around to this," said TODAY's Willie Giest, even after admitting that he's not really a pumpkin spice guy. "They're excellent." TODAY's Tamron Hall said that she liked them, but also explained that they were so rich she couldn't eat more than one.