When you have 30 legendary chefs in the same room to finish off TODAY Food's month-long All-Star Thanksgiving, you obviously ask them for their number-one, go-to, stress-busting Thanksgiving tips to take with you to your kitchen. It's what you do.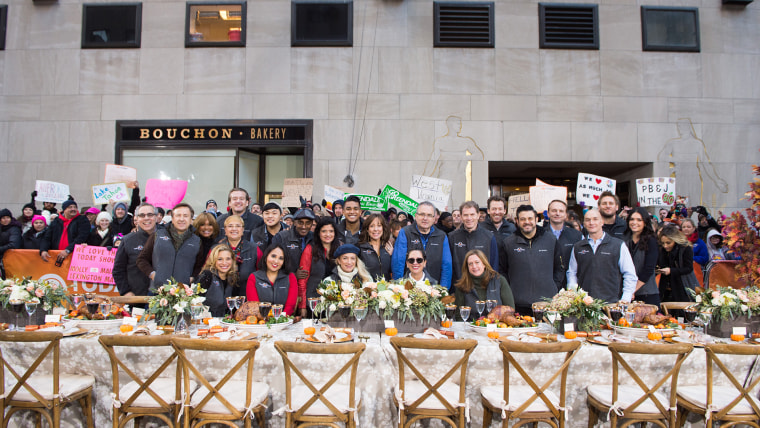 From ways to conserve real estate in your oven to achieving the most golden, crispiest turkey skin, chefs like Giada De Laurentiis, Daniel Boulud and Marcus Samuelsson have got your back.
Here's what they've got:
1. Giada De Laurentiis
The night before Thanksgiving, pull out all your plates and platters, and put post-it notes with the names of the dishes that will be served on each of the plates. It saves you from second guessing when crunch time comes.
2. Sunny Anderson
Don't forget your cooler can also keep your sides and even your bird warm.
RELATED: Add this 1 ingredient to make fluffier mashed potatoes, plus more hacks to try
3. Michael Lomonaco
Instead of using mixing bowls and plates to hold ingredients for your stuffing or green bean casserole, use ziplock bags. They will take up less room in the fridge and then you can toss them after you've used them rather than wash the 15 or 20 little bowls and dishes!
4. Marcus Samuelsson
Have a little too much "sweet" on your Thanksgiving table? Instead of a marshmallow topping, sub in some garlic and chili powder to your sweet potatoes to make a more savory side dish!
5. Daniel Boulud
If you run out of serving bowls, use a hollowed out roasted pumpkin to hold your side dish. Flip the pumpkin over so it has a good foundation and fill it up!
6. Adam Richman
Use holiday-themed turkey and cornucopia cookie and baking molds/cutters to make decorative pats of butter for the bread, rolls and mashed potatoes!
7. Michael White
Cook the turkey breast and leg meat separately. They cook at different rates, so this avoids overcooking/undercooking one part.
8. Deuki Hong
Dry brine: 10x better and easier than wet brine. Simply salt the turkey a day to two days before actually roasting it.
9. Lidia Bastianich
Want your turkey to look as good as one on a magazine cover? Brush balsamic vinegar over the turkey in the last 10 to 15 minutes it's roasting, and voila, you have a gorgeous mahogany bird with skin that is crisp and shiny.
10. Katie Lee
Aluminum foil "roasting" rack: If you don't have a roasting rack, take aluminum foil and twist it into a coil and set the turkey on top of it.
RELATED: How to dry-brine a turkey and why you should do it this Thanksgiving
11. Bobby Flay
When carving your turkey, remove each breast and slice crosswise into thick slices (about ½-inch slices), then both legs, then the wings.
12. Alejandra Ramos
The best way to reheat turkey leftovers is slicing the turkey and simmering it in a skillet with gravy and some broth or water.
13. Curtis Stone
Follow these rules when stuffing your bird:
Drizzle stuffing with gravy and sprinkle with thyme and parsley
Never stuff the night before — only before cooking
Stuff the neck for a small amount of stuffing. Stuff the belly for larger amounts.
Leftovers go in tin cups
14. Seamus Mullen
Spice up your gravy using cinnamon, clove and apple. The flavors together create the aroma of warm, mulling spices and make basic gravy sing!
15. Alex Guarnaschelli
I have a super easy truss (just a piece of string) method for a turkey. I take a piece of heavy string and put it underneath the back part of the bird. I come up over the wing tips (on both sides) of the turkey, looping once around the wings, and come to the front, following the length of the breast. I loop once around the drumsticks and pull tightly to achieve the two major reasons to do a quick truss. It draws the drumsticks together and inward toward the breast meat for more even cooking. It can be done tightly enough that the stuffing stays inside the bird.
16. Ryan Hardy
The secret to the juiciest turkey is to leave it on the counter for 1 hour. Set a timer! Not matter how you season, brine or smoke your turkey ahead of time, give it an hour to rest once it comes out of the oven. The juices won't run all over when you slice it and you'll end up with the most tender turkey. While it rests, make gravy!
17. Brian Lewis
Lift the flavors of your turkey by making a spice pouch for it. Sprinkle of some seasoned maldon salt (a coarse finishing salt which melts on your palate) sage-fresh or dried, orange peel, black peppercorn, thyme, and cinnamon.
18. Ed Brown
For the fluffiest stuffing, use dried or stale bread for fluffy stuffing like rye, pumpernickel or cornbread.
19. Missy Robbins
Brining your turkey will keep it moist and seasoned throughout. Using a garbage bag in a cooler is your best bet for saving room for other items in the fridge.
20. Bryan Voltaggio
Invest in a meat thermometer! It's $25 and will not only improve your Thanksgiving turkey but will improve your roast beef, lamb and more throughout the year. Make sure you get one with an alarm. In order to have the perfect turkey and or roast the temp alarm will insure the right temperature without worrying about timing per pound.
21. Jocelyn Delk-Adams
To bring butter to room temperature quickly, microwave a glass with a little water in it, remove the water and dry the glass. Invert the glass over the stick of butter. In a few minutes, your butter is softened.
22. Elizabeth Heiskell
Take a plain and boring store-bought pumpkin pie, and using a biscuit cutter, cut out individual pumpkin pies. Top with bourbon whipped cream for an adorable twist on a traditional recipe.
23. Lucinda Scala Quinn
Go bite size. You don't have to make dessert big and fancy. Keep it small.
24. Nancy Silverton
For an even flakier biscuit or pie dough, freeze your butter and grate it on the large hole of a cheese grater.
25. Donatella Arpaia
If you forgot to buy an ingredient for something you're baking and can't go back to the store, don't panic.
No honey? Replace 1 cup honey with 1 ¼ cup white granulated sugar + 1/3 cup water.
No vanilla? Replace with equal amounts of maple syrup or liquor.
No granulated sugar? Replace 1 cup with 1 ¾ cup powdered sugar.
26. Martha Stewart
Use fruit as a centerpiece on stacked cake stands. Use fruit with colors reflective of the season: persimmons, dark grapes, clementines, speckle pears, nuts in shells and kumquats with leaves would work well.
RELATED: Our favorite Thanksgiving Day table settings
27. Geoffrey Zakarian
Alternatively use the dry ingredients (spices and dried bread) in boxed stuffing by grinding them in a food processor and replacing them on top of green bean casserole in favor of fried onions. Place on the green beans before baking.
28. Andrew Carmellini
Always make my own fresh cranberry sauce, which is much easier than people think. It always beats the canned stuff.
29. Ryan Scott
If you didn't make gravy, you can make it from cream of mushroom.
30. Jordan Andino
Need a dessert sauce? Melt ice cream! Crème anglaise is essentially vanilla ice cream melted!