It feels like people are always sharing recipes for boozy punch and brisk summer cocktails this time of year, but for those who like their refreshments alcohol-free, sometimes the drink table can be lacking. Lucky for me, a pregnant food writer who has gotten tired of sparkling water with lime and the occasional root beer, we rounded up some well-balanced and complex liquor-less punches and mocktails to serve at that baby shower, backyard barbecue or even just a weeknight get together.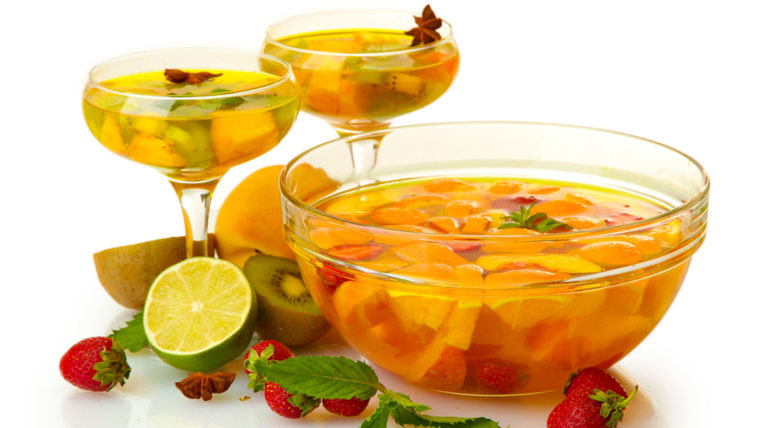 "The key with a good mocktail is balance," said drink maven Lynnette Marrero, co-founder of Speed Rack, a competition which highlights female mixologists. "Without the alcohol you have to balance sweet and sour components in the drink and also the water content to fill a glass. I borrow some tricks from tiki drinks where multiple citrus juices and spice combinations are used to create the delicious tropical drinks."
Kenneth McCoy of Ward III, a bespoke cocktail den in Manhattan agrees, and to make a colorful and yummy punch, he suggests you try a simple combination of ginger beer, lemon, grapefruit juice and hibiscus tea, and then add slices of the citrus for extra texture and flavor. For a cool visual effect, make a giant ice block by freezing water with fresh herbs in a small or medium bowl, depending on how big your punch bowl, and place that in your punch. "Not only will it look great," he said, "but as the ice starts to melt the herbs will release into the punch adding extra flavor."
For a summer punch, McCoy likes anything with citrus or herbs, spices like nutmeg, fresh berries and anything that adds a bit of effervescence like Q brand sodas, tonics, and ginger beer. "I also look for crushed or cobbled ice, and teas like hibiscus and green tea to add a nice bright layer of flavor."
Other tips, Marrero suggest using the flavored San Pellegrino like pompelmo (grapefruit), blood orange and limonata to add juice flavors without as much acid. She also likes to use a premium sparkling water such as Perrier to help make the flavors pop. Give it a try at home with one of these flavorful mocktails.
The Roseaway Beach
Courtesy of Lynnette Marrero
For a single mocktail
Ingredients:
8 ounces San Pelegrino Melograno E Arancia (pomegranate and orange)

1 ounce brewed hibiscus tea**

1/2 ounce simple syrup

Dash rose water

Garnish rose bud

**Try Tazo's Passion or Ruby Hibiscus Herbal Tea by Stash Tea
Directions:
In a 12 ounce highball with ice, add the rose water, unsweetened Hibiscus tea and the simple syrup. Stir to mix. Add 8 ounces of San Pelllegrino Melograno E Arancia. Stir again to mix and garnish with rosebud. You can also spike this mocktail with 1.5 ounces of your favorite tequila for robust alternative to your summer margarita.
To make into a punch
For your next gathering be prepared by mixing up the base of the cocktail in a pitcher. Use 1 cups unsweetened brewed hibiscus tea to 1/2 cup simple syrup. Add 2 teaspoons rose water. Multiply the ingredients to fill your pitcher. In each glass place 1 1/2 ounces of the batch and top with 8 ounces San Pelllegrino Melograno E Arancia. 
Summer citrus punch
Courtesy of Kenneth McCoy and Ward III
Ingredients:
2 lemons

2 large grapefruits

16 ounces ruby red grapefruit juice

1 liter ginger beer, or three 12 ounce bottles

1 liter club soda

1/4 cup hibiscus syrup*

Directions:
Slice lemons and grapefruit into thin rounds. Combine all ingredients in punch bowl with block ice (frozen with mint leaves) and serve with a ladle. 
*Bring 1 cup of water and 1 cup of sugar to a boil with 1 cup of hibiscus leaves then reduce heat and simmer for 10 minutes. Remove from heat and allow to steep for an additional 5 minutes, then strain. You could also substitute a hibiscus tea for the loose leaves.
Watermelon sparkle
Courtesy of Lynnette Marrero
Single serving mocktail
Ingredients:
3/4 ounces agave nectar

1 ounce pink grapefruit juice

3/4 ounce lemon juice

2 ounces watermelon mint tea*

4 ounces Perrier sparkling water, grapefruit flavor

Directions:
Place all ingredients except Perrier into a shaker and shake. Strain into an ice-filled highball. Top with the Perrier and garnish with a mint sprig.
*Make teas twice as strong as indicate in directions. To find this flavor, try Watermelon Mint Chiller from Teavana or Watermelon Mint by The Republic of Tea.