It's hard to believe how much intense flavor you can pack into a dish with just three key ingredients. This week, check out our recipes for juicy chicken braised in coconut milk, Mediterranean fish roasted in parchment with capers and sweet peppers, and more. Each dish is made with only three main components (plus salt, pepper and cooking oil). The best part: Prepping the ingredients takes mere minutes.
Coconut-milk-braised chicken and spinach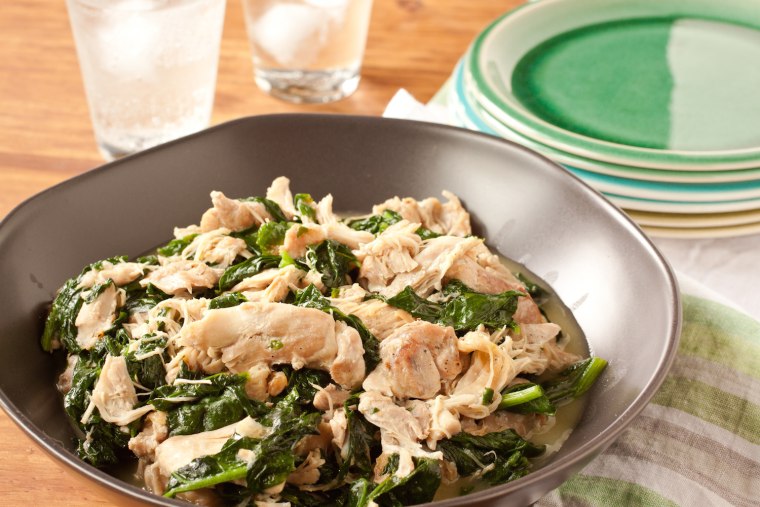 Fresh and simple, this creamy comfort dish puts Thai takeout to shame. A low, slow simmer in coconut milk leaves chicken thighs silky and tender—but hearty enough that you don't need anything else on the table.

Makes 4 servings
2 tablespoons olive oil

2 pounds boneless, skinless chicken thighs

kosher salt

freshly ground black pepper

2 13.5-oz. cans light coconut milk

2 large bunches fresh spinach, well-washed, or 1 9-oz. bag of fresh washed spinach
Heat a large, high-sided skillet or sauté pan over medium high heat, then add 1 tablespoon olive oil.
Season the chicken thighs with salt and pepper on each side, then add half the meat to the skillet in a single layer. Cook for about 4 minutes on each side, until the chicken is crisp and browned. Repeat with the remaining olive oil and chicken thighs.
Return all the chicken to the skillet and add the coconut milk. Cover and simmer for 45 minutes, until the chicken thighs are very tender and pull apart easily with a fork.
Uncover and raise the heat to medium-high, and let the liquid come to a boil.
Cook for about 10 minutes to let the sauce thicken and reduce, then add the spinach and cook for 5 minutes more until the leaves are wilted and tender.
Taste and add more salt and pepper if necessary, and serve immediately.
Pan-seared polenta with kale and marinara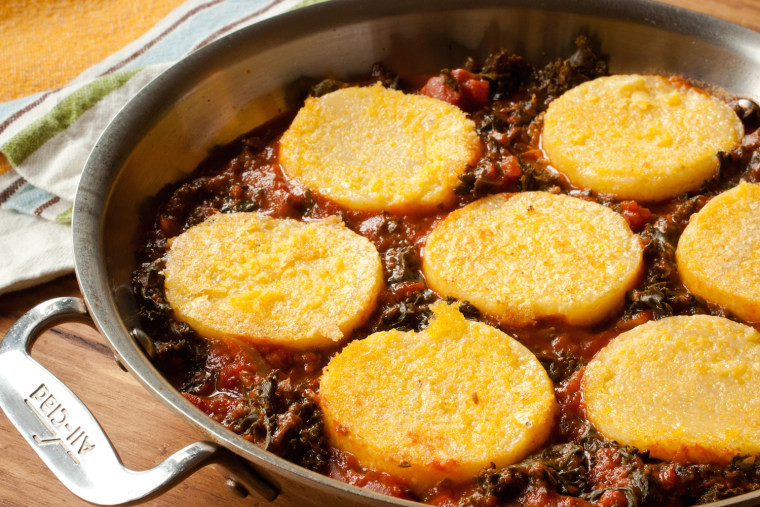 Bored with the same old pasta and sauce routine? Mix things up with these crispy Italian corn cakes topped with marinara. They're kid-friendly but elegant enough for a family-style appetizer at a dinner party.

Makes 4 servings
1 18-oz. tube precooked polenta (or make your own; see below)

3-4 teaspoons olive oil

1 large bunch kale, rinsed, stems removed

1 25-oz. jar of your favorite marinara sauce
Slice the polenta into 16 rounds.
Heat a large, high-sided skillet or sauté pan over medium-high heat and add 1 teaspoon olive oil, swirling to cover the bottom of the pan.
Add a layer of polenta rounds and pan-fry until crispy and golden brown, cooking for about 4-5 minutes per side. Transfer to a plate and repeat with the additional olive oil and polenta rounds.
Reduce the heat to medium low and add the kale to the same skillet (a few handfuls at a time, if it doesn't all fit in one batch). Toss with tongs until the kale is wilted, about 2-3 minutes.
Stir in the marinara sauce and 1 cup water, and bring to a simmer. Cover and cook for 15 minutes, until the kale is tender.
Return the polenta to the pan to briefly reheat, then serve immediately.
To make polenta from scratch:
Bring 1 quart (4 cups) water to a boil and add 1 teaspoon kosher salt. Whisk in 1 cup dried polenta and reduce the heat to low. Whisk frequently for 30-45 minutes, until the water is fully absorbed and the polenta is tender.
Pour the cooked polenta into a 9-by-13-inch baking pan. Allow to cool completely in the refrigerator, then slice into squares and pan-sear as above.
Dijon mustard-roasted pork loin with green beans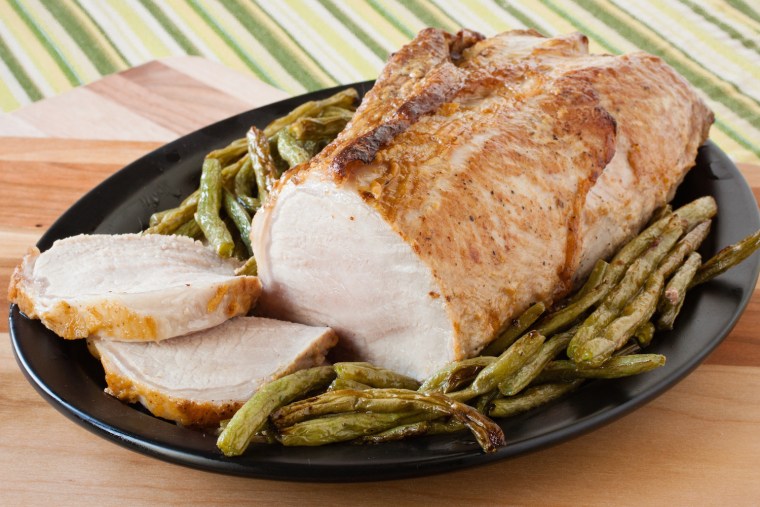 Roasting green beans in the same pan as a tender pork roast infuses the vegetables with the rich flavor of the meat, tempered by a tangy touch of Dijon mustard for good measure.
Makes 4-6 servings
1 2-to-3-pound boneless pork loin roast

kosher salt

freshly ground black pepper

1 teaspoon vegetable oil

3 teaspoons Dijon mustard, divided

1 pound green beans, rinsed and trimmed
Preheat the oven to 400˚F.
Sprinkle the pork loin on all sides with salt and pepper.
Heat a large, high-sided skillet or sauté pan over medium-high heat and add the oil, swirling to cover the bottom of the pan.
Add the pork loin and brown on all sides, about 3-4 minutes per side.
Transfer the pork loin to a rimmed baking sheet and brush with 1 teaspoon Dijon mustard.
Roast the pork loin for 15 minutes.
Toss the green beans with a pinch of salt and pepper and 1 teaspoon Dijon mustard.
After the pork has cooked for 15 minutes, add the green beans to the baking sheet, placing them evenly around the pork.
Roast for 15 minutes more, until a thermometer inserted into the thickest part of the pork loin reads 145˚F and the green beans are roasted and crispy in spots.
Let the pork sit for five minutes before slicing and serving.

Lentil curry pilaf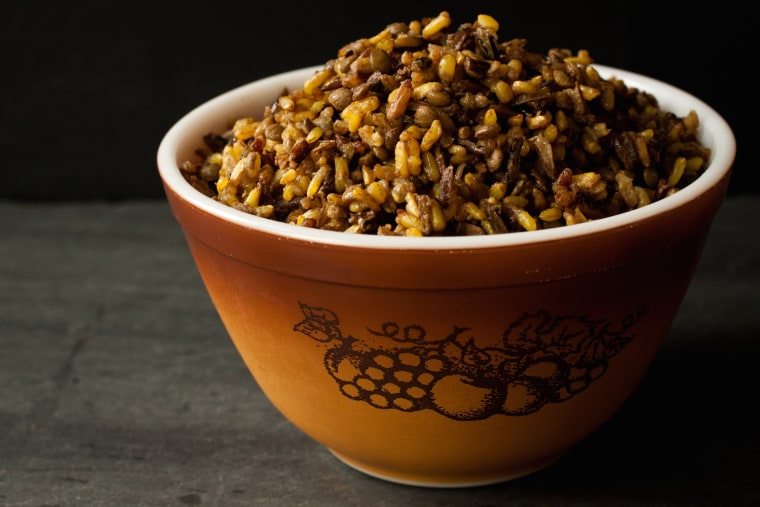 This lentil-studded pilaf packs a powerful amount of nutrition into each serving: It's high in fiber, protein and iron, making it a no-brainer as a side or a main dish.
Makes 4 servings
2 teaspoons of your favorite curry powder

1 teaspoon kosher salt, plus additional salt as desired

1 6-oz. box plain wild rice pilaf or 1 cup wild rice mix

1/3 cup dried green lentils
Bring 2 1/2 cups water to a boil over medium-high heat, then add the curry powder and salt.
Stir in the wild rice and lentils, then lower the heat and bring to a simmer.
Cover and cook undisturbed for 30 minutes, until the rice and lentils are tender and have absorbed all the liquid.
Remove from the heat and let the pilaf sit, covered, for 10 more minutes.
Fluff with a fork, taste for additional salt, and serve.
Parchment-roasted Mediterranean fish fillets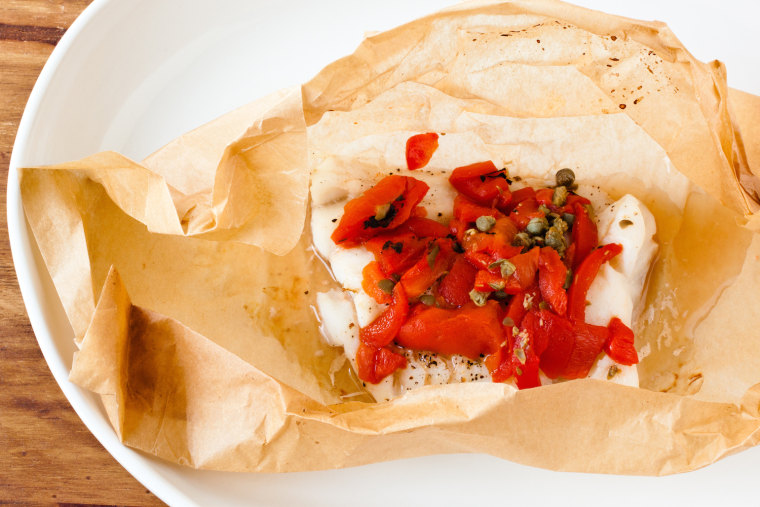 If you've never roasted fish in parchment paper, get ready for a revelation. The paper is fantastic at sealing in moisture, allowing a mere handful of ingredients—like sweet peppers and salty capers—to contribute loads of flavor in almost no time at all.

Makes 4 servings
4 4-oz. fillets of firm white fish, like cod, sea bass or tilapia

kosher salt

freshly ground black pepper

2 roasted red pepper slices from 1 10-oz. jar of roasted red peppers in olive oil

1 tablespoon capers, rinsed well
Preheat the oven to 400˚F.
Cut 4 12-inch-long pieces of parchment paper and place 1 fish fillet in the center of each piece.
Sprinkle salt and pepper over each fish fillet.
Roughly chop the roasted red pepper slices and capers, and divide evenly between the fish, placing equal mounds on top of each fillet.
Close the parchment paper packets by folding the edges of the paper together and crimping to loosely seal. Imagine that the paper is foil and gently fold and scrunch; you don't have to be perfect.
Place the packets on a rimmed baking sheet and roast for 10 minutes. Carefully open the packets—the fish should gently flake apart with a fork but still be firm.
Serve immediately—directly from the packets, if desired.