As a 25-year-old who lives in New York City, I'm accustomed to egregiously overpriced items. But when it came to Scott Conant's famous $24 spaghetti, tomato and basil dish at his Scarpetta restaurants, I scoffed. Spaghetti is the ultimate cheapie meal, akin to rice and beans or peanut butter and jelly. In college, it was my go-to, not only because it was inexpensive but also because it was easy to pull off.
But after many first-hand accounts of palatable bliss and rave reviews about its "crack-like" addictiveness, my interest was piqued. My colleague Amy DiLuna described it as "a little mound of awesome. It's salty and cheesy and sweet and perfect." PERFECT? Serious Eats' Ed Levine, whose culinary opinion -- and price point awareness -- rarely steers me awry, called it "one of the great rustic, simple, and shockingly flavorful pasta preparations in New York." This dish, simple though it may be, has a devoted fan base.
I wanted to taste this ecstasy-inducing spaghetti and judge it for myself.  But first, I decided to make the dish in my own kitchen for a price and taste comparison. I got Conant's recipe and quickly discovered that the dish is not as simple as it seems. Yes, there are few ingredients, but his attention to detail entails a degree of care not often given to spaghetti. 
I decided that to re-create a purported masterpiece, I'd need the freshest, highest-quality ingredients, so I shopped for them at an upscale organic grocery store. I bought everything except the extra virgin olive oil, crushed red pepper, salt and pepper, which I consider kitchen staples and already had at home. The rest -- plum tomatoes, Parmigiano-Reggiano cheese, fresh basil leaves, spaghetti, and butter -- I purchased.
Yikes! Going gourmet cost a steep $34.21. However, these ingredients made four servings of the dish and left me with a month's supply of additional butter and about a cup of leftover Parmigiano-Reggiano. When I did the math to account for only the cost of the percent of ingredients I used for the recipe ($18.32), my total for each serving came out to $4.58!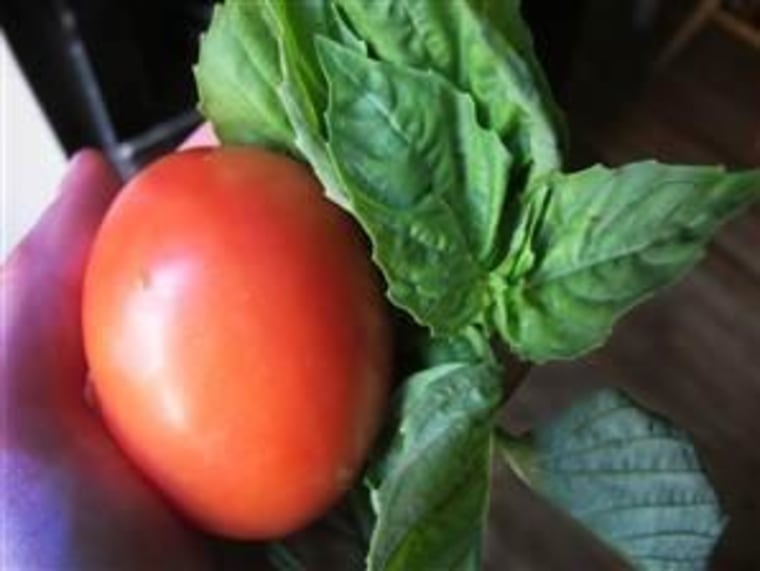 And it was good -- really good. A friend told me it was the best "amateur" spaghetti and tomato dish she'd ever eaten. While I was making it, I had my doubts (no garlic, really?) and a near-disastrous squirt of tomato guts to my eye. I couldn't imagine that Conant's would be a whole $20 better than mine. 
To find out, I arrived at Scarpetta with video camera in hand to shoot Conant making this famed dish. Before the demo began, I asked him about its intense popularity: Each month, he sells almost 10,000 spaghetti dishes at the five Scarpetta locations across the country.
"This particular spaghetti with tomato and basil seems to have evolved into something that's a little bit bigger than me," Conant said. "It's a culmination of just small things that are really done properly ... it's a sum of all its parts." Later, he quipped, "I'm gonna pay for my daughter's college education with this spaghetti."
So why does it cost $24? Conant pointed to the economics of the restaurant business, saying, "If I told you the rent I had in these places … that straight hair you have, it'd be curly. And not because of the weather."
He also referenced the experience of eating at Scarpetta, which includes an extravagant complimentary bread basket that includes house-made focaccia, Sullivan Street Bakery filone and ciabatta, and, by far the front-runner, a house-made stromboli with smoked mozzarella and salami. Finally, he said of his dish: "Anything simple is difficult, to be honest with you."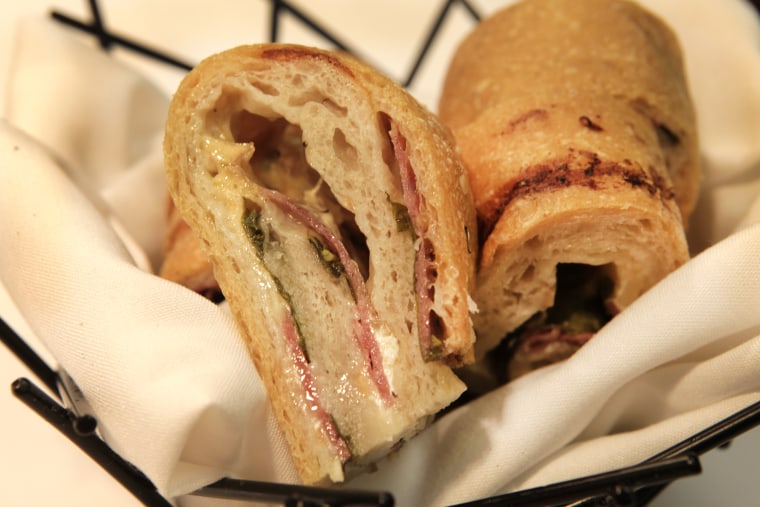 He told me about the time that New York Magazine hosted the "New York Culinary Experience" at the French Culinary Institute. He made the Scarpetta spaghetti with 15 teams of people, all equipped with the same ingredients, taking them through the dish step-by-step. Afterward, he said, "Those 15 pots of tomato sauce were all completely different."
I finally tasted Conant's version. I gathered several spaghetti strands and put them in my mouth. It was smoother and creamier than my spaghetti, with a pleasant citrus tang from the fresh tomatoes that mine lacked.  It was very, very good.  I dug my fork deep into the pile of pasta  and kept eating, because, well, I just couldn't stop.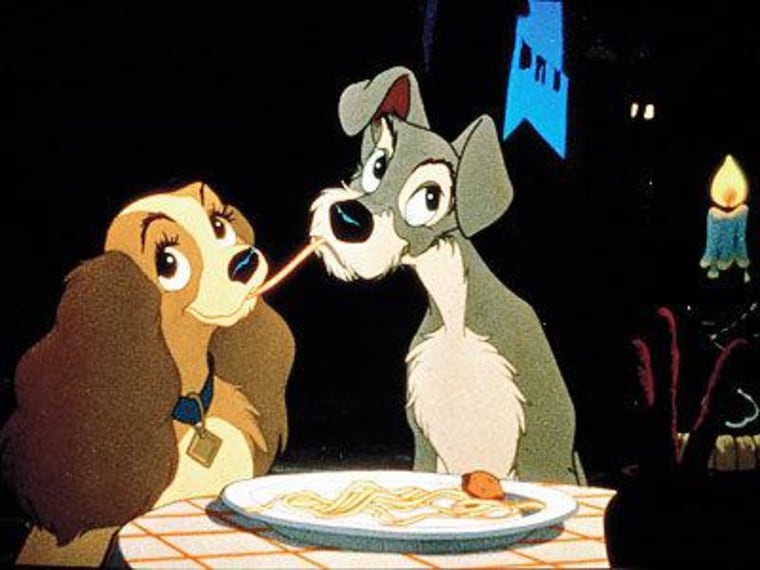 I respect and appreciate Conant's dish because it is NOT a gimmick. Most overpriced plates take a standard dish -- a burger, omelette, martini -- and add things like truffles, caviar, foie gras or gold leaf.  This trick may get it noticed in food blogs, but it's a ploy. That is obvious and it annoys me.
Conant, on the other hand, has created a recipe in which every ingredient retains its flavor and it doesn't get too dense, like many pastas.
It just goes to show that "simple done well" is a rarity these days, but certainly doesn't go overlooked. In my opinion, the dish is well worth $24. And I can tell you this: If this spaghetti were placed in front of Lady and the Tramp, they would not have shared.
What ingredient or dish do you splurge on? Tell us in the comments below.
Want to try your hand at Scarpetta's spaghetti? Here's the recipe:
Spaghetti with Fresh Tomato Sauce and Basil
Makes 4 servings
About 20 ripe plum tomatoes
About 1/3 cup extra virgin olive oil, plus more to finish the dish
Pinch of crushed red pepper
Kosher salt and freshly ground black pepper
1 tablespoon unsalted butter
1 ounce freshly grated Parmigiano-Reggiano (about 1/2 cup) 
6 to 8 fresh basil leaves, well washed and dried, stacked and rolled into a cylinder and cut thinly crosswise into a chiffonade
1 pound spaghetti, either high-quality dry or homemade
To peel the tomatoes: Bring a large pot of water to a boil. Have a large bowl of ice water nearby. Cut a small X on the bottom of each tomato. Ease about five tomatoes in the pot and cook, let boil for about 15 seconds, and then promptly move them to the waiting ice water. (Repeat this with the remaining tomatoes.) Pull off the skin with the tip of a paring knife. If the skin sticks, try a vegetable peeler, using a gentle sawing motion. Cut the tomatoes in half and use your finger to flick out the seeds.
To cook the tomatoes: In a wide pan, heat the 1/3 cup of olive oil over medium-high heat until quite hot. Add the tomatoes, red pepper flakes, and season lightly with the salt and pepper. (I always start with a light hand with the salt and pepper because as the tomatoes reduce, the salt will become concentrated.) Let the tomatoes cook for a few minutes to soften. Then, using a potato masher, chop the tomatoes finely. Cook the tomatoes for 20 to 25 minutes, until the tomatoes are tender and the sauce has thickened. (You can make the sauce, which yields about 3 cups, ahead of time. Refrigerate it for up to 2 days or freeze it for longer storage.)
To serve: Bring a large pot of amply salted water to a boil. Cook the spaghetti until just shy of al dente. Reserve a little of the pasta cooking water. Add the pasta to the sauce and cook over medium-high heat, gently tossing the pasta and the sauce together with a couple of wooden spoons and a lot of exaggerated movement (you can even shake the pan) until the pasta is just tender and the sauce, if any oil had separated from it, now looks cohesive. (If the sauce seems too thick, add a little pasta cooking liquid to adjust it.) Take the pan off of the heat and toss the butter, basil, and cheese with the pasta in the same manner (the pasta should take on an orange hue) and serve immediately.
More from Bites: