People are passionate about Trader Joe's, and TODAY staffers are no exception. After we shared our top picks for our favorite healthy Trader Joe's items, our co-workers were full of their own suggestions for the best of the best of TJ's.
"Love!" "Obsessed!" "Addicted!" Those are a just a few of the words they used to describe their fave products, which include everything from healthy breakfasts to decadent desserts. Here are 22 of our all-time favorite Trader Joe's items.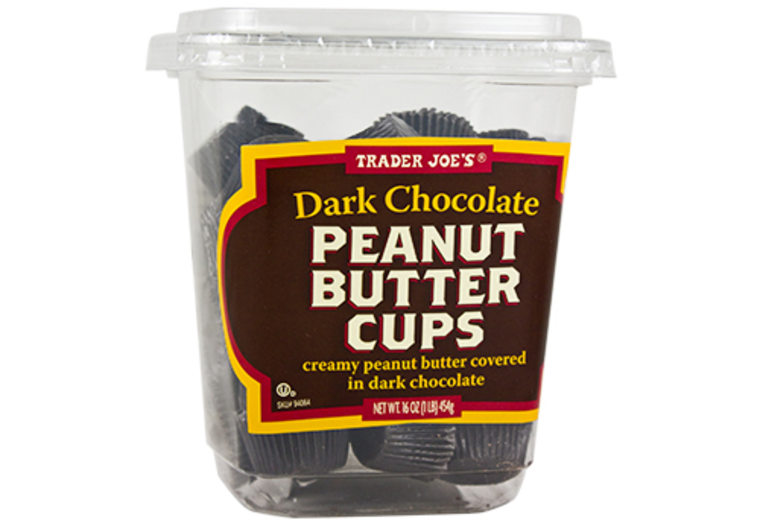 1. Dark chocolate peanut butter cups
Trader Joe's dark chocolate peanut butter cups are among the store's most popular items, and TODAY's managing editor Amy Eley is a huge fan: "My husband and I will often split a bag after dinner. It's the perfect dose of sweet between the two of us without going overboard."
RELATED: Here are the 13 most popular foods at Trader Joe's
2. Coffee beans
"We take coffee pretty seriously in my house," says senior editor Rick Schindler. "We have an electric coffee grinder and we're not afraid to use it. We've tried various premium coffee bean blends (you know the kind: 'berry and dark chocolate notes, robust yet with a hint of mischief'), but we keep coming back to TJ's French Roast Dark Roast Coffee. It IS robust, but not overwhelming like a certain brand traditionally served by baristas can be. In comparison, the fancy brands always seem to taste like a kiss without a squeeze."
3. Shrimp stir-fry with gourmet pepper seasoning
"It only takes seven minutes tops to make this healthy and filling one-pan dish," says food editor Alessandra Bulow. "Inside this unassuming frozen bag is sweet and juicy shrimp, mixed vegetables (including super sweet snap peas) and a packet of lemon pepper seasoning. Pro tip: Just a sprinkle of the seasoning does the trick and I like to amp up the spice with a dash of red pepper flakes."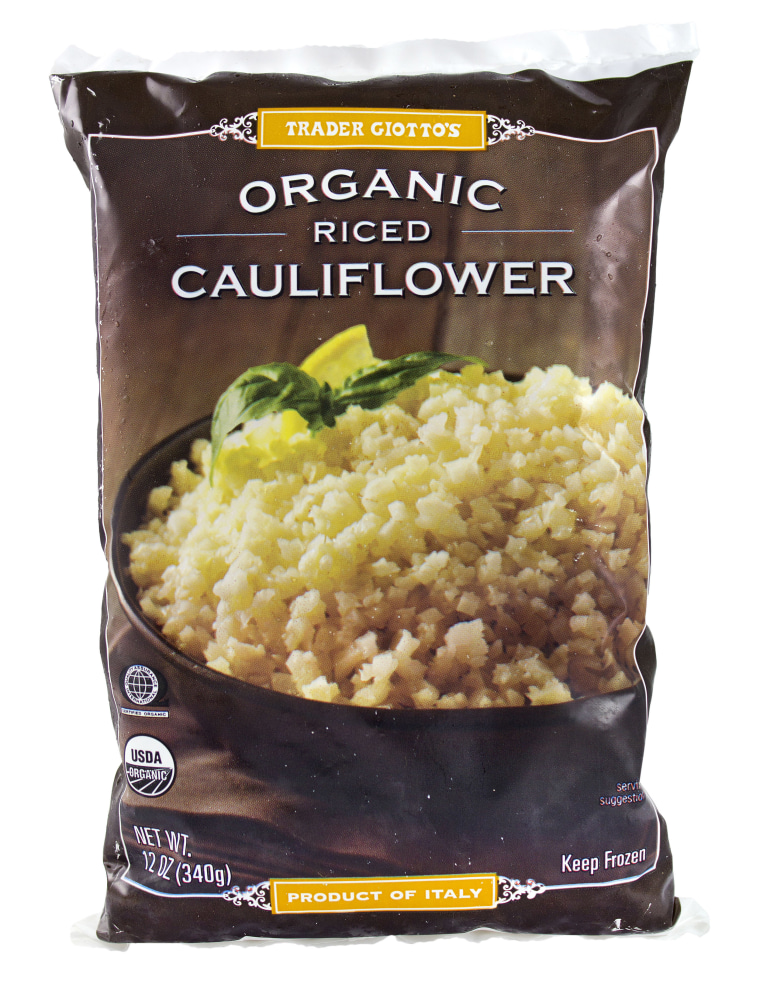 4. Cauliflower rice
"Making cauliflower rice on your own is tedious, so buying the TJ's version is so much easier and CHEAPER!" says Gabrielle Frank, Health and Wellness Editor. "It's about the same cost as a head of cauliflower, but it saves you from chopping up the vegetable and breaking out the food processor."
RELATED: Is Trader Joe's cauliflower rice better than homemade?
5. Nuts
TJ's is a TODAY staffer go-to source for nuts (the nuts made our list of healthy TJ's faves, too). "They're so reasonably priced!" says Frank. "I stock up on a bunch and rotate which ones I add to salads, yogurts, etc."
6. Dark chocolate bars
The dark chocolate bars that made our list of favorite healthy products also top the list of overall faves. TODAY contributor Randee Dawn's family loads up on the 72% dark chocolate bars that are sold in packs of three: "The price is low and the quality is really very high. It's a smooth and satisfying chocolate."
RELATED: 17 healthy Trader Joe's items we're obsessed with
7. Olive oil
I use olive oil just about every day for cooking, for dressing vegetables, grains, avocado toast — you name it. Since I go through a bottle of the stuff in a week, I appreciate that TJ's has several varieties of olive oil that are tasty and also quite affordable. I particularly like the California Estate Olive Oil, both for its flavor and to support American producers.
8. Frozen arugula and Parmigiano-Reggiano ravioli
"TJ's frozen raviolis are just SO convenient when you're too tired to cook," says Schindler. "They're ready nearly as soon as the water boils. The goat cheese and sun-dried tomato ravioli are good too, but the arugula and Parmigiano is just right — zesty but light. It's a go-to."
9. Spiced chai
"OMG," says editorial director Meena Hart Duerson. "It's the best thing ever. It's like a hug on a cold day. Whenever it's in stock, I buy as many as my arms can carry. No other packaged chai comes close."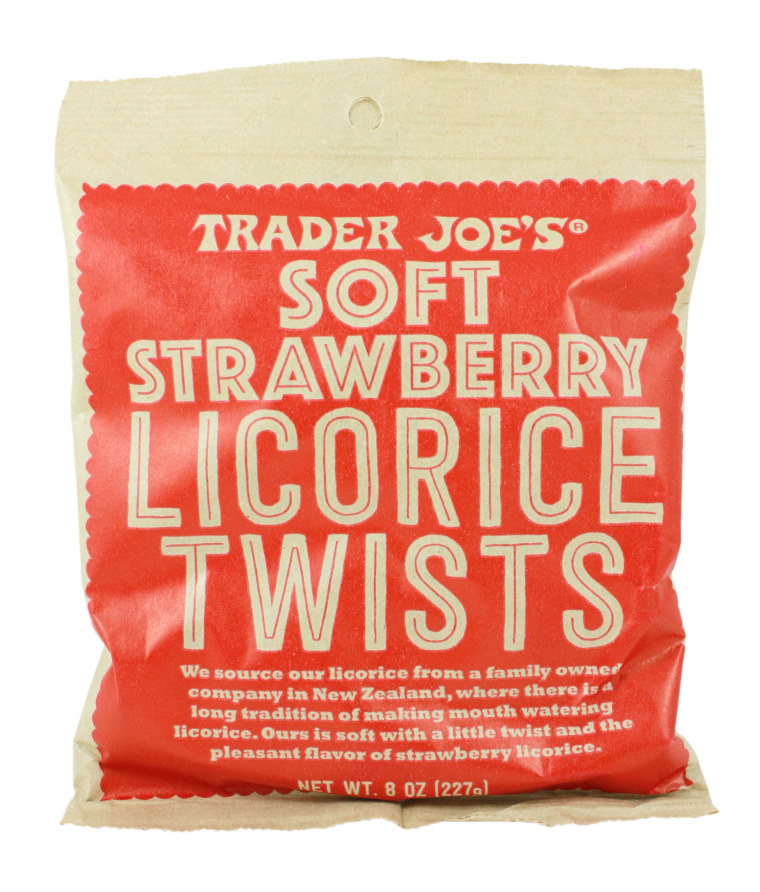 10. Soft strawberry licorice twist
"This treat has just the right amount of sweet," says senior producer Debbie Kosofsky.
11. Soy creamy cherry chocolate chip ice cream
TJ's affordable, rich and creamy vanilla ice cream is a stand-by for the TODAY Food team. It's great in sundaes, on pie and straight up. But the surprise hit among TODAY staffers is the TJ's soy ice cream. "My favorite ice cream is Ben & Jerry's Cherry Garcia, and Trader Joe's Soy Creamy Cherry Chocolate Chip holds up well against it," says editor Shane Lou. "I'm not vegan, but for those who are, it's an excellent substitute."
12. Crispy, crunchy mochi rice nuggets
"They're SOOOOOOOOOOOOO good!!" says producer Jackie Olensky. "They're salty and crunchy and taste like cheese puffs but seem healthier... I'm addicted to them!"
13. Vegetable fried rice
Producer Rainy Farrell always has a bag of this ultra-convenient side in her freezer. "It's easy, filling and family-friendly. Plus, it has good ingredients — and it's FAST!" she says.
14. Speculoos cookie butter
A spread made from cookies? Yes, please! TODAY'S editors are mad for this creamy treat. We even have a recipe to make it at home.
15. Red pepper spread with eggplant and garlic
"It's great with chips or veggies," says Farrell, whose husband is "obsessed' with this spread.
16. Soy and flaxseed tortilla chips
These robust chips, which have more protein than the average tortilla chip, plus healthy fats from the flaxseeds, are another favorite for Farrell: "They're a little heartier than your average tortilla chip. They're good with dip and also tasty on their own. The darn things are addictive."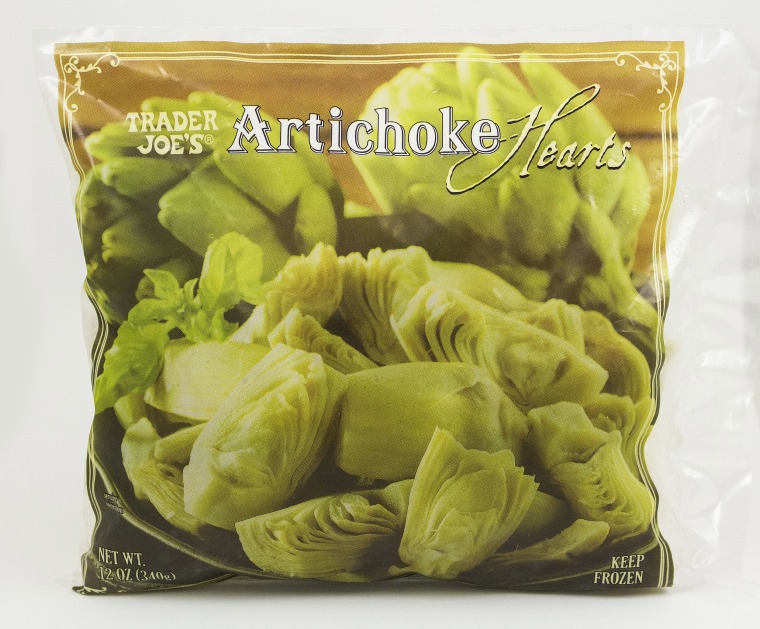 17. Frozen artichoke hearts
"I stockpile these beauties in my freezer to the point that there's little room for much else," says Bulow. "At about $2.99 at my local TJ's, they're a steal since other supermarkets charge at least $6 for them. They're the key to one of my fast go-to healthy weeknight dinners: pan-fried chicken breasts with lemon juice, capers, white wine and artichokes. Also, if I need a quickie side dish or am in the mood for a savory and healthy snack that's warm, I place the hearts in a bowl, add a little water and a sprinkle of Parmesan cheese, cover with a saucer and pop them in the microwave for 3 minutes. Voila! I've got an artichoke gratin in minutes! A squeeze of lemon is the perfect finishing touch."
18. Yogurt
Schindler recommends the "incredibly smooth" European style organic plain yogurt, as well as the Greek nonfat yogurt — the vanilla bean and coconut cream flavors in particular.
19. Tuscan pane bread and dark pumpernickel bread
"Like many baby boomers, I was raised on processed foods and Wonder Bread (be kind; my parents didn't know any better)," says Schindler. "Bread is really important to me, and TJ's Tuscan pane has a pleasing texture and hearty flavor, plus it toasts really well. Pumpernickel is usually too sweet for me, but TJ's version has a more complex flavor. The fact that it's healthy and whole-grain is a bonus."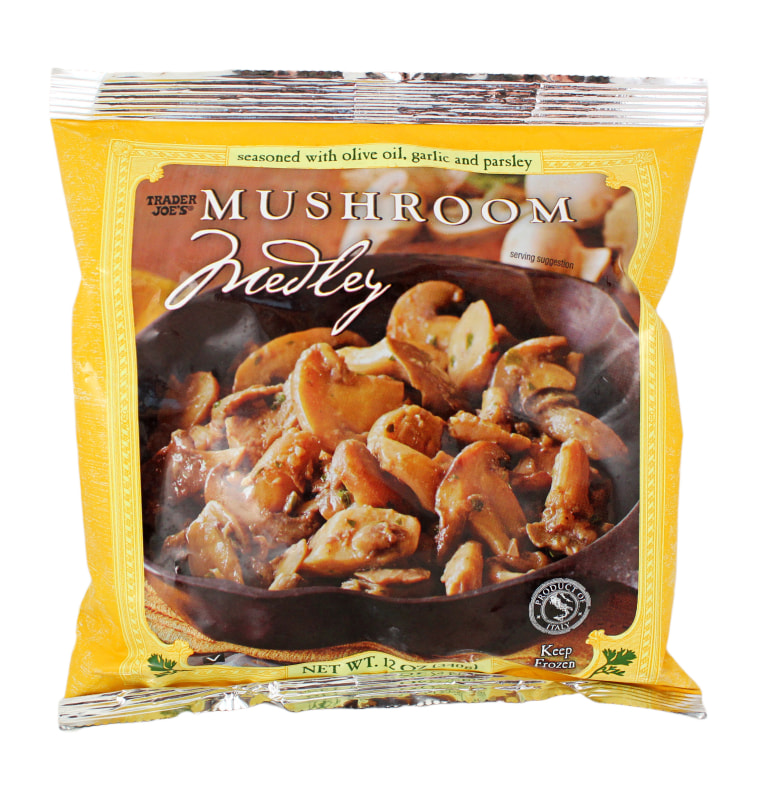 20. Frozen mushroom medley
We raved about Trader Joe's frozen vegetables in our healthy product list, but Kosofsky singled out this "delicious, flavorful" combination of various mushrooms, which are cleaned, chopped, seasoned and sauteed before being frozen. She likes to serve them over steak or chicken, and the 'shrooms can also be served as a side, over pasta, on pizza or as a topping for crostini.
21. 10-minute farro
TJ's 10-minute grains made our healthiest list, and the quick cooking farro is an all-around staff fave too. "It's quick, easy, chewy and healthy," says Olensky. It's the perfect side or base for a grain bowl.
22. Two buck chuck wine
TJ's has shockingly good wines for as little as $2, like the Two Buck Chuck. At that price point, you can afford to have a glass of dinner with wine every night!
Bonus: Fresh flowers
While you're picking up your food and wine, get yourself some flowers, too! "They have a good variety and they're inexpensive and can be replaced often so it's affordable to have fresh flowers in the house all the time," says Schindler.