Get those camera phones ready. Starbucks has just introduced two new crème Frappuccinos, and they're so vibrantly colored, they'll be the perfect centerpiece for your summer afternoon Instagram at the pool or beach.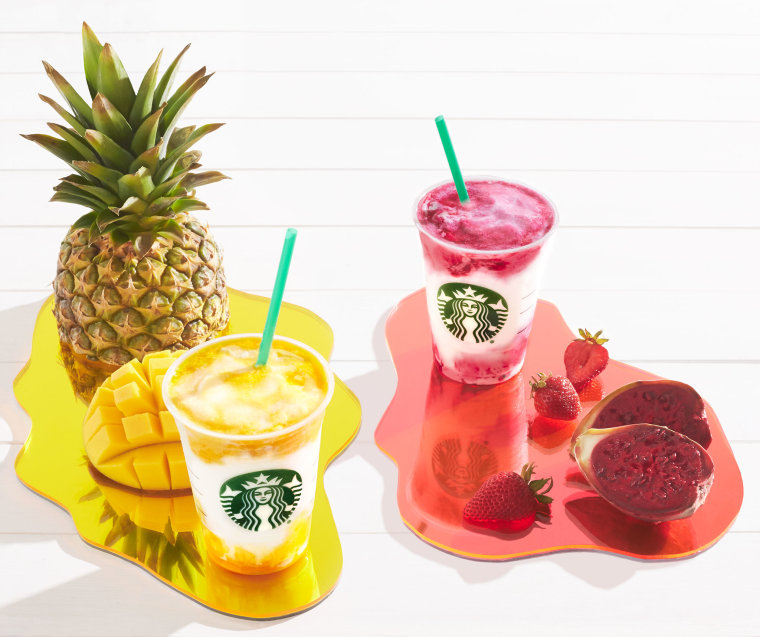 Starting today, you can order the Berry Prickly Pear Frappuccino Crème and the Mango Pineapple Frappuccino Crème blended beverages which are made with creamy swirls of real fruit purees.
According to information sent to TODAY Food from a Starbucks spokesperson, the Berry Prickly Pear Frappuccino features a mango crème Frappuccino, poured in between layers of strawberry prickly pear fruit puree (which tastes like tropical melon and berries). There are also hints of hibiscus, passion fruit and lime.
The Mango Pineapple Frappuccino is similar but with layers of mango pineapple fruit puree (which has the tropical flavors of fresh mango, pineapple and a hint of lime).
Starbucks has been on a roll recently with beautiful and colorful drinks including the Pink Ombré drink, Dragon Frappuccino and of course the infamous Unicorn Frappuccino (even with all the drama surrounding the latter, we can probably all agree that it's pretty.)
Though the drinks were clearly made for Instagram, the flavors really do scream summer in a cup!
But since they are seasonal tastes, they'll only be available for a limited time this summer while supplies last. So get 'em while they're hot, er, cool!