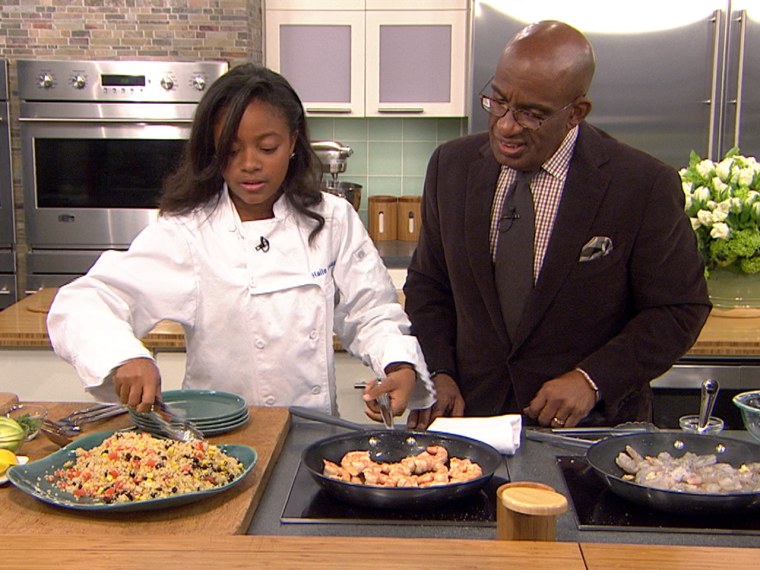 Most kids can't even spell "quinoa," let alone cook it; but most kids aren't 12-year-old Haile Thomas. The Tucson, Ariz., native blew TODAY away Tuesday morning with her absolutely delicious black bean and corn quinoa salad with garlic shrimp and avocado, a dish she recently cooked up for first lady Michelle Obama as part of the first Kids' State Dinner.
"That was very exciting to have the first lady enjoy my food!" she told Al.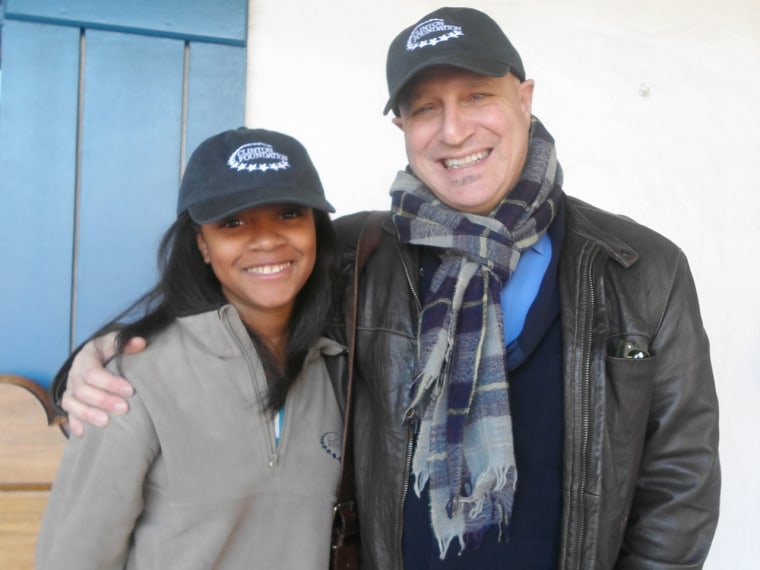 As a tween, Haile's credentials are more impressive than most 30-year-olds, and she's hobnobbed with the likes of Tom Colicchio, Alice Waters and even Bill Clinton.
Cooking since the age of five by helping her mother in the kitchen, Haile's interest was piqued by watching food documentaries.
"I started asking questions about where my food comes from and what I was eating," she told TODAY.com. She signed up for the youth advisory board of the Alliance for a Healthier Generation, which aims to combat childhood obesity, and from there started working with local chefs doing cooking demonstrations.
"The alliance and the chefs really inspired me and got me to where I am now," she said.
Today, Haile hosts her own online show, "Kids Can Cook," teaching kids how to prepare nourishing meals for themselves, with recipes that call for simple ingredients.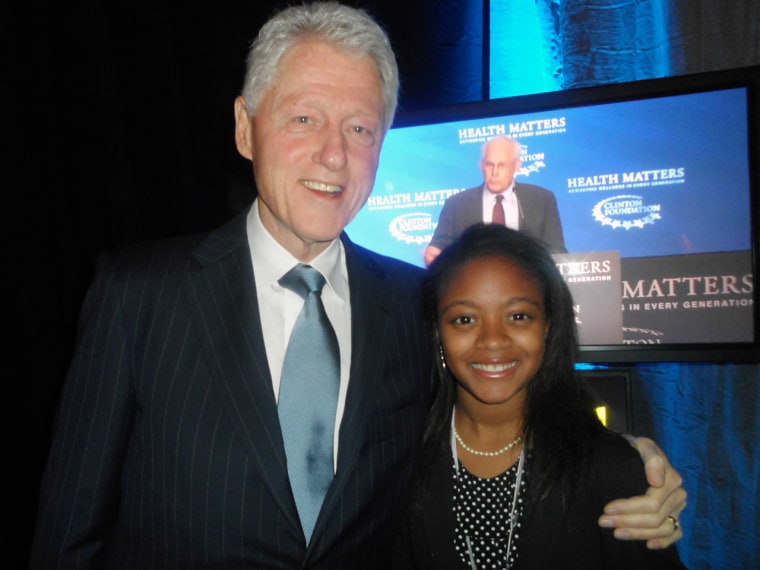 "I believe that if you learn how to cook, you automatically begin to learn more about food and become more interested in knowing about the ingredients," she explained on the Alliance for A Healthier Generation website.
Haile's passion for wholesome eating and fighting childhood obesity is so infectious that she was recently asked to partner with Hyatt Hotels & Resorts to help the chain come up with healthier kid-friendly menu items – which include the salad kebabs with honey mustard dipping sauce she whipped up on TODAY.
"The whole point of the menu is to have it be fun, fresh and flavorful and sophisticated as well," she told Al Roker on TODAY.
And if that's not enough, Haile travels around the nation talking about her mission and has been awarded several grants for her service programs, HEAL (Healthy Eating, Active Lifestyle) and the Healthy Girl Club. She is the founder and director of the Tucson-based HAPPY Organization, Inc., which serves to improve the health and wellness of Arizona youth and families.
"I hope to make a difference by inspiring other kids to embrace a healthy lifestyle, and become educated about how good and bad food affects their bodies, overall health and quality of life," Haile said.
So what's next for this kitchen phenom? Haile told TODAY.com she looks forward to meeting celeb chefs like Rachael Ray and Bobby Flay, but most of all, she just wants to keep doing what she's doing.
"I just want to motivate my peers, and maybe in the near future get a cooking show," she said. "Every day I'm just living my dream."
Adina Neufeld is a food writer who blogs at MyKitchenChaos.com.
More from TODAY Food:
14-year-old chef? 6 kids making their culinary mark
What do professional chefs cook for their kids?