It's not every 12-year-old who co-owns a cupcake shop, as John Truel of Marshfield, Wisconsin, does. But it's also not every kid who has a mom like Patricia Truel — the mom of three recently opened the bakery, Cupcakes on 8th, in large part, to ensure a bright future for John and other kids with special needs.
Born with Down syndrome, John has to work extra hard — taking countless hours of physical, occupational and speech therapies over the years, on top of his regular schooling. And Patricia has worked extra hard, too — after John was born, she opened a baking business out of their home, then in Buffalo, New York, so that she could keep up with his care while still working.
"As a mom, you always bake, right?" Patricia says of how she conceived her original business, Baked by Patricia. So she started baking and selling cupcakes to local businesses she frequented around town —doctor's offices and the like — and by the fourth week, she was up to 48 dozen cupcakes a week. "It was crazy — me and my little kitchen," she says. "It just flourished."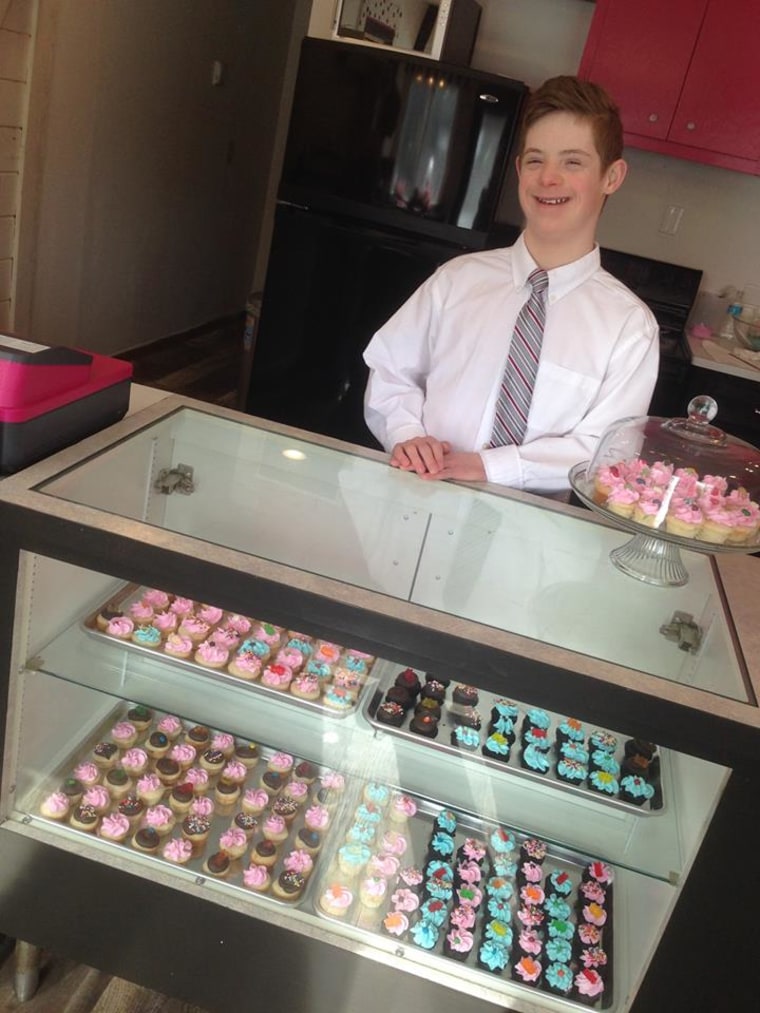 After stints in Ohio and New York's Long Island, the family recently settled in central Wisconsin — John's dad, Brad, works for Land O'Lakes — when they stumbled upon a great investment property with a small house and a 336-square-foot store: Perfect for a cupcake shop!
The tiny store has eight seats total, a counter, and a kitchen and bathroom in the back, all cheerfully decorated, in pink, black and white.
The sweetest part, though, is the future that Patricia sees for John here: "I thought, 'This is perfect for John. He could have his own home one day, walk across the yard to the bakery, to his job.'"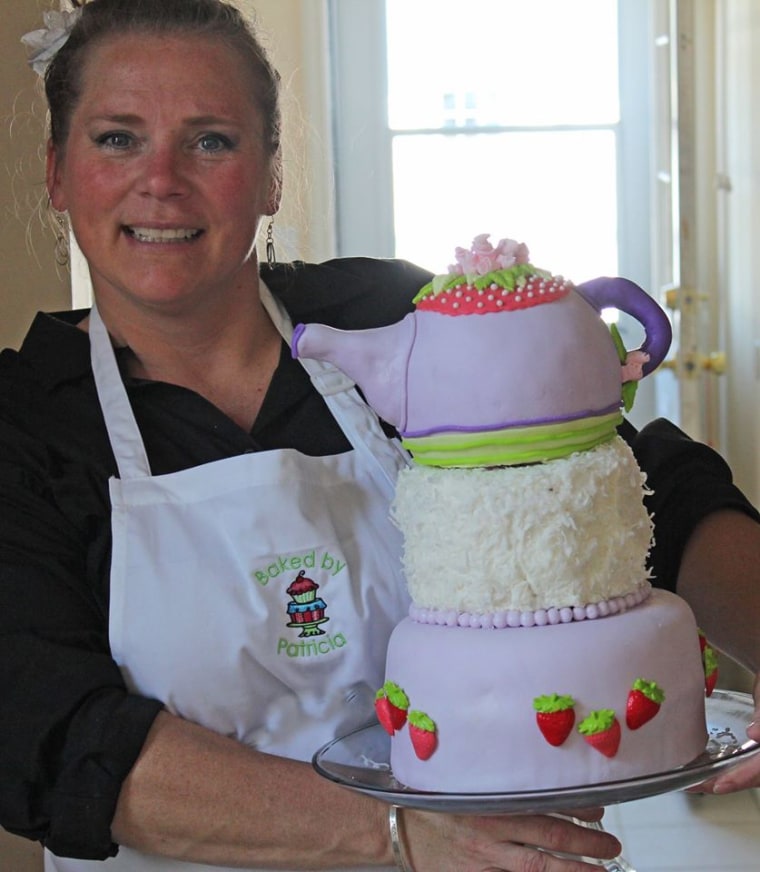 Cupcakes on 8th celebrated its grand opening in March 2017, and it already seems to be a hit with the locals.
After school, from Monday through Thursday, John works the shop's register from 3 to 4 p.m., when there's a special: 25-cent mini cupcakes.
Patricia picked the price, as she knew she could teach John the value of a quarter, and use the cupcake hour to help teach him math and life skills.
RELATED: 8-year-old opens bakery to help buy mom a house
Like most kids, he eats the frosting first, cake second, and loves all the creative cake offerings his mom is known for, like Banana Split (vanilla cupcake with Bavarian cream filling, frosted and dipped in sprinkles with a cherry on top); or Cinnamon Roll (a cupcake with cinnamon filling and cream cheese frosting that flies out of the store's cases).
His favorite flavors? "Chocolate or birthday cake," John told TODAY Food, "because they are delicious."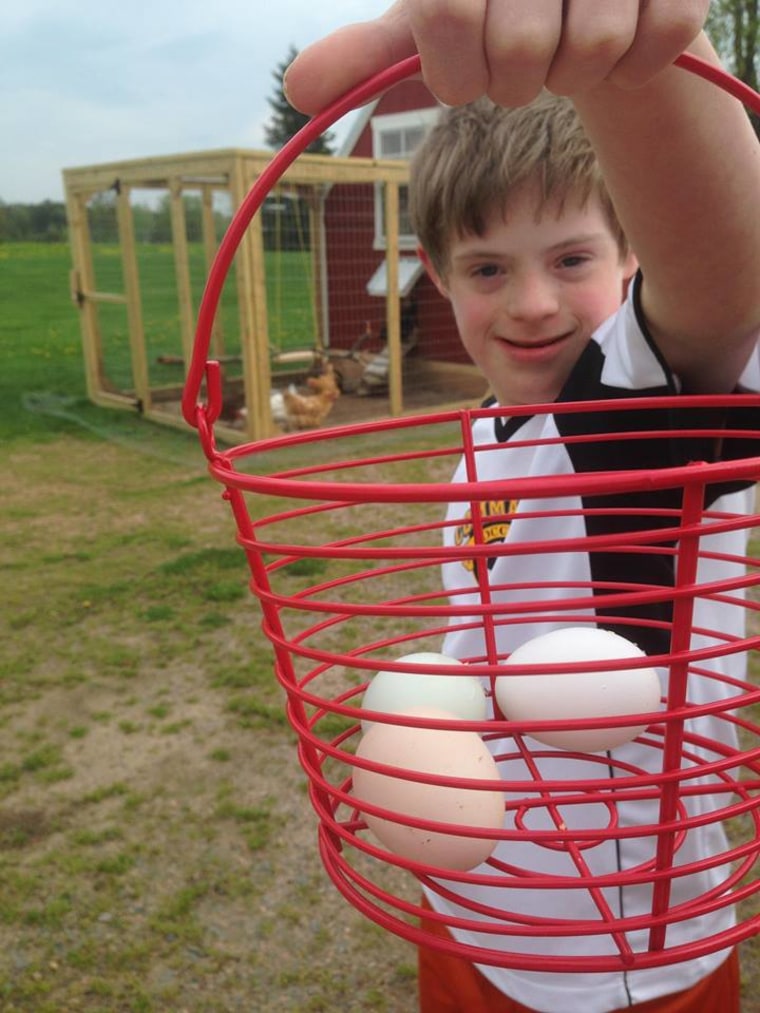 Back at home, John loves collecting Teenage Mutant Ninja Turtles, and helping out on his family's farm, feeding chickens and playing with the cats and dogs. (Brother Bradley, 20, and sister Blossom, 18, attend school out-of-state.)
Come summer, they have big plans to expand with homemade ice cream, outdoor seating, hula hoops for the kids, and oversized yard versions of Yahtzee, Jenga and dominoes, made out of pallet wood.
In the future, Patricia hopes to be able to hire additional special-needs employees, and in the meantime, she makes a once-a-month donation to a local charity or event, such as the 1,100 mini cupcakes she recently brought to the Tim Tebow Foundation's "Night to Shine" prom night for special-needs kids.
"I feel like I need to give back and support the community," she told TODAY Food, "because they support me."