These heart healthy snacks get our hearts pumping, literally and figuratively. They're delicious alternatives to the ho-hum of chips or candy bars.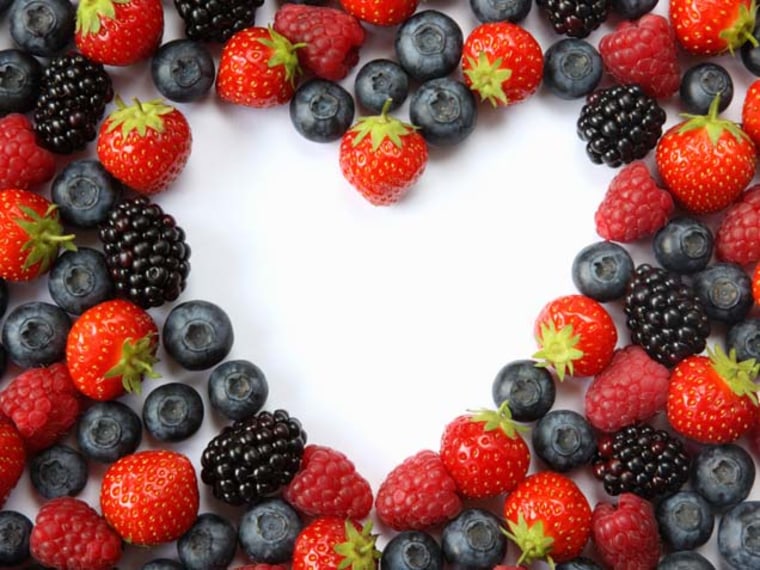 1. Vegetables dipped in hummus.
Fresh vegetables are low in calories and have many antioxidants, and many have no fat with plenty of fiber to satiate you. Fiber has also been shown to lower cholesterol. Hummus, made from chick peas, is a great alternative protein without saturated fat.
2. Fruit skewered on a stick with a little dark chocolate for dipping.
Fruit has a variety of antioxidants to fight cancer and heart disease. Dark chocolate has a high concentration of flavinols, a type of antioxidant, to fight heart disease.
3. Half of a cantaloupe filled with fat free cottage cheese, a dash of cinnamon and some berries.
The cantaloupe and berries have antioxidants, and the fat-free cottage cheese fulfills a serving of dairy without the saturated fat.
4. Fat-free yogurt with fruit and a sprinkle of nuts.
Get another serving of dairy without saturated fat as well as antioxidants from fruit and unsaturated fat from the nuts.
More From Today: Is coffee bad for you or saving your life?
More From Today: Number of calories in popcorn depends on how you pop it
5. Smoothies with silken tofu and berries plus a dash of grape juice or pomegranate juice.
Tofu is a great alternative protein source without saturated fat. Berries, grape juice and pomegranate juice have a high concentration of antioxidants.
6. Homemade soup.
Start with a vegetable base. You can buy a frozen vegetable base or containers of vegetable base to load up on antioxidants and fiber. Make sure its low in sodium. Then dump in a bag of frozen or mixed vegetables. Mix in a couple of cups of beans. Make sure to rinse the beans to remove sodium. Season with fresh herbs. "If you want to make it creamy without heart-clogging fat, use low fat soy milk or evaporated skim milk," says Hendel. She calls it, "The most amazing creamy liquid that you can add for creaminess without fat. It's a magical ingredient in the kitchen."
7. Pureed prunes — sneak them into your brownies.
"It makes very chocolaty brownies," Hendel says. "Pureed fruit will make the chocolate taste more chocolaty, plus you've added in something that use less oil or less butter and you've added antioxidants because of the pureed fruit. Also fruit has fiber to lower your cholesterol."
8. Silken tofu or soy milk — substitute for regular milk in recipes.
"It can add heart healthy protein, yet cut down on heart-clogging calories of the other oils you might have used."
9. Applesauce or apple butter — use in place of oil for muffins.
"Apple butter is one of best ingredients you can add to moisture and pleasant fruit flavor that won't combat your other ingredients," Hendel says.
10. Nuts and small chunks of fruit — sprinkle on top of muffins.
"If you substitute applesauce for the oil," Hendel says, "you'll be making a muffin low in fat, chock-full of antioxidants from fruit, fiber from nuts, and heart-healthy protein from the nuts."
11. Meatloaf — really! Use tofu and chopped white chicken meat instead of red meat.
"You can't taste the tofu at all," Hendel says. "Plus, you get extra protein."