Whether you're hosting a holiday brunch or just feeding your family in the morning, making a big breakfast spread isn't always easy. Why not put your best slow-cooker or crockpot to work overnight?
Simply whip up some ingredients and set the device before bedtime, and when you wake up, guess what? You'll have a scrumptious breakfast ready to go!
Who doesn't love sticky buns?! I also love the convenience of making them the day before and letting the slow cooker do all the proofing and baking.
"I love making banana bread and as soon as I lost my oven during our kitchen renovation, I knew I had to get creative to satisfy my cravings!" says Siri Daly. "Who knew baking in a slow-cooker could be so simple and yummy? This is the perfect method for baking when you don't want to bother with your oven, and it will make your entire house smell divine!"
This slow-cooker pulled pork biscuit casserole is so delicious that's you're going to want it for breakfast, lunch and dinner.
This supremely delicious (and supremely easy!) one–pot dish makes a great breakfast or brunch. Tostadas (tortilla chips are fine too) are layered with chorizo, cheese and a yummy sauce in a slow cooker and set on high for 4 hours. Then the eggs are added to poach in the mixture for the last 30 minutes. Most slow cooker dishes can sit on the "keep warm" setting for quite a while, but once the eggs are cooked, you should serve it right away.
Whether you're looking to feed a big crowd or need delicious breakfast before work, this overnight oatmeal will make mornings so much easier.
These loaded sweet potatoes bake overnight in the slow cooker until they're soft and tender. In the morning, they're ready to be topped with Greek yogurt and a host of healthy fruits, nuts and more. High in fiber and antioxidants, but low in fat and calories, it's a smart and sweet way to start your morning.
Combine layers of shredded potatoes, sausage, cheese, onions, peppers and eggs, set your slow cooker on low before bedtime, and by morning, breakfast is ready!
Perfect for house guests, serve it with a quick help-yourself toppings bar the next morning and you don't have to worry about who's an oatmeal purist and who likes to load it up with all the fruit, nuts and chocolate chips they can handle.
For a creamy breakfast that's savory instead of sweet, consider this easy, 4-ingredient polenta that's flavored with pancetta aka Italian bacon. Even better: Top it with a yolk-oozing fried egg.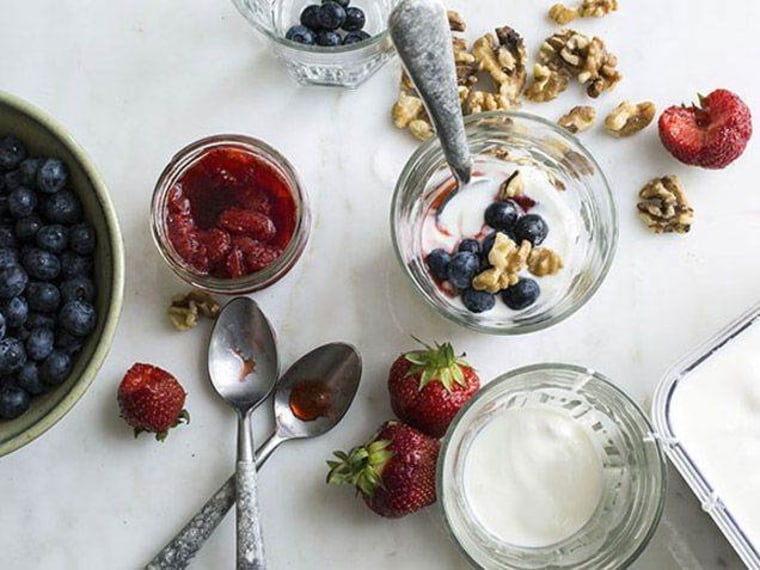 Who needs a yogurt-maker when you've got a slow-cooker? This recipe is so easy, even a preschooler can make it.
Related:
This article was originally published on March 14, 2014.