Sure, Halloween candy's great, but these cute and creepy recipes from Sharon Bowers, author of Ghoulish Goodies, raise the bar on Halloween treats. Whether you're cooking with kids or throwing a bash strictly for grown-ups, check out these recipes for bandaged "fingers," bone-shaped cookies, chocolate spiders and more.
Mallowsteins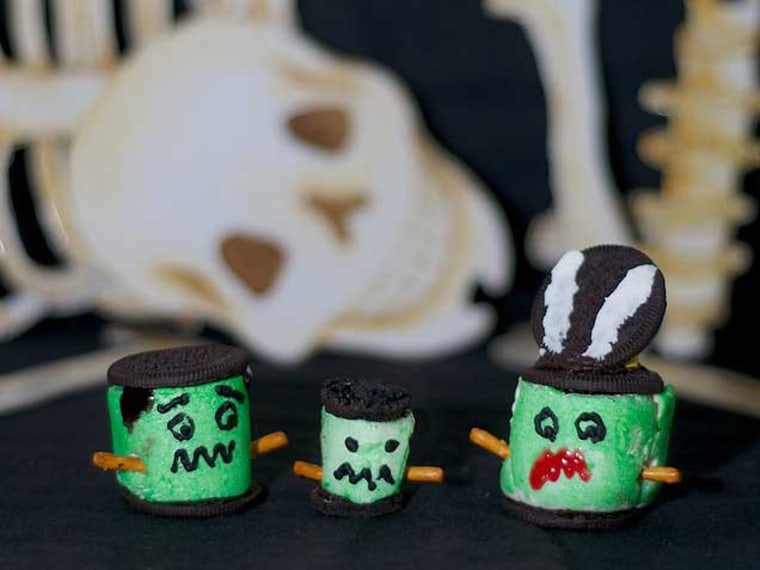 The whole Frankenstein family gets a sweet makeover with a handful of marshmallows, some cookies and storebought tubes of decorator icing and coloring. For this recipe, use a tube of chocolate cupcake icing, along with black and red decorator gel. The base makeup comes from mixing a tablespoon or two of water with green food coloring and simply painting it on with a kitchen brush. Easy!
Get the recipe for Mallowsteins
Pumpkins in the field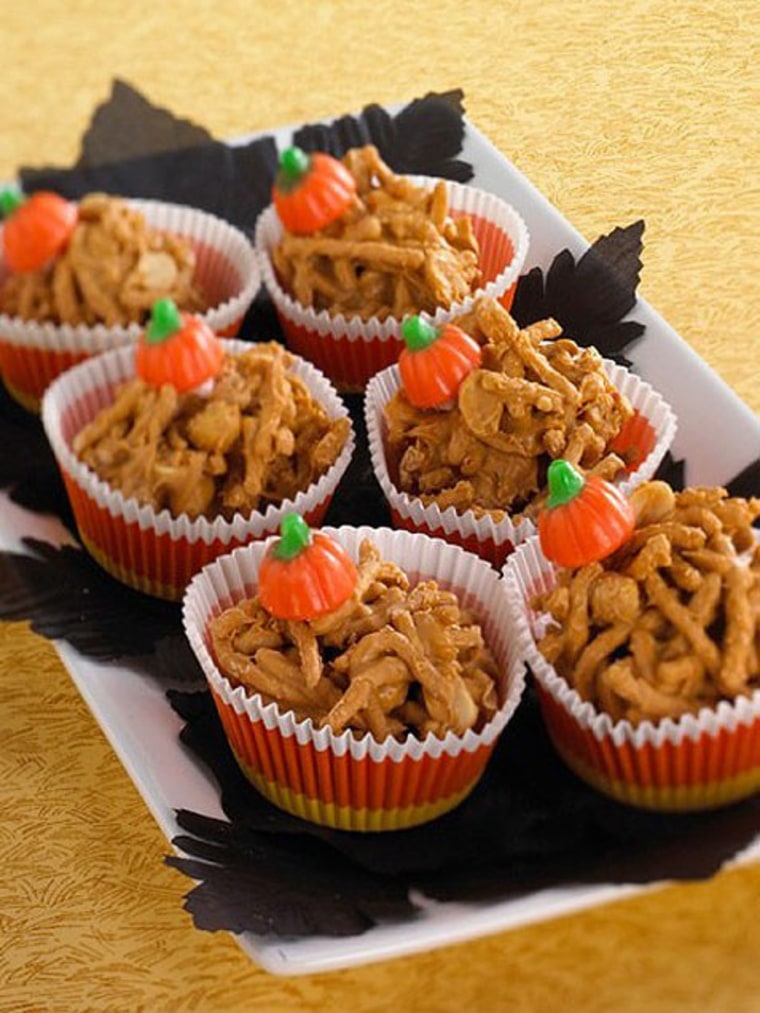 Butterscotch "haystacks" make a whimsical base for candy pumpkins. If you're transporting these to a party, drop each haystack into a paper muffin cup, and press on the pumpkin candy later.
Get the recipe for Pumpkins in the Field
Witches' hat pastries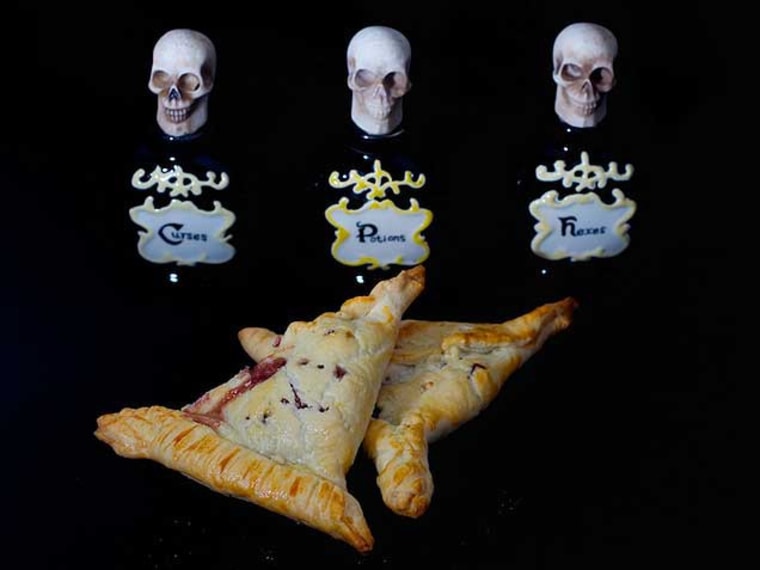 These wonderful little triangular pies look like rumpled hats that a witch might have worn. You can fill the handheld pastries with whatever you like, for instance seedless raspberry jam, chocolate-nut spread (such as Nutella) or canned pumpkin pie filling (not unsweetened plain pumpkin puree). You could also sprinkle in a few mini marshmallows and some chocolate chips for a S'mores-like effect. Whatever you do, be sure to brush each hat with beaten egg and sprinkle on some sugar before baking.
Get the recipe for Witches' Hat Pastries
Bandaged fingers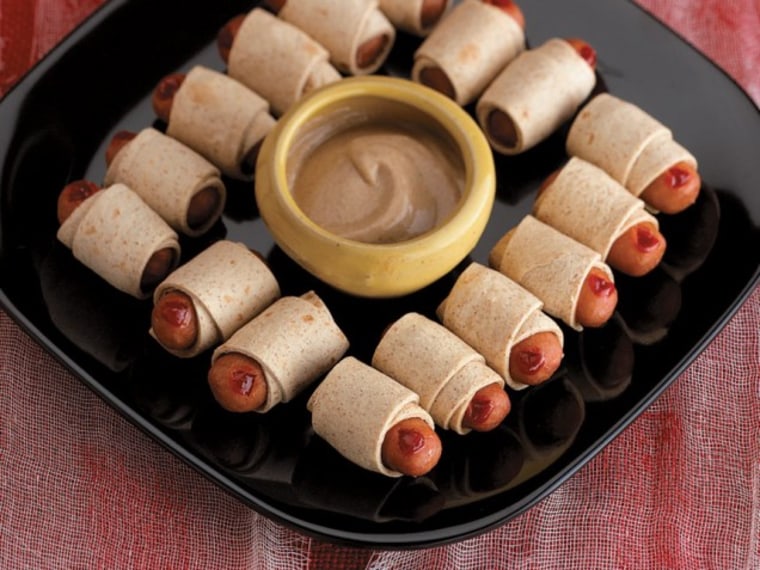 Pigs in a blanket take on a whole new look when they have a fingernail attached at one end. These dismembered digits are "bandaged" with a tortilla strip and dotted with ketchup to make them extra-spooky.
Get the recipe for Bandaged Fingers
Puff pastry witches' brooms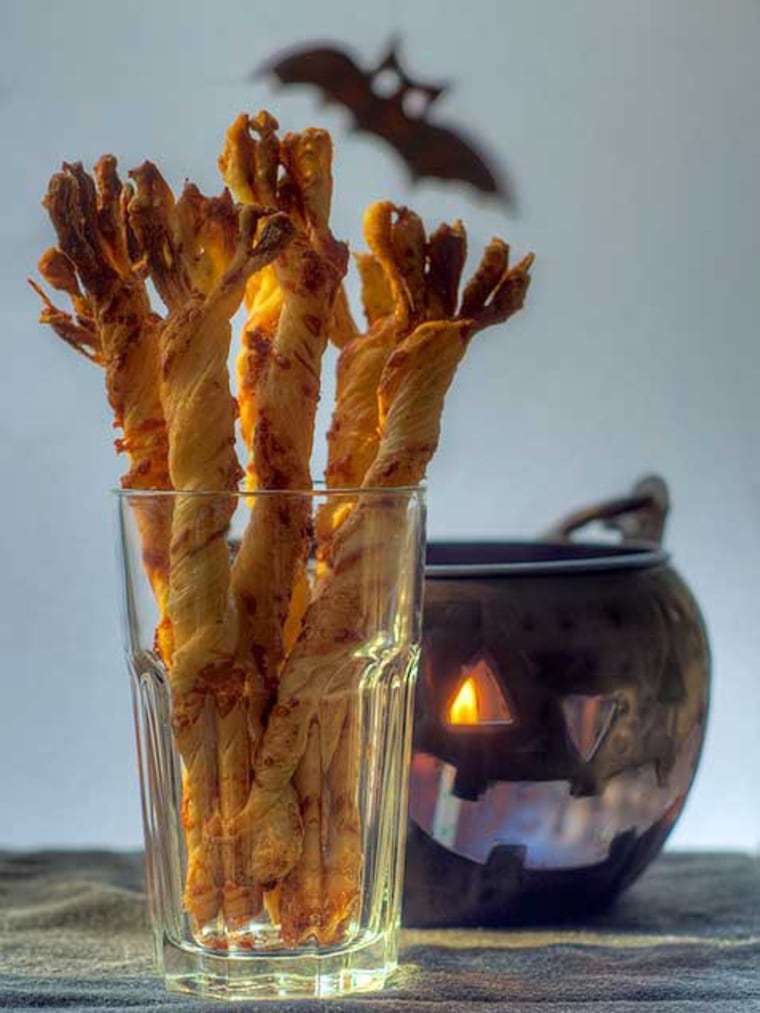 Frozen puff pastry is pretty bland on its own, but when brushed with egg and sprinkled with cheese and spices, it can be tastier than a bag of potato chips! A little twisting and trimming will result in puff pastry breadsticks that look like a collection of witches' brooms. Serve with a zesty dip, such as black beans pureed with some spicy salsa.
Get the recipe for Puff Pastry Witches' Brooms
Funny bones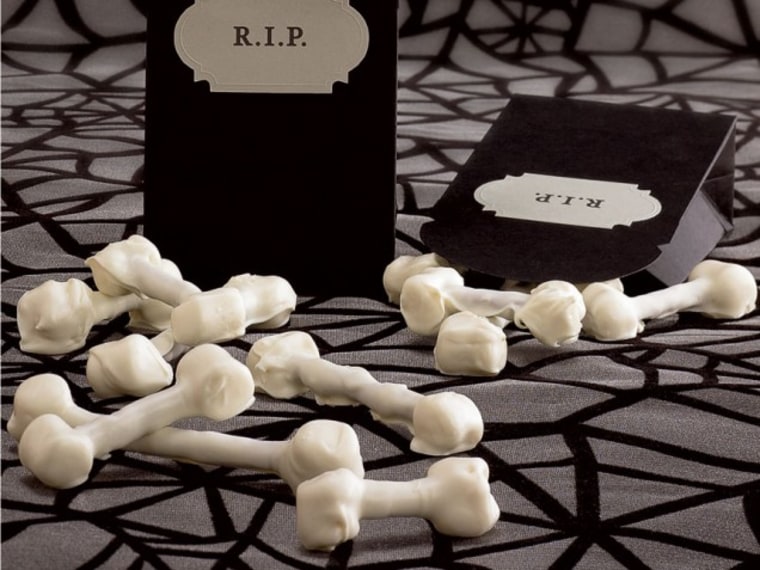 Grab a handful of pretzels and some melted chocolate, and make skeleton bones so sweet, your guests will want to gnaw on them all night. For the best effect, heap and jumble the little bones in a bowl rather than serving them on a plate.
Get the recipe for Funny Bones
Whistling-past-the-graveyard cake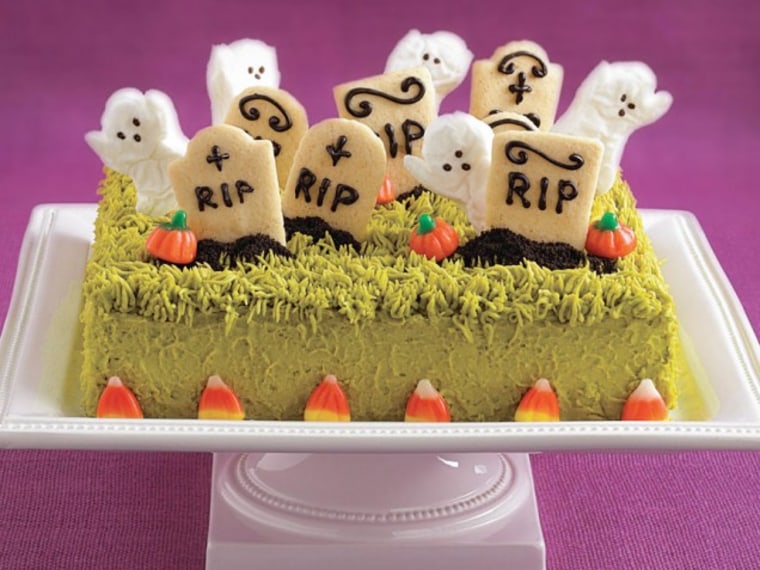 This spooky graveyard scene is surprisingly simple to create. A chocolate sheet cake (you could use a boxed cake mix or store-bought cake) is studded with cookie-crumb dirt, shortbread tombstones, marshmallow ghosts and candy pumpkins. This is a perfect project to take on with the kids.
"Cold as a witch's hat" cones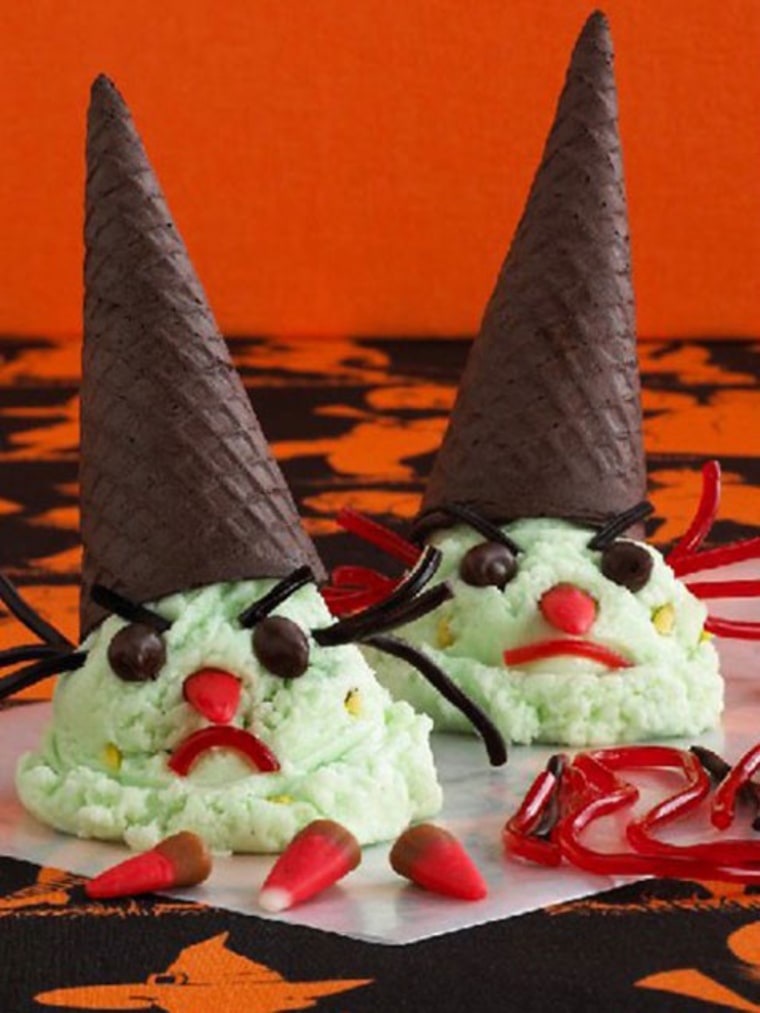 These silly little confections make everyone smile. They also make a fun party snack and activity, with every child — and adult — decorating their own funny, witchy face before flipping it over to eat. Make as many or as few witch cones as you like, depending on how many eager little hands are waiting.
Get the recipe for Cold as a Witch's Hat Cones
Chocolate spider clusters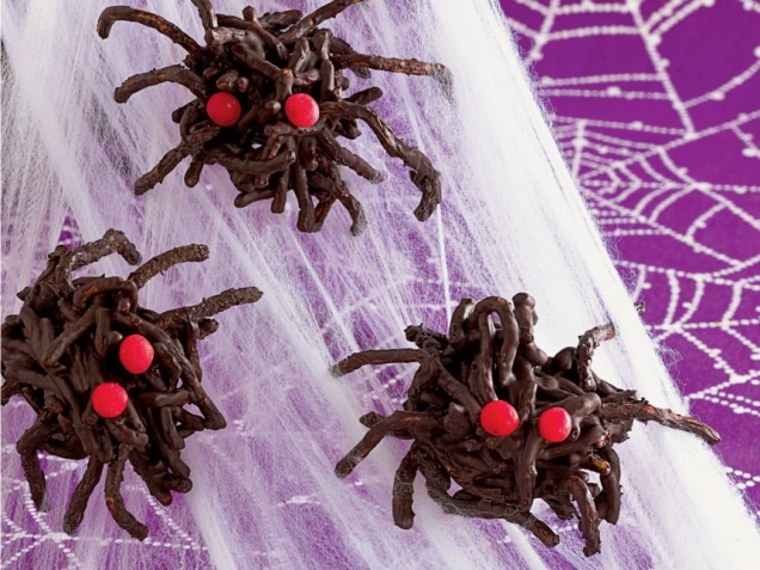 These sweet, spidery clusters get their creepy appeal from gleaming red candy eyes. They're so quick and easy to make, you'll have a web full of arachnid-inspired treats ready in less than 30 minutes.
Get the recipe for Chocolate Spider Clusters
Excerpted from Ghoulish Goodies (c) by Sharon Bowers; photography (c) by Kevin Kennefick. Used with permission from Storey Publishing.
This story originally appeared on iVillage.com.