When we heard that Costco was planning on raising its membership fees last summer (annual fees for individuals are now $60; executive members are now $120), we questioned whether the membership was still worth it ... for about 5 seconds.
Because of course it's worth it.
So many products at Costco, like the store's bacon and cheese, are not just a bargain, they're also very high quality. Here are the 10 biggest reasons we keep coming back to buy food at the popular warehouse club.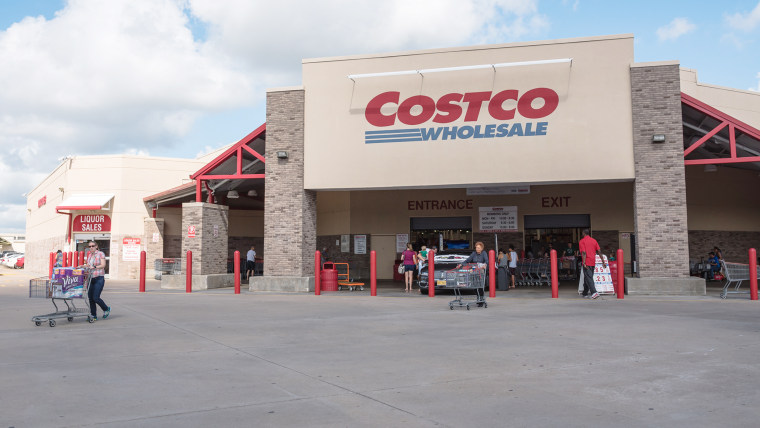 1. Pure maple syrup
If you are a waffles-pancakes-French toast aficionado — or if you love baking but prefer not to use refined sugar — Costco's Kirkland Signature USDA Organic Grade A amber maple syrup is a no-brainer. It's 100 percent real maple syrup, it should last up to 6 months in the refrigerator, and the price, around $10–$11 for 1.05 quarts (compared to $16-$17 at Trader Joe's), can't be beat.
RELATED: 10 tips for saving money (and your sanity) at Costco and big box stores
2. Bacon
Costco's bacon is very good. Consumer Reports gave Kirkland's Signature Bacon top marks in its bacon taste test — which is why we have no problem at all with buying 64 ounces (four packs of 16 ounces each) of it for $15. And if you don't plan on eating your weight in bacon in a week, you can always freeze it!
RELATED: 25 bacon recipes you need to try right now
3. Lemons and limes
We love the big, beautiful 5-pound bags of lemons and limes (hovering between $5 and $7) at Costco. In our experience, they last a long time, but to make sure we get the most out of them, we freeze the juice in ice cube trays and use it later in tea, dressings, guacamole — and even for making improvised buttermilk.
RELATED: The best way to juice lemons, limes and other citrus
4. Cheese
The uninitiated will be amazed by Costco's surprisingly extensive selection of top-quality, upmarket cheeses. While their Kirkland Signature Reggiano (around $9 a pound) is a staple in our kitchen (for amazing cacio e pepe and eggplant and chicken parmesan!) we highly recommend the cave-aged cheddar from Vermont's renowned Cellars at Jasper Hill (it's available for about $8.99 per pound at select Costcos) or the wonderfully tangy Humboldt Fog from California's Cypress Grove (around $16 for a wheel at select Costcos). These big portions are especially great if you're having guests over. Then again, if you're a cheesewheel-for-dinner type, that's cool too.
5. Pure vanilla extract
Bake a lot? Costco's Kirkland Signature pure vanilla extract is an excellent find. The 16-ounce bottle, which will last you a very long time, is priced at $25 at our local Costco (compared to $12 for 4 fluid ounces at Trader Joe's).
6. Chocolate chip cookies
Tate's Chocolate Chip Cookies, from Southampton, New York, are the most addictive store-bought chocolate chip cookies we've ever had. Thin, crispy, and buttery, they actually compete with our favorite homemade chocolate chip cookie recipe. Yes, really. When we found out that our local Costco sells them for about $10 we did an extended happy dance. (Bonus: They're also available in a gluten-free version.)
7. Eggs
If your big family flies through eggs — for breakfast, breakfast-for-dinner, in power bowls, or for baking — the two-dozen pack of eggs at Costco is a great deal. Kirkland's Certified Humane, Cage-Free, Grade A Large eggs clock in at $3.59 for 24 eggs, while the organic version — Certified Humane, Grade AA, Large — will set you back $6, about what you'd pay for a dozen organic eggs at a regular grocery store.
8. Frozen fruit
Four pounds of organic frozen mango for around $8? Yes, please. We love making icy smoothies and popsicles, so this is one ingredient we definitely make room for in our freezers. The Kirkland Organic 3-berry blend is another winner at around $9 for 4 pounds of ripe berries.
RELATED: How to stay sane when shopping at Costco with kids
9. Nuts
Nuts are a great value at Costco. A 24-ounce bag of lovely Kirkland organic pine nuts are a steal at around $24, while a 3-pound bag of Kirkland almonds costs $13. Make pesto, or wrap them in plastic and freeze. Keep in mind that oil-heavy nuts can go rancid quickly otherwise. But nuts are a healthy snack or perfect part appetizer.
Related: What to buy and skip at warehouse stores
10. Plastic wrap
Kirkland's Stretch-Tite plastic food wrap sees more action than just about anything else in our kitchen. The 750-square foot roll (sold as part of a 2-pack) just goes on and on and on and on (seriously, this thing never runs out) — and the wrap itself is thick, wide and super-strong. But the best part is the amazingly easy-to-use slide cutter.
Runners-Up
Mucci Farms Cutecumbers (adorable snack-size cucumbers, $5 for 1.5 pounds, are perfect for packed lunches); Kirkland Signature Extra Virgin Organic olive oil (about $15 for 2 liters); Kerrygold Grass-Fed butter ($7.69 for 24 ounces); Kirkland Signature Organic quinoa ($11 for 4.5 pounds); Cento whole peeled San Marzano tomatoes ($9 for 3 28-ounce cans).
This story was originally published April 20, 2017.