Bob Hoskins, who starred in 1988's "Who Framed Roger Rabbit," has died after a bout with pneumonia at age 71.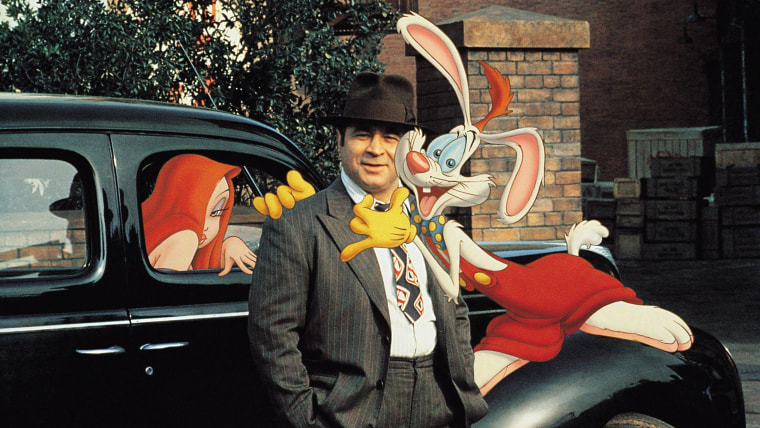 "We are devastated by the loss of our beloved Bob. Bob died peacefully at a hospital last night surrounded by family," his family wrote in a statement shared with NBC News on Wednesday. "We ask that you respect our privacy during this time and thank you for your messages of love and support."
Hoskins, who was a staple in the British film industry, was perhaps best known for his part in "Roger Rabbit" playing detective Eddie Valient. The role earned him a Golden Globe nomination for best actor in a comedy musical. Hoskins also earned an Oscar nod for his portrayal of ex-con George in 1986's "Mona Lisa." He went on to star in "Mermaids" with Cher, portrayed Smee in "Hook" and played J. Edgar Hoover in "Nixon." His last Hollywood role was in 2012's "Snow White and the Huntsman," in which he played elder dwarf Muir.
The actor started his career in the 1970s on British television shows including "Thick as Thieves" and "Rock Follies of '77." Moving into big film roles, his turn as a mobster in 1980's "The Long Good Friday" shot him to stardom and defined his tough guy persona.
Hoskins, who was born in 1942 just outside London, grew up in a working-class neighborhood during the World War II years. He had no theater training and told Reuters during a late 1990s interview that he became an actor purely by chance.
According to the actor, he was working as a carpenter during the late 1960s when he got his first acting gig. He and his friends were drinking at a pub near the renowned Royal Court Theater during lunch one day. Auditions were being held upstairs for a production at the avant-garde theater, and after a few drinks, Hoskins said his friends persuaded him to try out for laughs. He did, and a week later, was hired.
Hoskins announced in 2012 that he was retiring after being diagnosed with Parkinson's disease the previous fall.
He is survived by his wife, Linda, and children Alex, Sara, Rosa and Jack.
— NBC News contributor Steve James and Reuters contributed to this report.
Remembering the stars we lost in 2014, including actor and comedian Robin Williams.