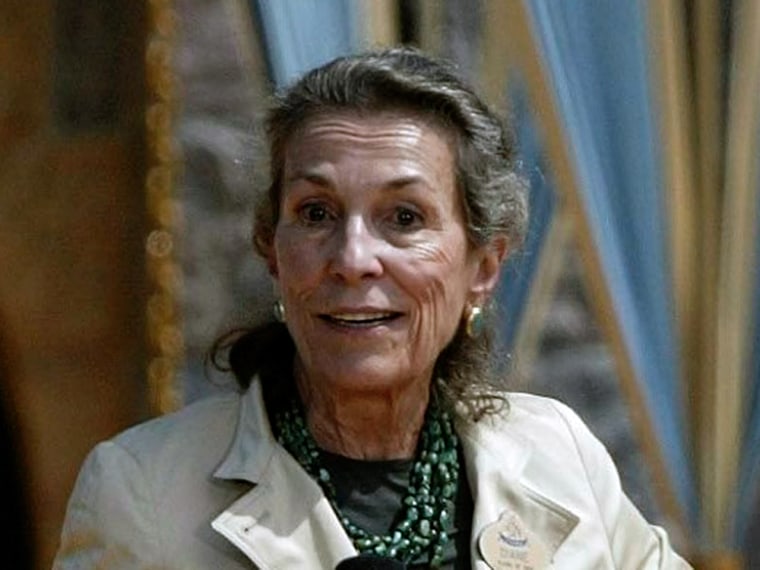 Diane Disney Miller, who inspired her famous father Walt to create Disneyland, died Tuesday in Napa, Calif. at age 79.
"We are deeply saddened by the loss of Diane Disney Miller and our thoughts are with her family during his difficult time," The Walt Disney Company said in a statement. "As the beloved daughter of Walt Disney and one of his inspirations for creating Disneyland, she holds a special place in the history of The Walt Disney Company and in the hearts of fans everywhere. She will be remembered for her grace and generosity and tireless work to preserve her father's legacy, and she will be greatly missed by all who knew her."
Miller's death resulted from complications from a fall she took in September, a family friend told the Los Angeles Times.
When Miller was born in 1933, the Times' headline read: "Mickey Mouse has a daughter." Her death came one day after the 85th anniversary of the introduction of Mickey Mouse, who made his debut in the 1928 short film "Steamboat Willie."
Walt Disney would later say that he came up with the idea for the Disneyland theme park while watching Diane and her sister Sharon ride the merry-go-round at Los Angeles' Griffith Park.
Miller was Disney's last surviving child. Sharon died in 1993; Walt Disney died in 1966, and his wife Lillian in 1997.
Miller was a generous philanthropist whose support of Frank Gehry as the architect for the Walt Disney Concert Hall is widely credited with allowing that building's construction to go forward when Los Angeles Mayor Richard Riordan questioned Gehry's firm's abilities.
She also founded the Walt Disney Family Museum, which opened in 2009 in San Francisco.
She is survived by her husband of 59 years, Ron E. Miller, who served as president and briefly as CEO of the Walt Disney Company, and their seven children.