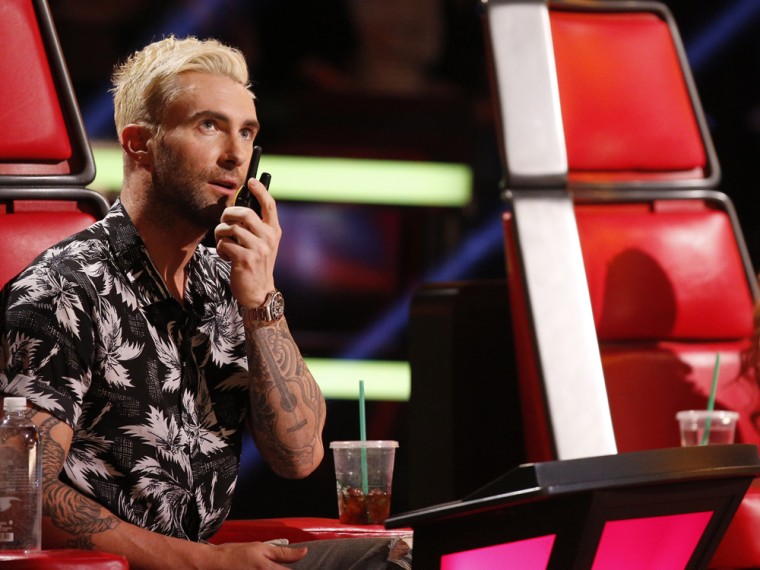 "The Voice's" top five poured out their hearts and souls on Monday's live performance show. Coach Adam Levine poured out something too — he dumped a load of manure on Blake Shelton's prized pickup truck.
In between the artists' performances — two apiece — host Carson Daly announced that Levine had a "gift" for Shelton. In fact, the Maroon 5 frontman said it was payback for Shelton tweeting his personal phone number during the live show two weeks ago.
As cameras cut to the country star's "shiny, gorgeous" vehicle on the studio lot, Levine issued a command on his walkie-talkie — and a dump truck unloaded its contents.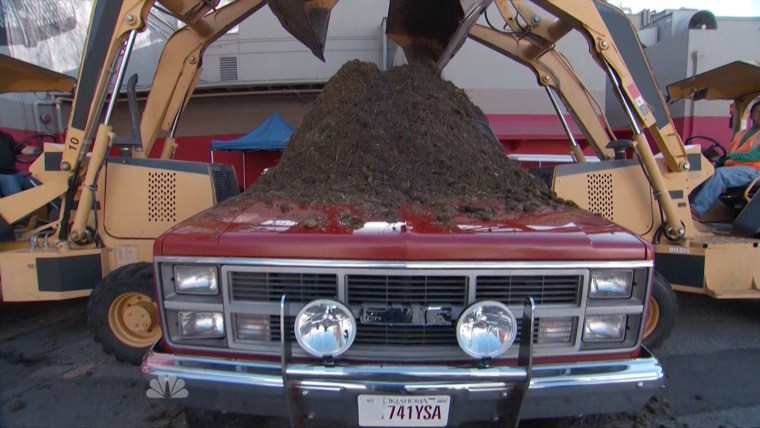 "That's manure, that's cow dung, that's feces of animals," Levine crowed as Shelton watched, apparently unperturbed.
Usher isn't buying the country star's cool reaction. "He probably is pissed off," he told TODAY after the show. "He was mad, but, like, 'OK, I got something for you.' So of course we've got to stay tuned to see how he retaliates. I just don't want to be in that (expletive). Leave me out of it. Because if he puts cow dung on my Benz, we're having problems backstage. For real. My Mercedes Benz will not have urine and cow dung on it. At all. Not happening."
Usher might have to worry about retaliation from another corner: Shakira, after he mistakenly referred to the native Colombian as a fiery "Cuban."
("If I'm from Cuba, Usher's from the great state of Nashville," she fired back.)
"There will never be anything between me and that incredible Turkish woman," Usher wisecracked when TODAY asked whether he was worried about a Levine-style reprisal.
"No, that was cute, that was cute," Shakira diplomatically told TODAY. "I mean, I love Cuban people and we're very close. I'm from the Caribbean, too, like Cubans are. But obviously he was a little lost at that point. He needed some help."
Contestant Christina Grimmie — sporting platinum streaks as a tribute to her coach's new blond 'do — thought Levine's stunt was "absolutely ingenious."
The YouTube star — who pushed the boundaries herself with two risky songs, using a vocoder for Imogen Heap's "Hide and Seek" before showing off her powerhouse vocals in Fun's "Some Nights" — also admitted to TODAY that she found her coach's prank "terrifying."
"I'm terrified of poop in every possible way," she said. "If I see it on the ground I freak out."
Not so for Team Blake's Jake Worthington, who closed out the night with a country take on Bryan Adams' "Heaven" after a rousing rendition of Waylon Jennings' "Good Ol' Boys."
"I don't think I've ever gotten a 'dozer to pour (expletive) on somebody's vehicle, but we've thrown poop on each other," the Texas cowboy told TODAY about his own history of practical jokes. "When you're ... with your buddies or a pretty girl at the barn, you'll throw some (manure) on her to see how she reacts, or your buddies."
Let's hope he doesn't give his coach any ideas!  
"I'm only nervous as to what could come next," Kristen Merlin told TODAY about the coaches' antics. As for her own performances, she said being nervous "kind of fuels me for my performances," a heart-rending rendition of Jewel's "Foolish Games" after her sassy show opener, Miranda Lambert's "Gunpowder and Lead."
Team Adam's Kat Perkins — who also showed her allegiance to her coach both with brand new platinum highlights and two more polarizing song choices (Sia's "Chandelier" and "Frozen's" "Let It Go") — is ready to take the revenge "one step farther."
"I want to actually get the truck on my stage if I go through for next week, and then light it on fire behind me," the twice-saved singer told TODAY with a maniacal laugh. "How great would that be? A total rock-star moment."
Josh Kaufman had a couple of rock star moments Monday night with his crowd-pleasing performances of John Legend's "All of Me" and One Republic's "Love Runs Out." The mild-mannered soul singer isn't the vengeful type, but he did recount to TODAY a practical joke he played as a kid — scaring his mom by dressing up in a long coat and hat. "She was almost in tears, so it kind of backfired. I actually ended up feeling really bad," he said.
Host Daly hopes Levine and Sheldon's shenanigans come to an end.
"What are we, like, a variety slapstick comedy all of a sudden?" he told TODAY after confirming that Levine used "real manure" for his retaliation.
"It's been fun and I think the show's trying to help nurture their declining romance, but we've done enough."

"The Voice" airs Mondays and Tuesdays at 8 p.m on NBC.