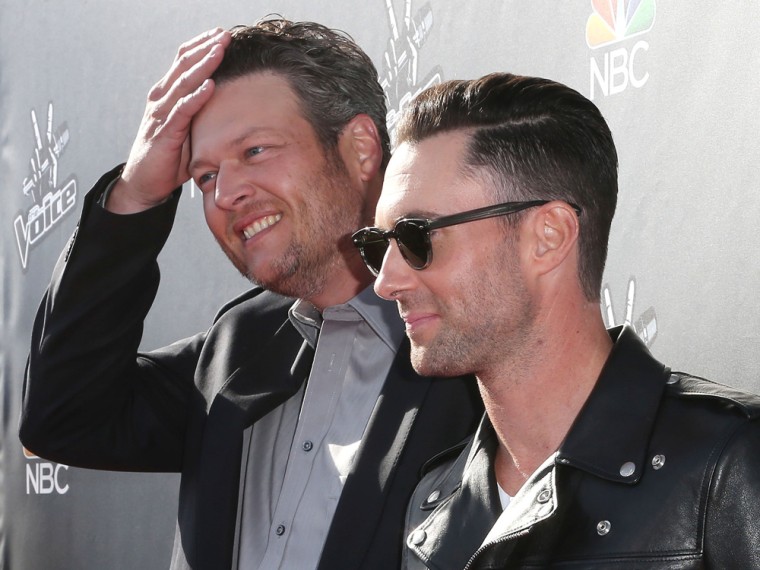 New "Voice" coach Pharrell Williams may have to wait until this fall to get his first spin in the revolving chair, but the show's stars — most of them anyway — say that Williams will be fantastic in his new role.
"He's awesome, he's so talented," Adam Levine told TODAY. "He's an unbelievable talent. ... I think he'll be a great coach."
"The minute we announced this Pharrell thing everyone was like, 'It just makes sense,'" added host and producer Carson Daly.
But one member of "The Voice" crew wasn't quite as enthusiastic about Williams — at least not as enthusiastic as he is about himself.
"I don't (think he'll be a great coach)," Blake Shelton joked. "Because I'm gonna beat him!"
The three-time winner did, however, offer up some advice.
"He's got to get mad; he's got to get competitive," Shelton said. "He's got to start thinking about music like it's a sport."
Williams is currently the only coach confirmed for season seven. Shelton and Levine have yet to announce if they will do another season, although Shelton told TODAY he "hopes to be back." Christina Aguilera, who recently confirmed that she is pregnant with her second child, has also stayed mum on whether or not she will return to the show this fall.
The addition of Williams came as a shock to some fans, who assumed that part-time coaches Usher and Shakira would take on full-time roles to fill the slots left vacant by Green and (possibly) Aguilera. The show appears to be working well with its current coaching panel, so why not keep everything as it is?
Daly said that the show's executives have definitely considered that option.
"It's funny, we sit in meetings and say the same thing!" he said. "But then you have Shakira's manager on the phone saying, 'Well let me tell you why. Because we're doing a 56 (date) European tour. She's going to be in Berlin when you're shooting.' Their schedules are crazy. (Shakira's) got her biggest album to date. ... She's going to be busy for a while."
The addition of Williams to the competition is actually in step with what the show's producers have done all along to keep things fresh, Daly said.
"I think we continue to make small choices that preserve viewers," he said. "We've always ... reserved the right to kind of tweak the show a little bit."
Daly made it clear that, should Shakira's schedule clear up enough to allow her to go full-time, he'd be willing to make room for her.
"Let's put it this way," he said, "if she has the time, we have the chair!"
"The Voice" airs Mondays and Tuesdays at 8 p.m. on NBC.