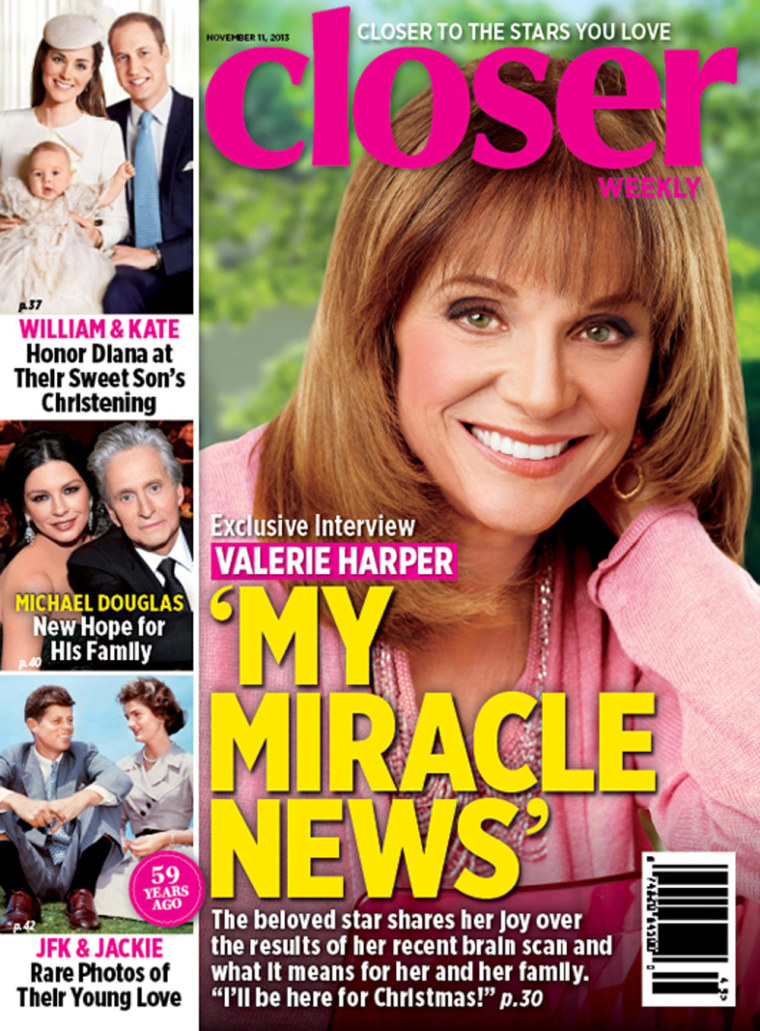 "Rhoda" star Valerie Harper's cancer has regressed again, she revealed in an exclusive interview with new celebrity magazine Closer Weekly.
She got the good news on Oct. 14, exactly one week after she was eliminated on "Dancing With the Stars," when her latest brain scan revealed that the cancer in the lining of her brain was still shrinking. 
"(My doctor) said, 'At the rate we are going, you don't have to worry. You will see Christmas!'" she told Closer, which hits newsstands in New York on Oct. 30, and nationwide Nov. 1. Harper pointed out that her oncologist had told her that her positive attitude was playing an important part in her survival.
During her appointment, the actress had cracked jokes with the technicians who were preparing her for the test, according to Closer. When asked if she had any metal in her body — an intrauterine device to prevent pregnancy, for example — the 74-year-old cracked, "Not at my age, darling!"
"Comedy is saving me," she said.
As is keeping busy with work, for which Harper credits husband Tony Cacciotti. The actress said that after her initial diagnosis of terminal cancer in January, she thought she'd just sit around and watch TV for her final three to six months.
"He said, 'Valerie, you have to work' " she told Closer. "It's his magic bullet — keep me in front of the oven. And by God, he was right."
Since then, the actress has reunited with her "Mary Tyler Moor Show" castmates for the season four season finale of sitcom "Hot in Cleveland," which was taped just a few months after Harper's diagnosis. 
She also filmed a one-hour documentary about her progress in her fight against cancer, which aired on NBC in September.
And of course, she participated on season 17 of "Dancing With the Stars," and was eliminated in week four. But that won't be the end of the ballroom bash for the actress. She's set to return to the dance competition in late November for the season finale.
Harper also pointed out that she is considering doing a Broadway play and a TV movie in 2014 — a year she hadn't expected to survive to see.
"We are all terminal and it's great to face that — and then discard it," she told Closer. "Don't live in fear of dying."