Rumors of old timers and newcomers joining forces in the next installment of the "Star Wars" franchise have finally panned out as an official cast announcement was made Tuesday for "Star Wars: Episode VII."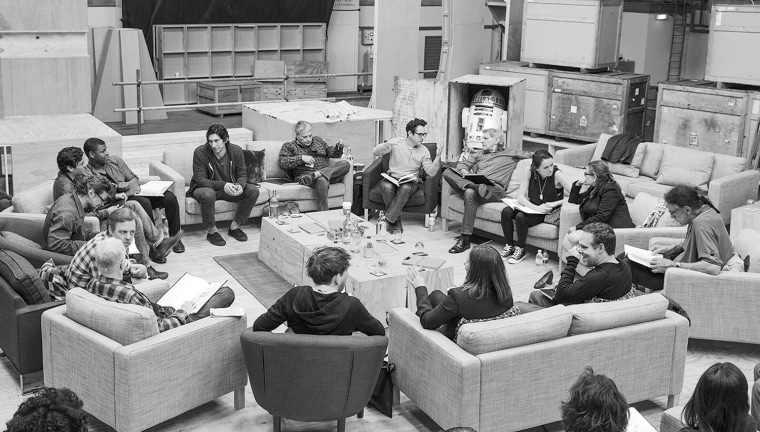 The official Star Wars website shared the news along with a photo of director J.J. Abrams surrounded by cast members. Actors John Boyega, Daisy Ridley, Adam Driver, Oscar Isaac, Andy Serkis, Domhnall Gleeson and Max von Sydow will join the original stars of the saga, Harrison Ford, Carrie Fisher, Mark Hamill, Anthony Daniels, Peter Mayhew and Kenny Baker, the website announced.
Mayhew, the man behind Chewbacca, is seen eyeballing a script and R2-D2 is seen in a box, just over the shoulder of Abrams and Ford (Han Solo).
Among the fresh faces, Boyega starred in the 2011 film "Attack the Block"; Isaac starred in the Coen Brothers' film "Inside Llewyn Davis"; Driver is known for his role on the HBO series "Girls"; Serkis is well known for his motion capture acting in the "Lord of the Rings" films (Gollum); Gleeson starred as Bill Weasley in both parts of "Harry Potter and the Deathly Hollows"; von Sydow's distinguished career includes a role in 2002's "Minority Report"; and Ridley is the newest of the bunch with some small TV roles under her belt.
"We are so excited to finally share the cast of 'Star Wars: Episode VII,'" Abrams said on StarWars.com. "It is both thrilling and surreal to watch the beloved original cast and these brilliant new performers come together to bring this world to life, once again. We start shooting in a couple of weeks, and everyone is doing their best to make the fans proud."
The film is slated to open on Dec. 18, 2015.
Follow Kurt Schlosser on Google+