Familiar faces, including the two surviving Beatles, dominated Sunday's Grammy Awards performances, but the night's big winners hid their faces behind their trademark shiny helmets.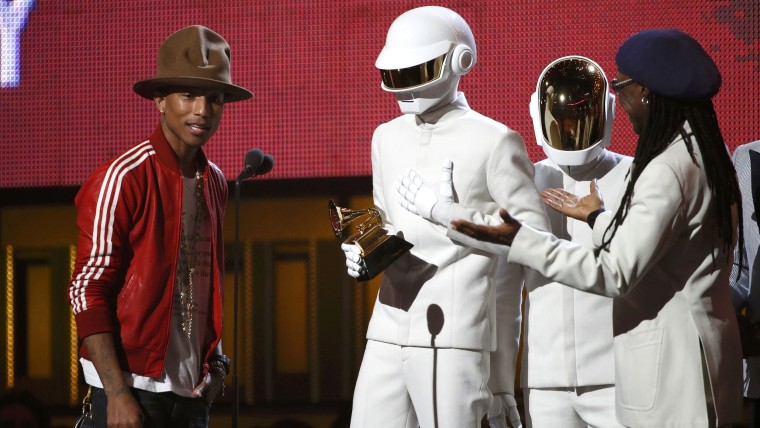 The two Frenchmen known as Daft Punk, who make it a point not to be seen without their face-concealing headgear, won the night's top prize, album of the year, for "Random Access Memories." Their song "Get Lucky," featuring Pharrell Williams and Nile Rodgers, also won record of the year and best pop duo or group performance.

For all three awards, the two members of Daft Punk took the stage clad in their trademark shiny helmets and gloves, leaving Williams and later producer Paul Williams to speak for them, referring to the duo as "the robots."
"Honestly, I bet France is really proud of these guys right now," Pharrell Williams said of the French duo during the record of the year acceptance speech.
Paul Williams praised the duo by saying, "Captain Kirk uses the Enterprise, they sail on a ship called generosity. They are generous in spirit."
Other Grammy stars were more recognizable. Beatles Paul McCartney and Ringo Starr performed together, surviving Highwaymen Willie Nelson and Kris Kristofferson sang a medley of country hits along with Merle Haggard and Blake Shelton, and husband and wife Beyonce and Jay-Z kicked things off with a steamy mash-up of her songs "Drunk in Love" and "Surfboard."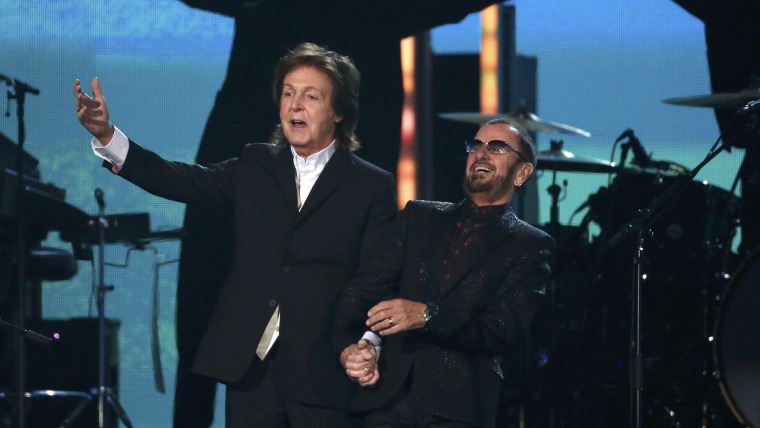 It was the McCartney-Starr performance that was the most trumpeted in advance, with Starr teasing on the red carpet that he couldn't reveal if it was happening. If it was supposed to be a secret, however, it was a poorly kept one, and the two joined to sing McCartney's new single "Queenie Eye" on the colorful upright piano that, according to the Grammys Twitter account, was the same one used in the Beatles' "Magical Mystery Tour" film.

Earlier in the show, Starr performed his 1973 hit "Photograph," written with late Beatle George Harrison.
Before the show, McCartney and Starr along with John Lennon's widow Yoko Ono, and Harrison's widow Olivia Harrison, accepted a lifetime achievement award for the Beatles. 
And before taking the stage with Starr, McCartney and Dave Grohl, Krist Novoselic and Pat Smear won the award for best rock song for "Cut Me Some Slack," a category that also featured veteran acts Black Sabbath and the Rolling Stones.
"We wouldn't be up here if it wasn't for Paul and Ringo (Starr)," said Grohl, who was interrupted by Novoselic adding "And for Black Sabbath and the Rolling Stones."
Added McCartney, "(Grohl) said to me, 'Come along, we'll do a jam on 'Long Tall Sally,'' and I said, 'No, no, no, we've been there, we've done that, let's make something up."
Music celebrates its brightest stars — from Beyoncé to Katy Perry and beyond — at the annual ceremony.
McCartney and Starr were far from the only acts to give the Grammys a retro feel. Miranda Lambert and Billie Joe Armstrong of Green Day performed the Everly Brothers' "When Will I Be Loved?" in tribute to Phil Everly, who died Jan. 3. Country stars Nelson, Kristofferson, Haggard and Shelton performed a medley of country hits, including "Okie from Muskogee" and "Mamas, Don't Let Your Babies Grow Up to be Cowboys." And heavy-metal band Metallica teamed up with classical Chinese pianist Lang Lang on the band's 1989 hit, "One," about a maimed soldier.
But there were plenty of newer faces blending in with the veterans. 17-year-old New Zealand singer Lorde — born nearly 30 years after the Beatles broke up — won song of the year and the best pop solo performance awards for her hit, "Royals."
"Thank you to everyone who's let this song explode, because it's been mental," she said when accepting the song of the year award along with writer/producer Joel Little.
Which celebrity rocked the red carpet? Check out how stars celebrated the music industry's biggest awards night.
Macklemore & Ryan Lewis claimed the first award of the night, for best new artist.
"First and foremost, I want to thank our fans, the people who got us on this stage," Macklemore said. "We made this album without a record label, we made it independently and we appreciate all the support."

Macklemore & Lewis, who won four awards total, also performed their marriage-equality anthem "Same Love" while Queen Latifah officiated over the wedding of more than 30 couples, both gay and straight. Madonna sang a slowed-down version of her 1986 hit, "Open Your Heart," during the weddings.
Jay-Z and Justin Timberlake later won best rap/sung collaboration for "Holy Grail." Timberlake wasn't there to accept with him, but Jay-Z joked to young daughter Blue Ivy, "Daddy got a gold sippy cup for you" as he help up the Grammy trophy.

Who's worn the kookiest outfits to the Grammy Awards? This trip down memory lane might jog your memory — and make your jaw drop.
In addition to the Beatles' lifetime achievement honor, some awards were given out before the ceremony. 

Michael Buble won for best traditional pop vocal album for "To Be Loved." 
Ziggy Marley won for best reggae album for "Ziggy Marley in Concert."
Stephen Colbert won for best spoken word album for "America Again."
"Daft Punk's "Random Access Memories" won for best engineered album.
Herb Alpert's "Steppin' Out" won for best pop instrumental album.