Nearly 25 years ago, "Roseanne" stormed onto the TV scene with a look at family life not seen before in prime time. Through the lens of a brash blue-collar matriarch played by Roseanne Barr, the comedy earned laughs by wading through the realities of tough subjects. 
Racism, homophobia, money woes, infidelity, domestic violence and teen sex — no subject was taboo. Alicia Goranson and Michael Fishman, who played kids Becky and D.J. Conner, sat down with TODAY.com and recalled the topics that catapulted the show and its nine seasons into pop-culture history. 
The subjects — whether a simple teenage embarrassment or something heavier — sometimes led to tougher times back at home, both stars admitted.
"When it was happening, it wasn't the coolest thing to go back to Evanston, Ill., to my public high school after I farted in class (on the show)," Goranson, 39, said. 
But things weren't so easy when Becky asked for birth control in one episode. "There's no right way to talk about it," she said of the subject. And when she went home after such heavy episodes, she didn't want to discuss things. "I felt like I wanted to protect the other kids around me from being exposed to some of the adult things I was being exposed to," she explained. "No one wants to talk about this stuff. The audience doesn't, the actors don't."
Fishman, 31, said D.J. "was the gateway for a lot of the bigger topics." Among them was a masturbation episode, and another in which the little boy refused to kiss a black girl for a school play.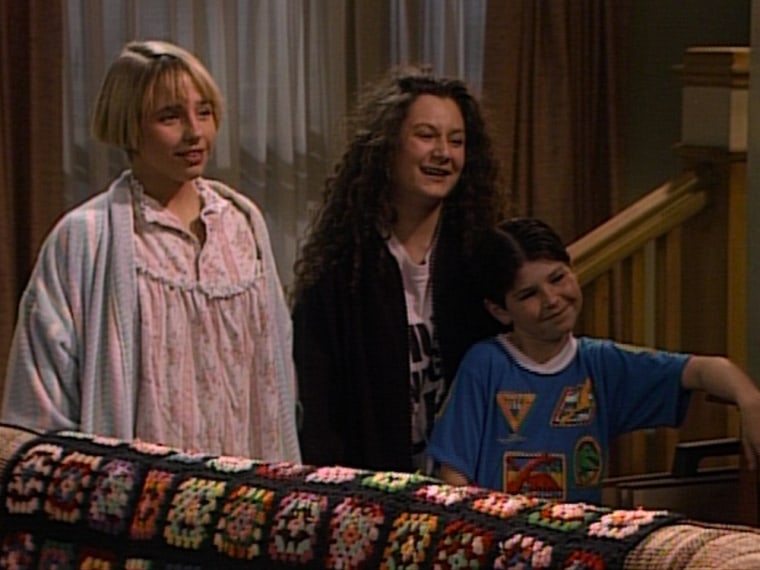 "That was not a great week to be at school," the actor said of the latter. 
"You have what should be really uncomfortable or horrible moments — domestic violence, the spanking episode — you have these things, and you're like, 'Those should be taboo or should be horribly uncomfortable,'" Fishman said. "I think we did a nice job of doing all these things without crossing the line, not really knowing where the line is ... I think we just said, 'No, this is what's happening in our world. This is what's happening in our country. It's time for people to take notice.' "
(Many of the episodes dealing with these subjects are currently airing on WEtv in celebration of "Roseanne's" upcoming anniversary.)
One of the show's most taboo episodes, 1994's "Don't Ask, Don't Tell," featured a lesbian kiss between Roseanne and guest Mariel Hemingway. Prior to the airing, a representative for Barr and her then-husband Tom Arnold, who was also a recurring actor on the show and an executive producer, said, "(The network has) said to Tom they will not air the episode." The Gay and Lesbian Alliance Against Defamation also urged ABC to air the episode. It aired uncensored on March 1, but with a parental advisory warning.
"Those were such real parts of that time period," Fishman said of the controversial episode and other social topics the show tackled. "Even today, people are still fighting the gay rights issue."
"The difference is that it was less popular to be depicted than it is now," Goranson said.
But such subjects still resonate. As adults, the actors say they're sometimes approached by viewers who aren't necessarily fans.
"I'll be somewhere and someone will come up to me and just say, 'I don't like the show. I don't like Roseanne,'" Goranson revealed. "I realize that maybe it's some kind of psychological discomfort that there's something about the show that was difficult for them maybe because it touched some buttons."
"It still had a visceral response for those people," Fishman added. "Even the ones who come up and say they may not have liked it, I think it's kind of the old adage of, 'You don't have to like it, but you kind of respect it.' ... Well, if you didn't like it, you certainly remember, and you are certainly still talking about it, so it couldn't have been all bad."
"There's something ironically more real about our show than a lot of the reality television shows," Goranson said. "It was honest."