Updated: 7:10 a.m. ET Oscar-winning actress Reese Witherspoon was arrested and jailed for a short time in Atlanta early Friday morning, according to an incident report originally obtained by Variety. Her husband, CAA agent James Toth, was also arrested and jailed.
Toth was spotted by an Atlanta police officer while driving in the wrong lane, and now faces one DUI charge, and a second for "failure to maintain lane," according to the report, which was also obtained by TODAY.com. Witherspoon faces a charge of disorderly conduct.
The actress has since said in a statement that she is "deeply embarrassed" about the incident, in which "I clearly had one drink too many."
The pair were pulled over when Toth's failure to maintain his lane was cause for suspicion of driving while intoxicated, and Witherspoon found herself handcuffed after refusing to stay in the car while the officer administered a field sobriety test on her husband.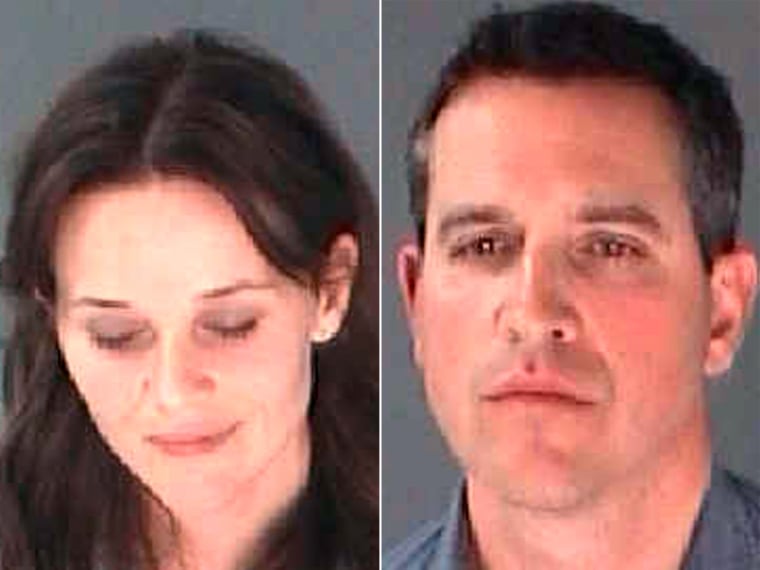 "Mrs. Witherspoon began to hang out the window (of her car) and say that she did not believe that I was a real police officer," Officer J. Pyland noted in his report. "I told Mrs. Witherspoon to sit on her butt and be quiet."
The back-and-forth between Witherspoon and Officer Pyland escalated until he arrested her and put her in the rear of his vehicle.
The report also quoted Witherspoon as asking, "Do you know my name?" The officer says he answered that he didn't need to know her name "right now," and she told him, "You're about to find out who I am," later adding, "You are going to be on national news."
The couple were released at around 3:30 a.m. on Friday morning. A court appearance is scheduled for 8 a.m. Monday morning in Atlanta Municipal Court, but Variety said their attorney is likely to request a postponement.
"Out of respect for the ongoing legal situation, I cannot comment on everything that is being reported right now," said Witherspoon in a statement. "But I do want to say, I clearly had one drink too many and I am deeply embarrassed about the things I said. It was definitely a scary situation and I was frightened for my husband, but that is no excuse. I was disrespectful to the officer who was just doing his job. The words I used that night definitely do not reflect who I am. I have nothing but respect for the police and I'm very sorry for my behavior."
Witherspoon has been in Atlanta recently filming an independent film, "The Good Lie." The pair have been married since 2011 and she gave birth to their son Tennessee James Toth last September.
Related content: