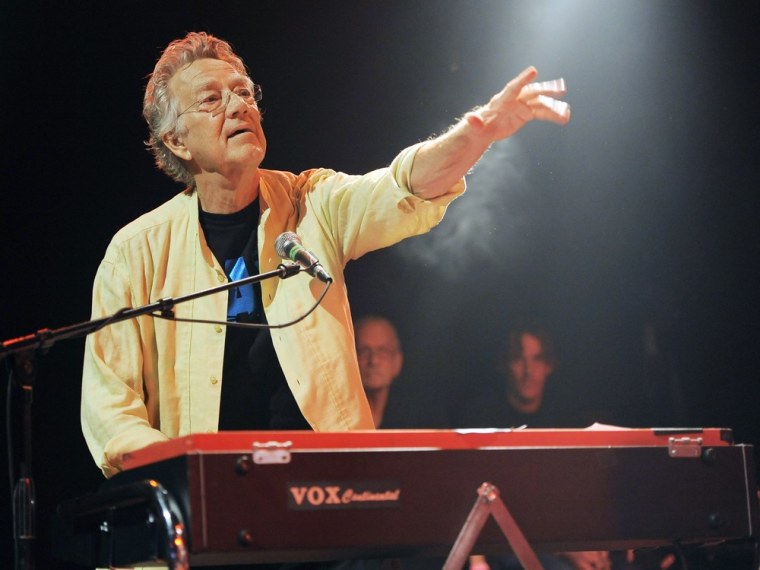 Ray Manzarek, the legendary keyboardist who founded The Doors in 1965 with fellow UCLA film school alum Jim Morrison, died of cancer Monday at age 74. Manzarek had fought a long battle with bile duct cancer.
"I was deeply saddened to hear about the passing of my friend and bandmate Ray Manzarek today," Doors guitarist Robby Krieger said in a statement. "I'm just glad to have been able to have played Doors songs with him for the last decade. Ray was a huge part of my life and I will always miss him."

Doors drummer John Densmore also spoke about his former bandmate. "There was no keyboard player on the planet more appropriate to support Jim Morrison's words," Densmore said. "Ray, I felt totally in sync with you musically. It was like we were of one mind, holding down the foundation for Robby and Jim to float on top of. I will miss my musical brother."
His intricate keyboard playing on songs such as "Light My Fire" made Manzarek a rock legend, and he forever held close the memory of his friend Morrison, defending the singer as a poet, not an out-of-control alcoholic as he was sometimes later portrayed.
"What great company he was," Manzarek told the London Times about Morrison, who died in 1971. "Talk about going to the pub and having a couple of beers with the guy -- Morrison was perfect. He's been haunting me for some 40 years now, and I miss him every day."
The Doors sold more than 100 million albums, and were inducted into the Rock and Roll Hall of Fame in 1993. "The impact of their meteoric career has resonated far beyond their brief half-decade as a recording and performing entity," the Rock Hall's statement read upon their induction. "Their words and music captured the Sixties zeitgeist with undeniable power."
In addition to "Light My Fire," the band's hits included "L.A. Woman," "People Are Strange," "The End," "Break On Through to the Other Side" and "Hello, I Love You."
Manzarek, a Chicago native, already knew Morrison from UCLA film school when the two famously met on California's Venice Beach in 1965. Morrison reportedly sang some of his original songs to Manzarek, who responded by saying, "Jim, those are the best songs I've ever heard... Man, we've got to get a band together. We're going to make a million dollars!"
After Morrison's death in 1971, the band continued to ride waves of fame and a seemingly eternal fascination with the late lead singer. Not all of the revivals were band-approved: In 1991, Kyle MacLachlan portrayed Manzarek and Val Kilmer played Morrison in the controversial Oliver Stone-directed feature film, "The Doors." Manzarek and other members of The Doors famously disliked the Stone film, especially for its portrayal of Morrison as a wild man and heavy drinker. In 2009, when promoting a documentary about the band, "When You're Strange," Manzarek told Billboard magazine the documentary would be " the anti-Oliver Stone."
In 2002, Manzarek and Krieger formed the Doors of the 21st Century with Cult frontman Ian Astbury. But Densmore sued over the use of the band name, launching an ugly six-year feud. Manzarek and Krieger performed under other names, eventually settling on Manzarek-Krieger.

Manzarek also produced "Los Angeles," the first LP from iconic punk rock band X, in 1980, and worked with other bands, including Echo & The Bunnymen.
In 1998, he published his autobiography, "Light My Fire: My Life With The Doors." He also wrote two novels, including one, "The Poet in Exile," that explores the urban legend that Morrison never really died. The book's narrator, Roy, is a thinly veiled version of Manzarek himself.
In 2011, Manzarek told M Music & Musicians magazine that he was enjoying a quiet lifestyle. "Meanwhile I'm living up in the Napa Valley, enjoying the gentleman farmer's life," he said. "My wife and I go to bed early and get up at 6. Who would have imagined going from a rocker to a farmer? It's a great life."
Manzarek is survived by his wife Dorothy, brothers Rick and James Manczarek, son Pablo Manzarek, daughter-in-law Sharmin and grandchildren Noah, Apollo and Camille. His family asks that in lieu of flowers, fans make a donation in Manzarek's name to the cancer-research organization Stand Up to Cancer.
Music fans and fellow musicians were quick to remember Manzarek. The official Twitter account for the late rocker Ronnie James Dio tweeted, "Our thoughts go out to the family, friends and fans of Ray Manzarek from @TheDoors who passed away today. You are now with Jim and Ronnie!"