"Breaking Bad," which ended its much-acclaimed run last fall, went out with a bang at Monday night's Primetime Emmy Awards, winning the best drama series award as well as acting honors for Bryan Cranston, Anna Gunn and Aaron Paul.
Cranston won for best lead actor for his role as Walter White, the high-school chemistry teacher turned New Mexico meth lord, and thanked Paul and Gunn, who had won earlier for best supporting actor and best supporting actress.
Cranston said in his acceptance speech that he always looked for shortcuts as a kid, leading to his family nicknaming him "Sneaky Pete." He dedicated his win to "all the Sneaky Petes of the world," encouraging them to "take a chance, take a risk, find that passion all over again."

"Breaking Bad" also won for outstanding writing.
In the one dramatic acting award not won by "Breaking Bad," Julianna Margulies was named best lead actress in a drama for "The Good Wife." 
On the comedy side, "Modern Family" won as best comedy series. Julia Louis-Dreyfus was named best lead actress in a comedy for "Veep," and Jim Parsons won best lead actor in a comedy for "The Big Bang Theory."
Related story: Full list of Emmy winners
Here are some additional highlights from the night:
Alright alright alright
Emmy presenters started teasing "True Detective" star and nominee Matthew McConaughey even before his category came up.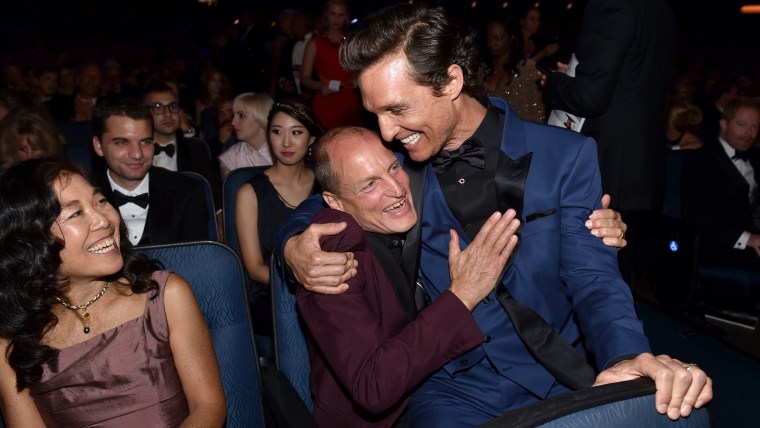 Jimmy Kimmel, who wore rainbow suspenders in honor of the late "Mork & Mindy" star Robin Williams, delighted the crowd with a teasing routine involving McConaughey. The actor, he joked, "doesn't even own a television, he traded it for a conch shell full of weed."

Related story: Which Emmy winner are you?
McConaughey laughed and shouted back, "That was Woody!", indicating co-star Woody Harrelson seated behind him.
McConaughey was soon in the spotlight again when Gail Mancuso, who won for best direction of a comedy series for "Modern Family," said she wanted to direct her speech to McConaughey, and jokingly told the cameraman to get out of her way so she could see the actor better.
Related story: McConaughey, Harrelson, channel 'Roxbury' twins
Later on, McConaughey and Harrelson took the stage together to present the lead actor in a miniseries or movie award, which went to an absent Benedict Cumberbatch for "Sherlock."
"As if he'll ever get it," joked Harrelson as the two left the stage with the statuette.
Vote: Which actress wore it best on the red carpet?
Leave 'em laughing
First-time host Seth Meyers opened the show with a light-hearted monologue poking fun at the Emmys' unusual date — a Monday in August as opposed to a Sunday in September, which was done in part not to interfere with NBC's "Sunday Night Football." Meyers joked that the change was "in keeping with the actors' tradition of running away from jocks."
Meyers had some high-powered help later in the show. Fellow "SNL" vet Andy Samberg showed up and pretended he was co-hosting with Meyers, and the two introduced Weird Al Yankovic singing a medley of all some of the nominated shows' theme songs, with added lyrics.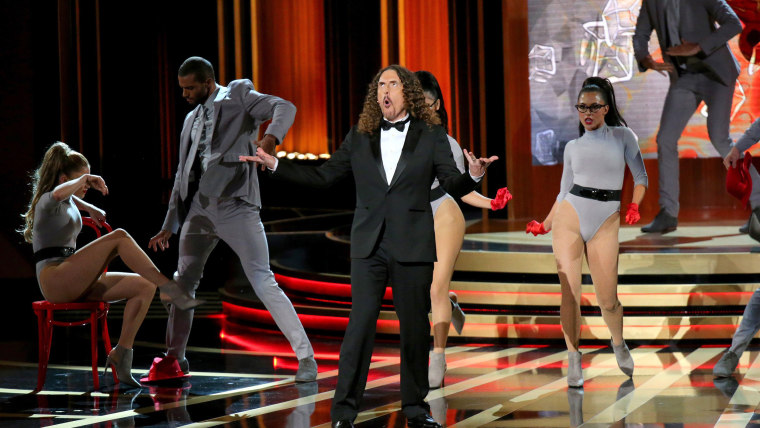 "Mad Men! Watch these ad men! Do their thinking! While they're stinking drunk!" Yankovic sang. But the biggest hit of the medley was the "Game of Thrones" theme, which urged fans not to get too attached to any of the characters ("Have a backup!" chimed in Samberg). And author George R.R. Martin, seated in the audience, was brought a typewriter and urged to write faster, as the show is catching up to his published novels.

Remembering Robin Williams, and so many others
The annual In Memoriam segment was packed with powerhouse names of actors and other entertainment figures who had died in the past year. Casey Kasem, Lauren Bacall, Sid Caesar, Ann B. Davis, Philip Seymour Hoffman, James Garner, Shirley Temple, Mickey Rooney and Paul Walker were among those who received a photo in the tribute. 
But the homage ended with Billy Crystal reflecting on his friendship with Robin Williams, and showing clips of the comedian's stand-up routines and talk-show appearances.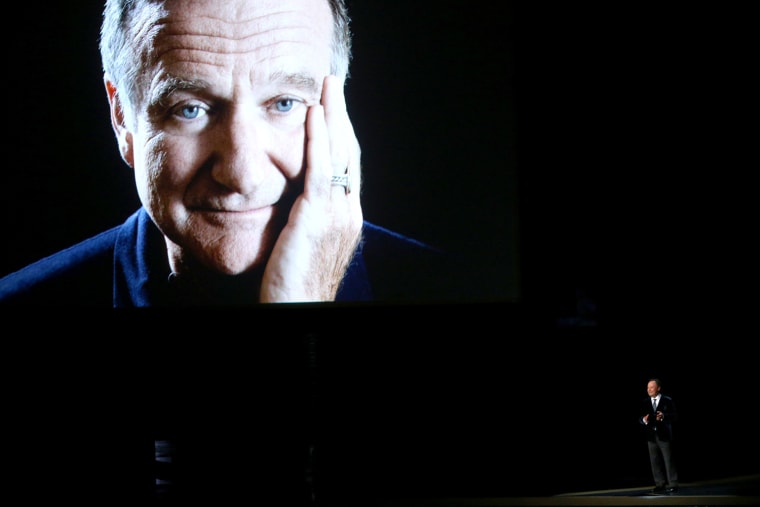 "He was the greatest friend you could ever imagine," Crystal said. "It's very hard to talk about him in the past (tense), because he was so present in all of our lives."

John Travolta moment
John Travolta famously bungled "Frozen" star Idina Menzel's name at the Oscars, but at the Emmys, it was singer Gwen Stefani's turn to tie up her tongue. When she announced "The Colbert Report" as the winner for best variety series, she mangled the title as "The Colborr Report."
Losing nominee Jimmy Fallon seized on the moment and announced that since Stefani pronounced the show wrong, his show had won, and gave Colbert's speech as Colbert whispered it into his ear. "I wanna thank his wife and his children," he said, before finally turning the mic over to the real winner. 
Speech gets a second chance
Ricky Gervais lost out in the lead actor in a comedy series category, but he decided to give his speech anyway, reading it while onstage to present the award for writing for a variety special. 
"Ha ha, I won, I knew I would," he read. "I am the best actor, better than those other actors."

Gervais also halfheartedly praised "Big Bang Theory" star Jim Parsons for winning, although he pointed out, "I've come a long way, he's probably local."
Related story: Seth Meyers brings the laughs at Emmys
Kiss and tell
Julia Louis-Dreyfus won for lead actress in a comedy series for "Veep," and had a little fun with onetime "Seinfeld" guest star Bryan Cranston. 

When the two presented the lead actor in a comedy series Emmy to Parsons, Louis-Dreyfus pretended not to remember Cranston playing dentist Tim Whatley, even when he protested, "We actually had a kissing scene!"
When Louis-Dreyfus later won her award, she stopped first to give Cranston a major smooch, which lasted until she was rescued by presenter Jimmy Fallon. 

"(Cranston) was on 'Seinfeld,' yeah," she then stammered.

Kidding around
The first award of the night went to Ty Burrell, who won best supporting actor in a comedy, and also became an early nominee for most entertaining speech. Burrell said he was passing on his own speech in favor of one written for him by the show's child actors. 
The speech praised Burrell's wife for being "super pretty," noted his kids were cute but not cute enough to support their family by acting, and claimed Burrell would give the young cast members a big hug, but "it would take me forever to get to their seats." He ended with, "Anyways, I'm so grateful for this award, and I can't wait to give it to Nolan Gou—", cutting off before he got through young Nolan Gould's name.
Follow Gael Fashingbauer Cooper on Google+.