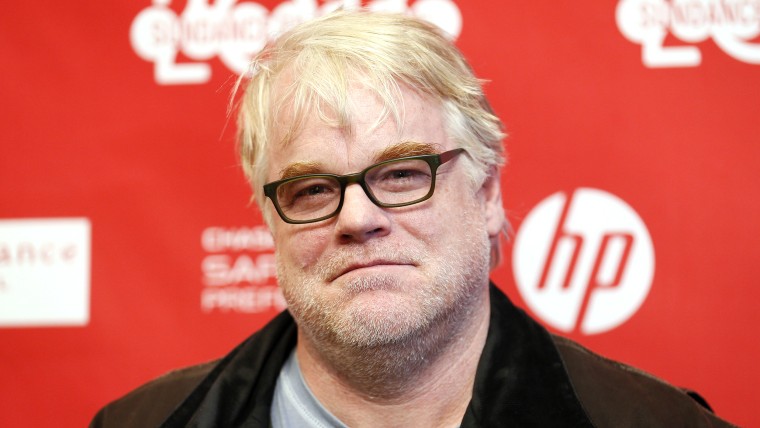 As mourners await results of Philip Seymour Hoffman's autopsy, expected Monday following the discovery of his death from apparent overdose, details about his death continue to emerge. 
The Oscar-winning actor, 46, was found dead in his New York City apartment shortly after 11:30 a.m. Sunday, law enforcement officials confirmed to NBC News. Hoffman was due to meet with his children at 9 a.m. and when he did not show, a concerned friend, described as a screenwriter with access to the actor's apartment, found Hoffman alone in his apartment and called 911. When police arrived about 11:30 a.m., they found Hoffman on the toilet in the bathroom wearing boxer shorts and a t-shirt with a syringe in his arm. According to police department sources, a total of five empty bags of what is believed to be heroin were found nearby. Three unused bags of heroin were also found. The "branding" on the heroin bags was "Ace of Spades" and "Ace of Hearts," police told NBC News.
Photos of Hoffman's three young children were also in the fourth-floor apartment, the Daily Beast reports, and his longtime partner Mimi O'Donnell entered the apartment shouting, "I have to see him!" before his body was removed. 
"We are devastated by the loss of our beloved Phil and appreciate the outpouring of love and support we have received from everyone," his family said in a statement. "His is a tragic and sudden loss and we ask that you respect our privacy during this time of grieving. Please keep Phil in your thoughts and prayers."
Hoffman had spoken openly about past substance abuse issues, saying he quit using drugs and alcohol and "got sober" at 22 years old. "I was 22 and got panicked for my life," he told Steve Kroft in a 2006 interview that now has a particularly haunting quality. "I have so much empathy for these young actors who are 19 and beautiful and famous and rich," Hoffman said. "My God, I'd be dead." 
In early 2013, Hoffman checked himself into rehab for 10 days. He told TMZ that he had begun using prescription medicines, and his use escalated to heroin.
Most recently, Hoffman was at the Sundance Film Festival promoting his film "God's Pocket," opposite "Mad Men" actors Christina Hendricks and John Slattery. One of Hoffman's last taped interviews about the film can be seen here. 
The actor was also set to star in a new Showtime comedy, "Happyish," which was introduced to TV critics last month in Los Angeles. The network issued a statement calling Hoffman "one of our generation's finest and most brilliant actors. He was also a gifted comedic talent. It was a great privilege and pleasure to work with him and we are all absolutely devastated by this sudden loss ..." 

Born in Fairport, New York, the versatile actor was accomplished in both theater and on the big screen. He earned three Tony nominations, three supporting actor Academy Award nominations (including 2012's "The Master"), and won a best actor Oscar for 2005's "Capote." He was most recently seen as Plutarch Heavensbee in the "Hunger Games" sequel "Catching Fire." 
Lionsgate, the studio behind the film issued a statement about his death, saying Hoffman was "a singular talent and one of the most gifted actors of our generation. We're very fortunate that he graced our Hunger Games family. Losing him in his prime is a tragedy, and we send our deepest condolences to Philip's family." 

Hoffman was not a traditional-looking leading man, but carried a twinkle in his eye and a gravitas to his manner and voice that made him a formidable presence on the screen, whether as the charismatic cult leader in "Master," a beleaguered priest in 2008's "Doubt" or the suspicious playboy in 1999's "The Talented Mr. Ripley." He rarely took television roles, but got one of his earliest breaks on "Law & Order" as a punk who commits sexual assault, in 1991.

Hoffman's three Tony nominations came from his work on three Broadway plays: two for best leading actor in "True West" in 2000 and "Death of a Salesman" in 2012; and one for best featured actor in "Long Day's Journey into Night" in 2003.
Hoffman and O'Donnell had a son and two daughters. TODAY's Kristen Dahlgren reported Monday that locals considered him just a "neighborhood dad" who was often seen around with his children.
Celebrities immediately began tweeting their shock and condolences.
Richard Esposito and Maria Elena Fernandez contributed to this report. 
Oscar-winning actor Philip Seymour Hoffman was found dead in his New York City apartment at the age of 46.