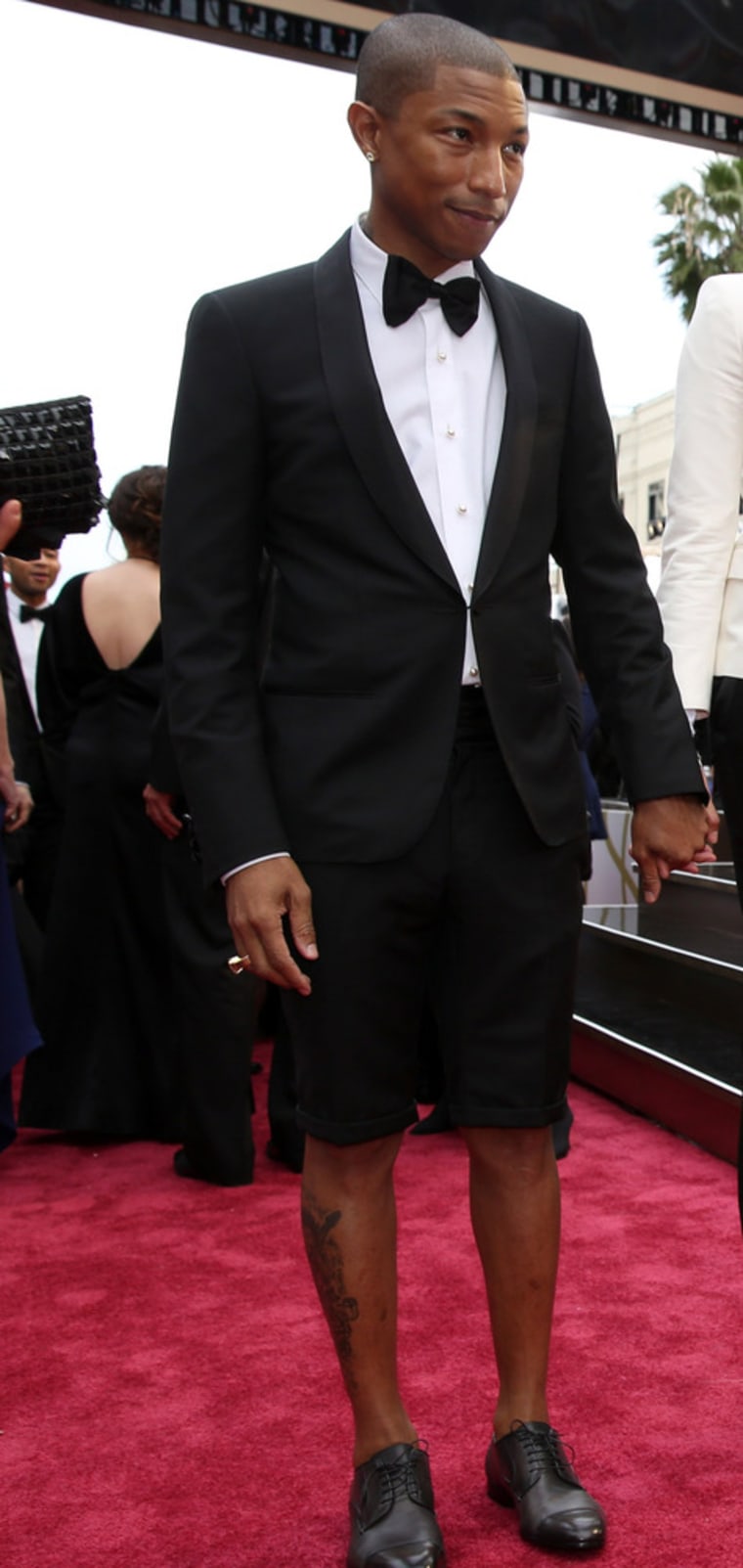 The 2014 Academy Awards had Ellen DeGeneres in charge, Jared Leto's ombre locks on display, and a pizza guy delivering slices to the front row. And as always, a few questions remained after the last envelope was torn open.
Shorts at the Oscars?
At the Grammys, Pharrell Williams made headlines with his enormous Smokey Bear-style hat, which recently sold for $44,000 in an eBay charity auction. On Sunday, he again stirred up fashion buzz by wearing black shorts with his tuxedo. Oscar night has a strict dress code — women aren't even permitted to wear sneakers under their long dresses. So was Williams allowed to go that casual? An Academy librarian told TODAY, "His pants were short, but it was still a formal look. It was a fashion statement, it seems." Later on, for his performance of best song nominee "Happy," he put on full-length pants and another big ol' hat.
Who was the guy next to Bradley Cooper in Ellen's epic Oscar selfie? 
Oscar's most recognizable image this year turned out to be a selfie orchestrated by DeGeneres right around the mid-show mark. The photo's cast was about as A-list as it gets — there's Jennifer Lawrence, Julia Roberts, Brad Pitt, Meryl Streep, Kevin Spacey, Jared Leto, Channing Tatum and Bradley Cooper — until you get to the dapper man on the far right — yeah, that guy blocking Angelina Jolie. That's no party crasher; turns out he's Oscar winner Lupita Nyong'o's brother Peter Nyong'o, Jr. , who she called her "best friend" during her best supporting actress speech. "I think that's his win for sure," his sister said, according to E! "He got into the most famous selfie in the world. I'm glad I could have facilitated that."
In case you were wondering, the star-studded selfie is now the most re-tweeted photo of all time, surpassing the "Four more years" photo Barack Obama sent out after winning re-election. 
And while DeGeneres took the image with what appears to be a Samsung phone (Samsung was a sponsor of the show), sharp-eyed cell-phone watchers noted the host switched to an iPhone for backstage tweeting.

Was that a real pizza guy?
Midway through the show, a pizza deliveryman walked out on stage and presented DeGeneres with boxes of pizza from Big Mama & Papa's Pizzeria, a small chain in the Los Angeles area that's a favorite of DeGeneres' talk show. He was no actor, but a real employee of the restaurant. The shop is known for its Giant Sicilian, which is cut into 200 square slices and serves 50-70 people, although the pizzas delivered onstage were of normal size.

Audrey Hepburn returns from the dead to sell chocolate?
Oscar fans may have been startled to see beloved icon Audrey Hepburn appear in an ad for Dove chocolate. The ad's production company scanned a photograph of a Hepburn lookalike to create a template, but then built a 3D model of the actress using old footage. The result is stunningly, obviously Hepburn, but it disturbed some fans who felt the star shouldn't be appearing in ads she never posed for. It also generated comments on Twitter, including one particularly funny one from Will Arnett:
Did John Travolta botch Idina Menzel's name?
The Broadway belter behind "Frozen's" Oscar-winnning best original song, "Let it Go" is a powerhouse singer (and occasional "Glee" actress) but her name wasn't very familiar to John Travolta, it appeared. The actor did just fine introducing her, until he stumbled on her actual name. What did he say? It sounded like "Adela Dazeem" to one person's ears, and that wit immediately set up a fake Twitter account for the name. 

Naturally, Twitter fans had plenty to say on the subject.

Who was Ryder Buck, and why was he called the "guardian angel" of "Frozen"?
"Frozen" co-director Chris Buck acknowledged his son, Ryder Buck, with a mention and look skyward at the end of his acceptance speech for best animated feature. The 23-year-old Buck, a young musician was in the news in October 2013 when, just a few days after completing chemotherapy treatments, he was killed on a Los Angeles freeway as he attempted to cross the road. 

Some quick final hits...
Google reported that during the Oscars, fans had some other questions they were asking the search engine: Who presented with Matthew McConaughey? Answer: Actress Kim Novak, best known for her appearance in 1958's "Vertigo." Who is Jennifer Lawrence dating? Answer: Reports indicate she's seeing actor Nicholas Hoult (the "boy" from the 2002 film version of "About a Boy"). And when is Kerry Washington's baby due? Answer: Rumor has it that she'll give birth in the spring, but no exact due date has been shared.